ARTCHITECTURE | November 5 – 8, 2020  Site-specific projections will illuminate the facades of contemporary and historic architecture utilizing projection mapping and light. On view 6:30 PM – 11:30 PM each evening
---
---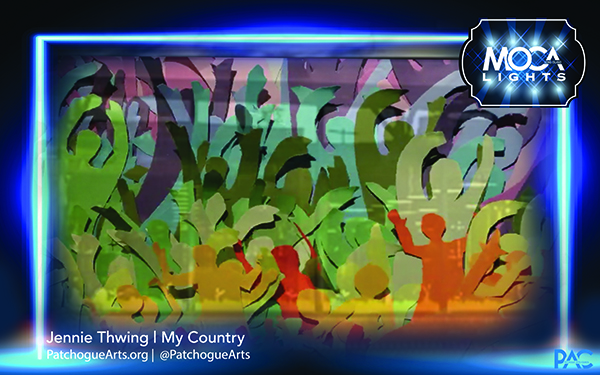 Pat-Med Library • 54 – 60 East Main Street
ARTIST | Jennie Thwing
My Country, 2020Description of My Country"My Country," is a personal interpretation of country as seen through the lens of technology (i.e. the constant news stream.) This animation addresses my adult fears related to my……life in New York City….skewed view of country as represented by the news media.…childhood memories of moving to Pennsylvania Coal Country from the Canadian Rockies….experiences as a woman, wife & mother….love for and fear of my country….experience growing up as the daughter of a pastor. The animation is a colorful mix of abstract shapes, that contain hidden personal references and contemporary symbols. This animation is a metaphor for the way I see the world. It shows the complexity of personal identity.
Artists Statement
Using video, installation, and animation I create imaginary narratives that reference the history, ideology, social context, family mythologies and dreams of myself and others. The subject matter ranges from animated dioramas to historical reenactments. All of my work revolves around the natural world and involves the anthropomorphism of nature, refuse, and human environments. My most recent work "2020" is an animation and wall mural that is a personal interpretation of the year 2020. It references the constant news stream, the Black Lives Matter movement, the Trump era, and the surreal experience of living through a modern-day pandemic. It documents the calm, frenzy, frustration, hope, and turmoil of the events that have changed our country in the year 2020.
Artist Bio
Jennie Thwing is a Queens-based artist, animator, and educator. She received her BFA from Tyler School of Art and her MFA from the University of Maryland Baltimore County. She teaches time-based media at Farmingdale State College SUNY. She has had solo exhibitions at the Arlington Arts Center, the Center for Emerging Visual Artists, GrizzlyGrizzly, the Pittsburgh Center for the Arts, The Mainline Art Center, Soho 20 Gallery, School 33, Fleisher Art Memorial Dene M. Locheim Gallery, Nexus Foundation for Today's Art and Studio 34 and has an upcoming exhibition at the 20.20 Gallery in Lansdowne, PA.
She has curated numerous multidisciplinary exhibitions and attended residencies in the US, Norway, New Zealand, and Canada. And has received numerous awards including: the 2014 Meyer Family Award for Contemporary Art; an Environmental Art Project Grant at the Schuylkill Center; a 2013 – 15′ Center for Emerging Artists Fellowship; a 2014 SPARC Artist in Residence grant; and a 2014 & 2019 Queens Arts Fund Grant.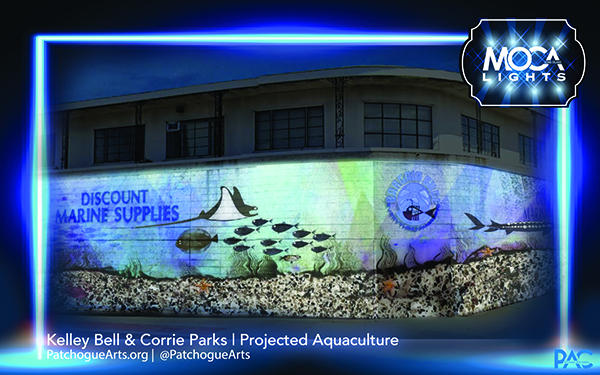 Marine Supplies Building • 159 West Main Street
ARTIST | Kelley Bell & Corrie Parks
Through a whimsical approach to animation, Bell and Parks' Projected Aquaculture presents the underwater ecosystem of the Great South Bay, drawing parallels between the decline and resurgence of the Bay's health and the similar decline and recent revitalization of the Village of Patchogue. Viewers are invited to interact with Projected Aquaculture through onsite educational programming courtesy of Cornell Collective, and you can play along with the animated flora and fauna in the piece with the online Bay Bingo game at playbaybingo.com!
Corrie Parks Statement
I like art that is accepting, art that makes me think: think not only about the issues of the day, but also about how and why I think the things I do. As an artist, designer, and educator, I want to be able to connect directly with people, through humor and playfulness, through careful observation and thoughtfulness. I want people to be free to come to their own conclusions about what they see in my work, though the intent and meaning driving it should be quietly apparent. BioAs an artist, I have worked with sand for over 15 years, but only recently have I begun to inspect it on the microscopic scale, where the individuality of each grain becomes apparent. At this scale, the smallest movements have magnified consequences. Shifting the position of one grain can ripple through an entire pile. Just so, our human actions may seem insignificant, but ripple into the environment and communities around us. Through the life-breathing work of animation, my aim is to incite both wonder at the insignificant, and reflection of our influential place in the cosmos.

Kelley Bell – below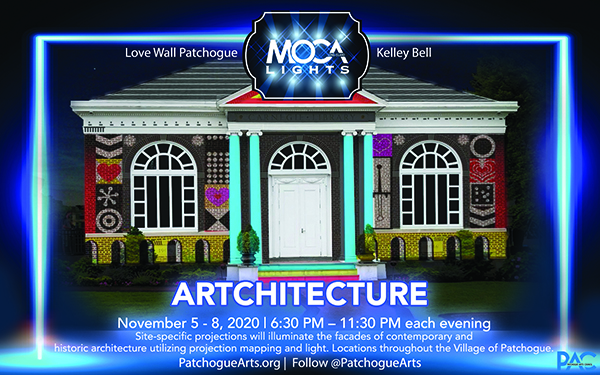 Historic Carnegie Library • 160 West Main Street
ARTIST | Kelley Bell
Carnival Love Wall Patchogue
Carnival Love Wall is a modular projection mapping work consisting of dozens of small animated elements that can be assembled, much like toy blocks or Legos, to create a complete animated surface that can be remodeled and shaped to accommodate almost any architecture and/or structure.
Carnival Love Wall celebrates the resulting complexity of deceptively simplistic systems, like a molecule, a living organism, or an entire community. Taken singly, each element's motions are simplistic and repetitive. But when joined by many others and contained within an architectural form, they are much greater than their constituent parts, creating a monumental, dynamic, and playful mosaic of motion and color.
Artist Bio
Kelley Bell is an artist, animator, and educator living in Baltimore Maryland. Her work draws from a penny arcade of visual influences: automata, midcentury design and illustration, midway rides, carnival games, and hand-lettered signage. Her animation and installation work includes screenings at the Visionary Arts Museum in Baltimore, Maryland, the Annapolis Film Festival, the Propeller Center for the Arts in Toronto, Ontario, and the Ontario Science Center. Her large-scale projection mapping works and other illuminated art have appeared in numerous festivals like the MOMENTUM festival in Toledo, Ohio, Dlectricity in Detroit, Michigan, the InLight Festival in Richmond, Virginia, the Lumen Festival in Staten Island, New York, Light City in Baltimore, Maryland and Animafest Zagreb in Zagreb, Croatia. Kelley holds an MFA from the University of Maryland, Baltimore County in Imaging and Digital Arts, and a BFA in Graphic Design from Pratt Institute. She is an Associate Professor of Design at the Visual Arts Department at University of Maryland, Baltimore County.cakeweek.com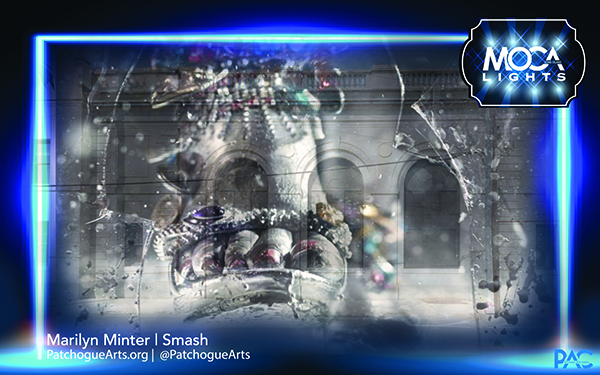 Historic Industrial Coverage Corp. • 62 South Ocean Avenue and Church Street
ARTIST | Marilyn Minter
Marilyn Minter, Smash, 2014
This work has been mapped for the first time in its' presentation for MoCA L.I.ghtsSmash features a model/dancer's feet, which have been tightly crammed into bejeweled heels.The model slowly and ominously destroys a glass pane separating the subject from the viewers as silver rain falls from above. Minter is known for critiquing the seeming perfection of the fashion industry. She gets almost uncomfortably close to her subjects, showing the point at which things start to break down.
Artist Bio
Marilyn Minter (b. 1948, Shreveport, Louisiana) received her BFA from the University of Florida, Gainesville, FL in 1970 and her MFA in painting from Syracuse University, NY in 1972. She has been the subject of numerous solo exhibitions worldwide including the San Francisco Museum of Modern Art, CA in 2005; the Center for Contemporary Art, Cincinnati, OH in 2009, LaConservera, Centro de Arte Contemporáneo, Ceutí/Murcia, Spain in 2009; the Museum of Contemporary Art, Cleveland, OH in 2010; the Deichtorhallen in Hamburg, Germany in 2011 and the SCAD Museum of Art in Savannah, GA in 2020. From 2015-17, Minter'sretrospective Pretty/Dirty was on view at the Contemporary Arts Museum, Houston, TX and traveled to the Museum of Contemporary Art Denver, CO, the Orange Country Museum of Art, Santa Ana, CA, and the Brooklyn Museum, NY (catalogue).In Spring 2021, Minter's new Bather series will be the subject of a solo exhibition at MOCO Montpellier Contemporain, France (catalogue). Museum collections which hold works by the artist include Baltimore Museum of Art; BlantonMuseum of Fine Arts, Austin; Denver Art Museum; Everson Museum, Syracuse; Harn Museum of Art, Gainesville; Kunsthaus Museum, Zurich; Milwaukee Art Museum; MIT List Center, Boston; Moderna Museet, Stockholm; Museum of Contemporary Art, Los Angeles; Museum of Contemporary Art, San Diego; Museum of Fine Arts, Boston; Museum of Modern Art, NewYork; Orange County Museum of Art, Santa Ana; Perez Museum of Art, Miami; San FranciscoMuseum of Modern Art, San Francisco; The Guggenheim Museum, New York and the Whitney Museum of American Art, New York. Since 2006, the artist's work has been represented by Salon 94.
Courtesy of the artist and Salon 94, NY. © Marilyn Minter

PAC•MoCA L.I. • 20 Terry Street
Fall into the Lights | Collaboration between PAC Curatorial & Viper Studios
Artists included in this projection are also showing their works in the Night Vision Pop-up Projected Gallery PAC – MoCAs curatorial team and Viper studio combined their works to make this site specific installation representing local, national, and international contemporary artists that represent PAC – MoCA and its mission.*** On the digital map we will link their bios / statements as available.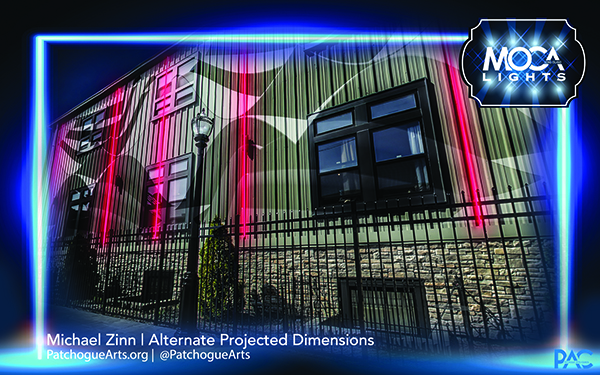 Roe Walkway • Between Terry Street & Main Street
ARTIST | Micheal Zinn
Most people would call him a photographer, but, Michael Zinnconsiders himself a "Creative Professional". Often, what may start as a photograph, will, through a variety of creative expression and processes, come to life through his work. His most recent "Projector.Project" started as an experiment, and has taken on many facets of meaning which seem to mirror his own spiritual growth and exploration. Using a projector as a light source and Juxtaposing digital technology with the organic elements of humanity the images start to speak about the evolution of man, in an almost fractal nature. Take, for example, images of mandalas, projected onto a models face – where the image becomes reminiscent of an ancient warrior with tribal warpaint, except, applied with the futuristic element of light and pixels.
Some of the images evolved into mandala type patterns themselves that Michael has affectionately dubbed "Humandalas". Projecting patterns and sacred geometry onto bodies and then treating them like a kaleidoscope, flipping, and rotating reflections. Some new projects are evolving with these images, and Michael has been creating animated versions of these images and projecting these on 20 x 20 surfaces in a project called "Art in The Park" in Riverhead, NY.
Artist Statement
PHOTOZINNTHESIS The process of taking a photograph and using my creative "ZINN" energy to transform it into something new. Having been involved with many aspects of creative expression since before, during, and after attending HARTFORD ART SCHOOL, I am as comfortable behind the camera as I am behind the computer. Inspired by Pop Culture as much as by Mother Nature, I feel that I can bring a refreshingly organic style to a digital medium and produce images that certainly have their own style and message.
I bring over 30 years of Photographic and Graphic Design experience to every project I am a part of. Besides having worked for some larger corporate clients in many capacities while working for creative agencies, I have also created and produced my own brands and concepts, which I am always developing and evolving.I am also a cinematic craftsman, having worked on many independent film projects and commercials in different capacities. I've transformed projects into true multimedia experiences. At the center of my work is an incredible drive to push both creativity and image boundaries. You'll often find me cooking up a "fantastical" visual transformation on my IMAC.
---
NIGHT VISIONS POP-UP GALLERY • November 6 – 8, 2020
An open air pop-up inflatable gallery screen will be placed in various locations throughout the Village of Patchogue, creating a unique art viewing experience for the community. Works included in this program were curated from an international open call to artists working in all media and invited curatorial team Wavelength.
See below for dates and locations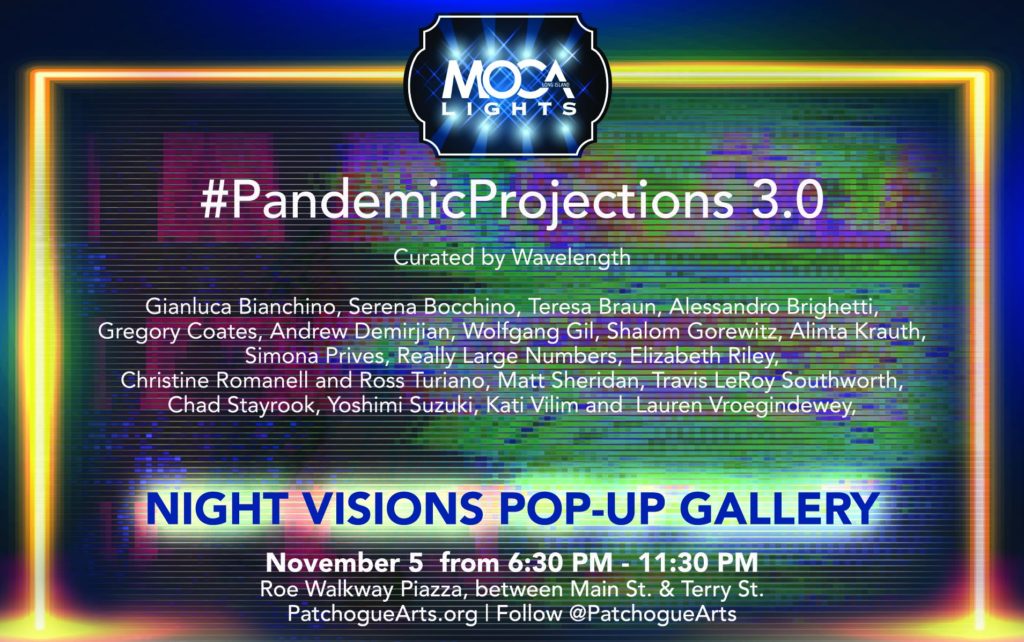 November 5 | #PandemicProjections 3.0 Curated by Jeanne Brasile and Gianluca Bianchino • Wavelength
ARTISTS|Gianluca Bianchino, Serena Bocchino, Teresa Braun, Alessandro Brighetti, Gregory Coates, Andrew Demirjian, Wolfgang Gil, Shalom Gorewitz, Alinta Krauth, Simona Prives, Really Large Numbers, Elizabeth Riley, Christine Romanell and Ross Turiano, Matt Sheridan, Travis LeRoy Southworth, Chad Stayrook, Yoshimi Suzuki, Kati Vilim and Lauren Vroegindewey
On view 6:30 PM – 11:30 PM
Location: Inflatable gallery screen will be located on Roe Walkway Piazza, between Main Street & Terry Street located next to Toast Coffee House.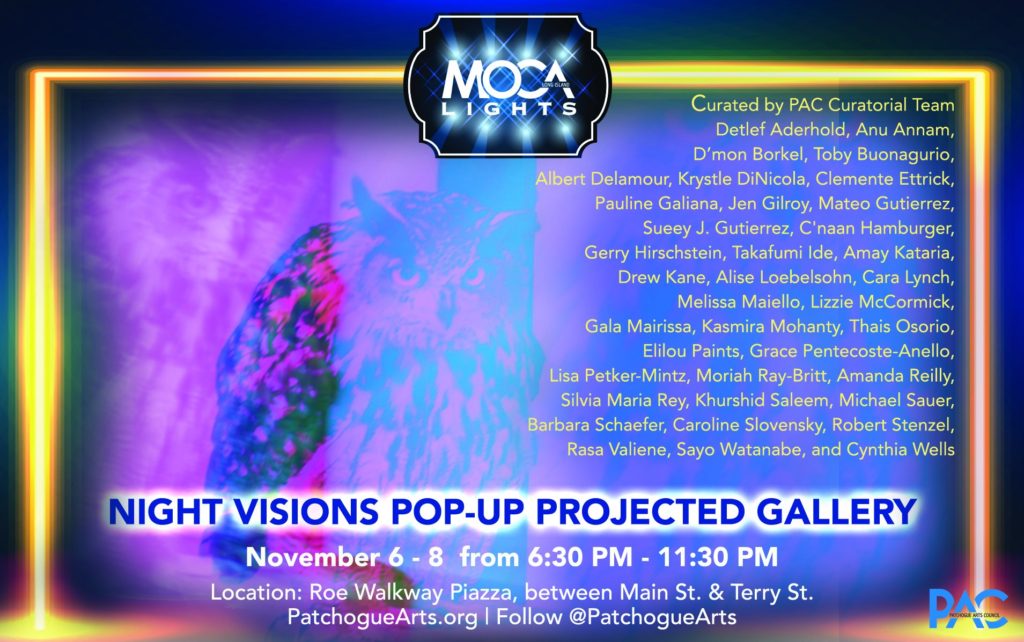 November 6-8 | Survey of Contemporary works Curated by PAC Curatorial
ARTISTS| Detlef Aderhold, Anu Annam, D'mon Borkel, Toby Buonagurio Albert Delamour, Krystle DiNicola, Clemente Ettrick, Pauline Galiana, Jen GilroyMateo Gutierrez, Sueey J. Gutierrez, C'naan Hamburger, Gerry Hirschstein Takafumi Ide, Amay Kataria, Drew Kane, Alise Loebelsohn, Cara Lynch, Melissa Maiello, Lizzie McCormick, Gala Mairissa, Kasmira Mohanty, Thais Osorio, Elilou Paints Grace Pentecoste – Anello, Lisa Petker-Mintz, Moriah Ray-Britt, Amanda ReillySilvia Maria Rey, Khurshid Saleem, Michael Sauer, Barbara Schaefer, Caroline Slovensky Robert Stenzel, Rasa Valiene, Sayo Watanabe and Cynthia Wells
On view 6:30 PM – 11:30 PM each evening
Location: Inflatable gallery screen will be located on Roe Walkway Piazza, between Main Street & Terry Street located next to Toast Coffee House.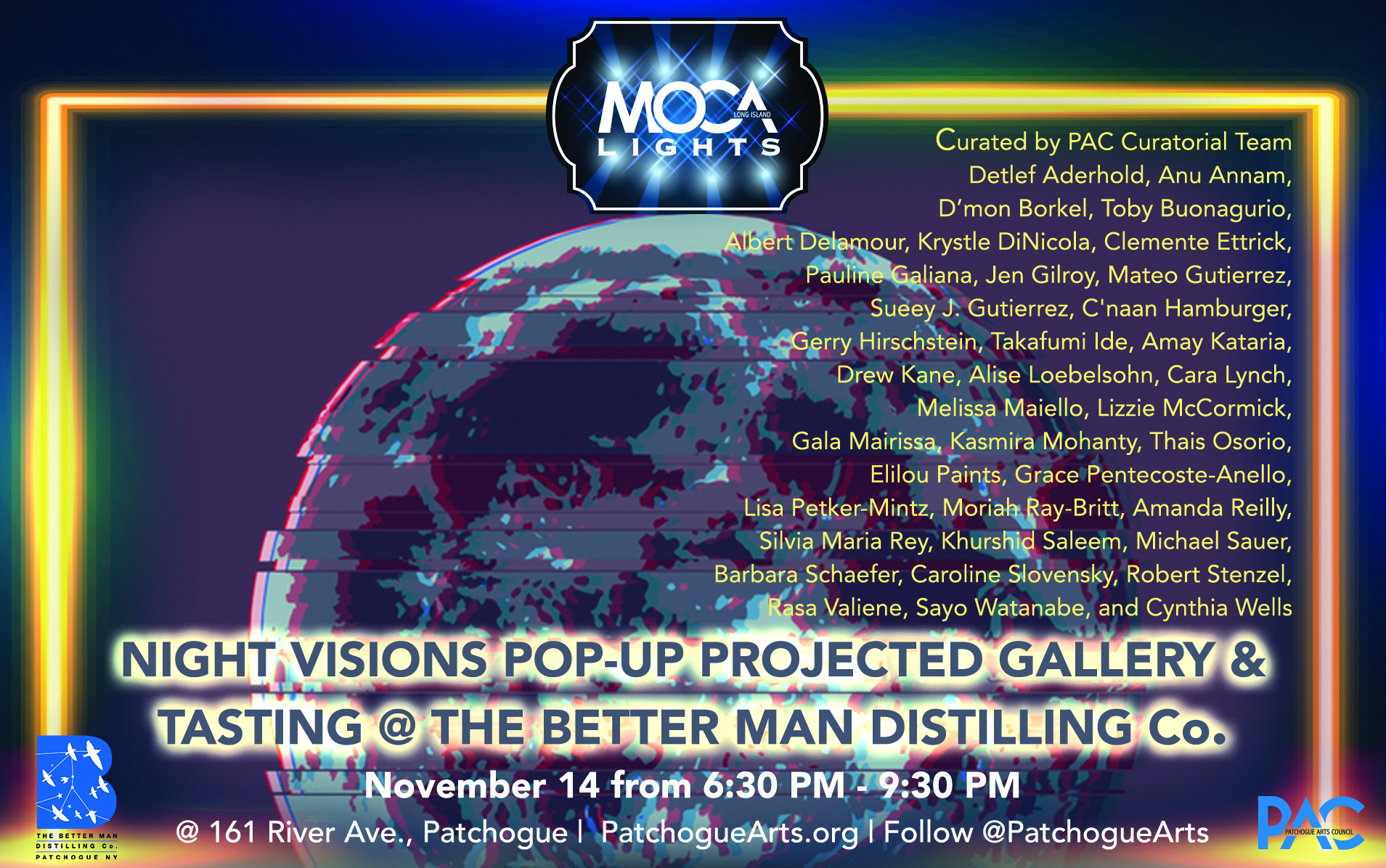 ---
More Info on MoCA L.I.ghts