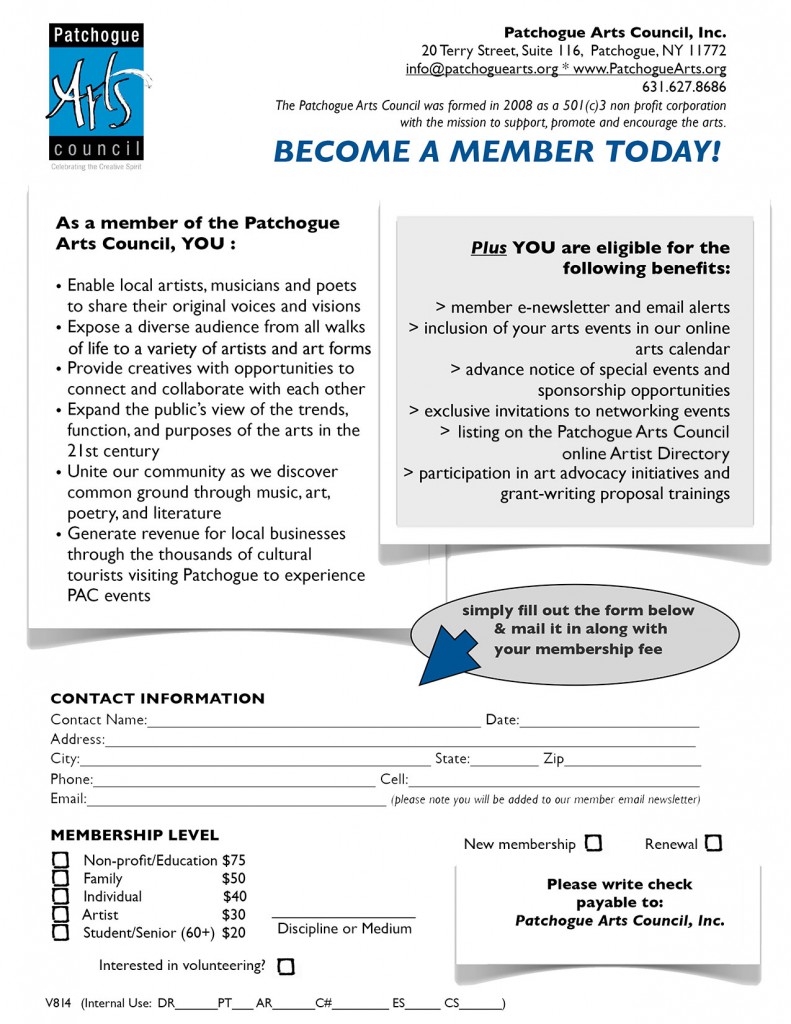 Click here or directly on the image to download a printable membership form.
Completed forms, along with a check, should be mailed to… Patchogue Arts Council, 20 Terry Street, Suite 116 Patchogue, NY 11772

BECOME A MEMBER
It's easy to join the Patchogue Arts Council!
Simply fill out one of our Membership Portrait forms, mail it in along with your membership fee and you will be eligible for the following benefits:
• member e-newsletter and email alerts
• inclusion of your arts events in our online arts calendar
• advance notice of special events and sponsorship opportunities
• exclusive invitations to networking events
• listing in artist directory on website
• participation in art advocacy initiatives and grant-writing proposal trainings
…and the satisfaction knowing you are playing an integral role in the artistic and cultural renaissance of your community!
Sponsors:
Study after study shows that for every dollar spent on the arts, it brings four dollars back into a community. When businesses support an organization like the Patchogue Arts Council, they can be confident that they are making a worthwhile investment. Not only will you be bringing revenue into Patchogue, your business will be recognized as champion of the arts and committed community advocate.
Mission Statement: The Patchogue Arts Council is dedicated to serving the community by encouraging, promoting and supporting the arts.