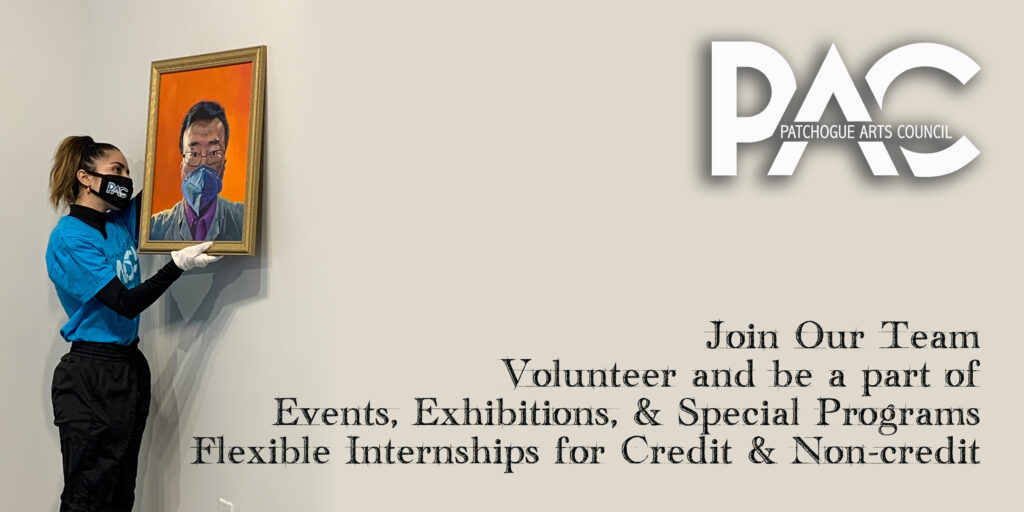 Become a Volunteer…
The Patchogue Arts Council is 80% volunteer-driven and all of our success is due to our dedicated volunteers and generous sponsors. There are many ways to get involved, such as:
• Gallery sitting
• Joining our street team to promote upcoming events
• Constructing exhibits
• Publicizing memberships and benefits at our PAC booth
• Developing marketing materials
• Coordinating volunteers
• Event planning of mixers and fundraisers
If you want to meet others with the same interests while having fun and promoting the arts as we grow, just complete and return our Volunteer Profile form. We look forward to teaming up with you! Questions? Contact \ Visit Us.
Click here to download a printable volunteer form.
Completed forms should be mailed to Patchogue Arts Council, 20 Terry Street, Suite 116, Patchogue, NY 11772
---
Current Opportunities:
Interns – Arts Administration, Museum Management , Exhibitions, Events & Special Programs
Interested? Contact /Visit Us.
PAC Gallery Sitters
Want to show off? Sign up to welcome the public to our gallery where we will present incredible artwork year-round. We are looking for folks willing to come in each week for at least 2 hours at a time and need to fill the following hours:
Thursdays & Fridays 2:00 – 7:30 PM and Saturdays & Sundays 1:00 – 5:00 PM
Stop in and speak to Patricia Sweeney our Volunteer Coordinator!
Interested? Contact / Visit Us.
Mission Statement: The mission of Patchogue Arts Council, Inc. is to ambitiously educate, support, and elevate the arts- community. This includes artists at all stages of their careers as well as supporting the development of new works and public projects through exhibitions and innovative programming that emphasize community engagement while aiding in the revitalization and sustainability of the community. The Patchogue Arts Council, Inc. is a 501(c)(3) non-profit corporation whose programming supports arts across all of Long Island.