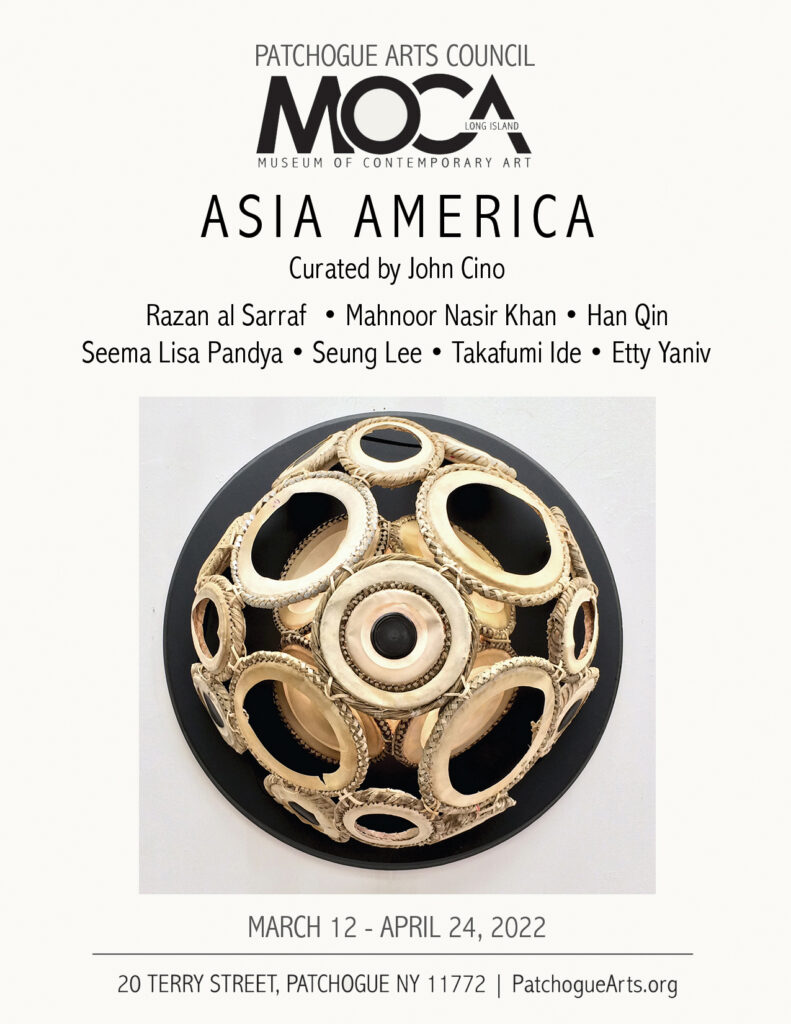 ASIA AMERICA March 12 – April 24, 2022

Events|
Closing Reception: April 24, 2022, 5:00 – 7:00PM An Evening of Asian Percussion: March 30, 7:00 pm @ 89 North
Coffee with the Curator, artist's panel discussion: April 2, 11:00 am
The Patchogue Arts Council and Museum of Contemporary Art L.I. (PacMoCA) presents Asia America Saturday, March 12 through Sunday, April 24. Asia America presents the work of seven artists with roots in the vast continent of Asia. The exhibition begins to explore the question of what it is to be Asian. With over half of the world's population living on the continent and so many more that have migrated to other parts of the globe those who could be considered of Asian heritage is a significant portion of all humanity. The continent of Asia crosses 11 time zones with cultures stretching from the Mediterranean Sea to the Pacific Ocean. The artists of Asia America sample that diversity as well as the many interests and topics currently of interest to all artists.
In paintings and video Kuwaiti born artist Razan al Sarraf explores the individual and multi-dimensional experiences of Arab women. In the ink wash Mother and Child, the figures merge with their background and virtually all detail is obliterated, essentially removing all attempts at individuation. Detail is also minimized in the series Lamhe (Moments) created by Pakistani born photographer Mahnoor Nasir Khan. Her low-resolution prints contemplate the haunting effect of the incompleteness of memory. For multimedia artist Han Qin it is not the past but the present moment which fascinates her. Qin examines issues of belongingness and migration; in her cyanotype White Goddess 2 she considers the consistency of our vision of the moon whether from the US or her native China.

Brooklyn based sustainability consultant and multi-media artist Seema Lisa Pandya acknowledges her culture roots in a more abstract way. She uses repurposed table skins, Tabla Geodesica, in a contemplation interpenetrating positive and negative spaces of the fractal boundaries in organic systems. For Seung Lee, his mixed-media paintings of trees can speak both of universal concepts and traditions of his native Korea. In Bamboo in the Fog we are given a vision of a majestic tree in communion with its environment. Are we seeing the latest in the science of tree communication or the vision of a mystic?

Digital artist Takafumi Ide comments on 'beingness' in quite a different way. In works of Augmented Reality, the circumstances of the moment, of time and place, are integral parts of his digital creations. The installations of Etty Yaniv (Transient Presence) blur the line between the real and the imagined. Working with layers of repurposed materials and images, her pieces ask the viewer to excavate hidden content only seen in close examination.

Asia America is in no way a survey; rather it is a random sampling. As in all things random we are left to impose order. In this case it seems that the artists in the present exhibition also ask us to consider time in its various facets.
In addition to the exhibition there will be a musical performance, An Evening of Asian Percussion at 89 North, 89 North Ocean Avenue, Patchogue on March 30 at 7:00 pm. Featured artists are April Centrone (middle Eastern hoop drum, Roshni Samlal(Indian Tabla), Fumi Tanakadate (Japanese Taiko Drum) and Michael Lipsey (Indonesian Gamelan ensemble). There is a ten-dollar suggested donation for the performance.

Coffee with the Curator, artist's panel discussion:
April 2, 11:00 am Cohosted by Patchogue Medford Public Library
An Evening of Asian Percussion: March 30, 7:00 pm @ 89 North
Visit the exhibition virtually in a 360 interactive tour!