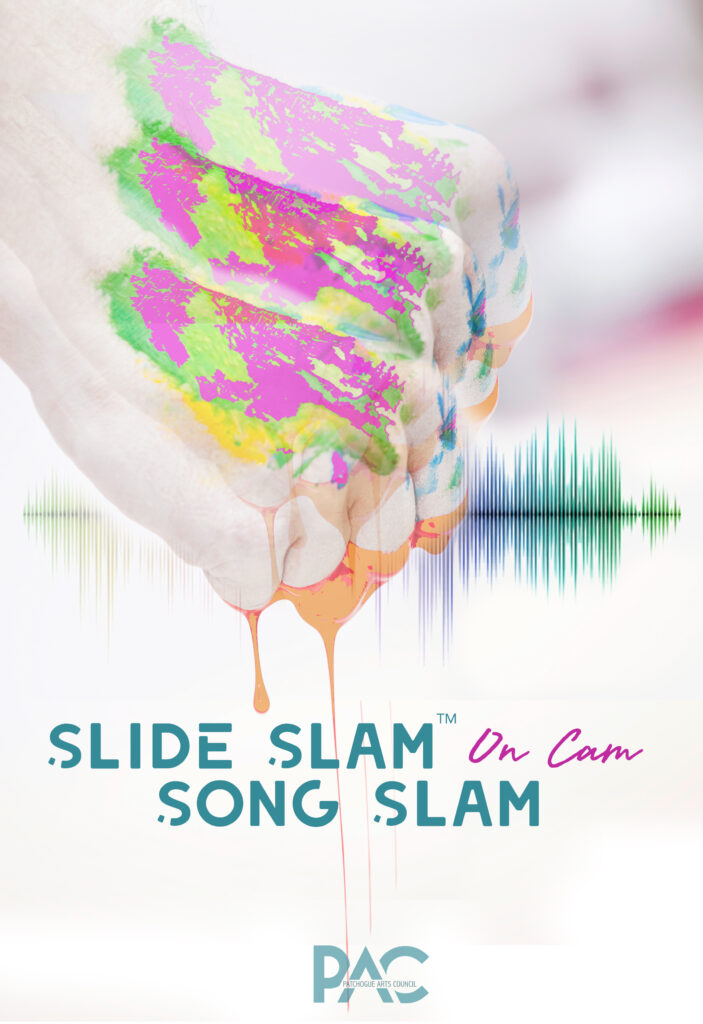 PAC's Slide Slam Series is now released!
Slide Slam on Cam; Share Your Vision & Song Slam on Cam; Beyond the Music
Virtual screenings of professionally produced fast-paced talks with visual artists & musicians!
Past versions of this program have been a successful catalyst to help unify LI's creative clusters by creating bridges of opportunity for artists through collaboration with other organizations, program directors, performance bookers, curators, collectors, arts professionals, arts venues, & collectives. Promoting connectivity, networking for new opportunities, and strengthening the collective artist presence on L.I.
This is an original program of PAC • MoCA L.I.
Submissions for Slide Slam were open to any visual artist to submit their work for consideration through an open call, digital submission process. The fee-free application was open to artists living and working on Long Island.
Selected artists were given 5 minutes to present their work, process, concepts, and ideas! These videos are shot in one take to mimic the live Slide Slam presentation formats that are the original concept of this program!
A special thank you to The "Conversation & Christophe Lima for helping us create some demo videos so our selected artists would have an idea of how this process would work! You'll notice the demos are a bit longer than 5 minutes…after much consideration, we decide to stay true to the original format of the Slide Slam program that has worked so well for 4+ years. 5 minutes is a challenge live or on cam but we found for "on Cam" using the same time frame keeps the momentum and energy.
Song Slam Demo with The "Conversation"
Slide Slam Demo video with Christophe Lima
---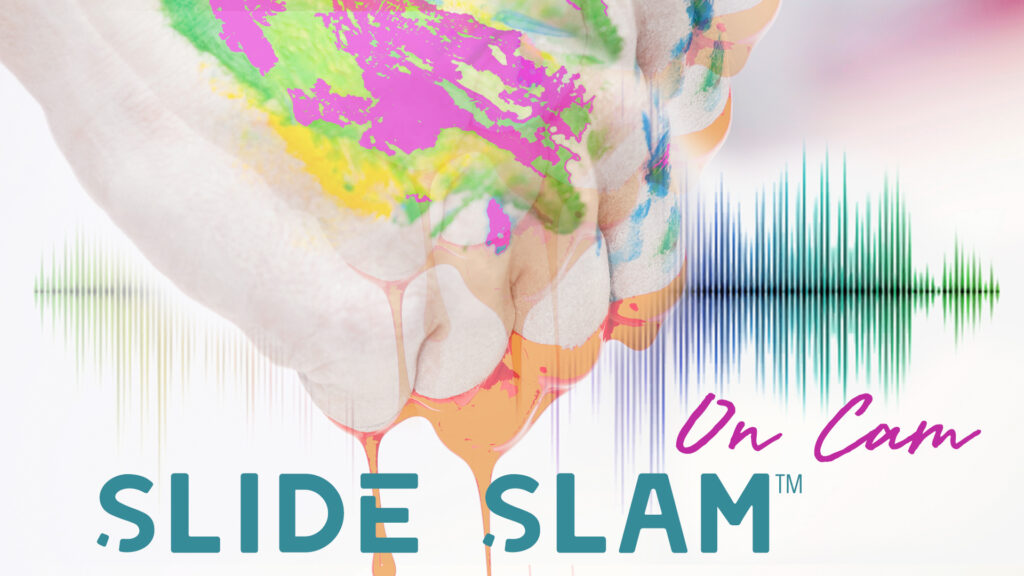 Slide Slam on Cam; Share Your Vision
Submissions for Slide Slam were open to any visual artist to submit their work for consideration through an open call, digital submission process. The fee-free application was open to artists living and working on Long Island.
Selected artists were given 5 minutes to present their work, process, concepts, and ideas! These videos are shot in one take to mimic the live Slide Slam presentation formats that are the original concept of this program!
---
SLIDE SLAM 2021 VISUAL ARTISTS
Sage Cotignola
Artist Bio | Sage Cotignola is a Brooklyn-based Illustrator originally from the East End of Long Island. Since graduating from Pratt Institute in 2014, Sage has been showing paintings throughout Long Island and NYC, creating album covers, custom illustrations, comics, and more.
Sage works mainly in gouache on paper or wood rounds, creating intricate, narrative paintings that feature folkloric creatures and the cyclic harmonies found in nature. Inspired by fairy tales, urban legends, Japanese woodblock prints, and contemporary cartooning and animation, each image presents characters for the viewer to connect with and a story to interpret.
When she isn't painting, Sage is leaving tiny illustrated creature jars hidden in public spaces in an effort to create a sense of spontaneous whimsy in a world coping with the effects of Covid-19. In addition, Sage has been sharing her passion for Illustration and Sequential Art with kids and teens in after-school classes in NYC since 2018. Her work can be found at SageCotignola.com or on Instagram @sagecotignola.
Artist Statement | My paintings stem from my interest in storytelling. I'm fascinated with the mythologies and narratives that we use to construct our sense of self, our understanding of the universe, and our place in the world. I'm particularly interested in the characterization of cryptids and other creatures rooted in folklore. Alongside this, my work seeks to explore the strange, almost otherworldly harmonies found in nature. The paintings are completed mainly in gouache on paper or wood rounds, resulting in an opaque, matte finish with a graphic quality. The worlds I create feel like home to me – my aim is for the viewer to feel a strange familiarity with the characters and scenes presented, interpreting meaning in their own individualistic ways.
You can check out more of my work at sagecotignola.com. I'm also on Instagram @sagecotignola.
Social Media Links
SageCotignola.com | Instagram @sagecotignola
Kristen Memoli
Artist Bio | Kristen Memoli resides and works in Huntington, New York. She works as a clinical psychologist and is a self-taught artist. The majority of her works are abstract, landscape, and urban exploration photographs. Kristen also creates mixed media pieces and assemblages.
Artist Statement | Kristen's art is often inspired by contrast and contradictions. Much of her photographic work explores concepts of light versus dark, life versus decay, and joy versus heartache. Kristen also creates multimedia pieces which often include found objects and text. As part of her work in psychology, Kristen focuses closely on language and the ways words impact thoughts and feelings. Incorporating text into her work helps her convey much more depth than just images or objects alone.
Social Media Links
Website: kamemoli.myportfolio.com Instagram: @kristen_memoli_creations
Amanda Reilly
Artist Bio | Amanda Reilly is an interdisciplinary female contemporary fine artist & illustrator based out of New York. She has an unhealthy obsession with the color red and grew up absorbed in her doodles and drawings. She graduated from Farmingdale State College in 2013 with a degree in graphic design from their Visual Communications program. At FSC she received an outstanding academic excellence honors award from the VIS COMM. department. Before graduating she started professionally showing at various art galleries within New York. She was awarded a spot in the Society Of Illustrators Student Scholarship Exhibition as well as the Director's Cut show at The Art League Of Long Island in 2012. She is a self-taught painter who is known for her energetic illustrative style and subjects immersed in chaos. Always an advocate for public arts, in 2015 she founded Sideshow Sketch Night, whose mission was to merge the boisterous and colorful world of the NYC sideshow and cabaret scene with the young growing art scene of Long Island. With only a small team of two, she held exciting themed costumed live drawing events throughout Long Island, NY for two years. In 2020 "Human Nature" her solo show at Muñeca Arthouse was featured on Hi-Fructose & she exhibited and got published in the Society Of Illustrators 62 (2020)
Artist Statement | Amanda Reilly is an image-maker and creative force within the New York region. Speaking from her own experiences within her work, Amanda's paintings and drawings depict the emotional strengths and shortcomings of mankind. The artist strives to have the viewer see beauty in fault and dullness in perfection. As she states, "No body is perfect, we act on our emotional inhibitions it's what makes us grounded as humans. I think somehow in some form or another we are reminded of this every day in our lives."
Her work is visceral and chaotic. Each one of Amanda's compositions displays colliding colorful pigments that vibrate off each other. Her lines echo uneasiness, tension, and uncertainty. She works primarily in painting and ink drawing but has stretched the limits of her work into more interdisciplinary practices including animation, machine embroidery, and digital media.
Her recent body of work titled "Human Nature" was completed for a solo exhibition at Muñeca Arthouse, which featured over 30 paintings and drawings on wood panels and paper. This series collectively demonstrated a visual narrative of mankind's power and ability to manifest emotions in a negative way. These emotions externally transmogrify physical human forms into primal emotional man, beast, and pest chimeras. The vibrantly pigmented colors of Amanda's "Human Nature" paintings versus the black and white linework of her drawings starkly contrast one another. This decision in using these two vastly different mediums allowed her to capture different moods, tensions, and energies unique to each piece.
Social Media Links
Website: www.amandareilly.com | Instagram: @Amandareillyart
Maria Macedonio-Ritter
Artist Bio | Maria Sophia Macedonio creates dynamic interior paintings which depict the energy of a room. This emotional aspect of the aesthetic enhances our time spent with her work.
Ms. Macedonio earned a Master's Degree from Stony Brook University in New York. She then continued her studies at The School of Visual Arts, The Art Students League, and The Long Island Academy of Fine Art in New York. Her studies also took her to The Cape Cod School of Art in Massachusetts, and Escola D'arts Plastiques i Disseny in Barcelona, Spain.
From 1998 to 2014, Ms. Macedonio owned and operated The Center for Visual Arts, a school of art in Blue Point, New York. Maria currently teaches art in the Connetquot Central School District, a position she has held since 2004. She has served as an adjunct professor at Dowling College in Oakdale, New York, and guest lectured at the Islip Art Museum, Heckscher Museum of Art, and the East End Arts Council.
Maria's work has been reviewed in The New York Times and The Suffolk Times. She resides in Blue Point, New York, with her daughter.
Artist Statement | It is my lifelong journey as a painter that keeps my curious mind continuously analyzing and synthesizing the world around me. Whether I am working from within or interpreting my surroundings I welcome these struggles, as I know they will lead to progress.
For my interior paintings, I employ a unified palette that contains similar values in the background and foreground. This application contributes to the overall flatness of the surface.
Line weight and linear perspective are adjusted to both anchor and float the pictorial spacing of the picture plane.
Additional dichotomies which I focus on include tension & flow, certainty & ambiguity, and lost & found edges of forms.
All of these create push and pull throughout the image and mimic life's movements of moments in our interior spaces.
Social Media Links Website: www.mariamacedonio.com
Moriah Ray-Britt
Artist Bio |Moriah Ray-Britt is a visual artist who creates paintings, prints, digital art, and artist book editions. She experiments with water-based media, textile, and collage using watercolor, collage, monoprints, solar plate etchings, and textiles. She's exhibited in New York City, Long Island, and Jersey City at galleries such as AIGA, Artists Space, Brooklyn Waterfront Artists Coalition, DestinationNY, hpgrp gallery, PPOW Gallery, SVA Eastside Gallery, Waldo Art Space, and the Museum of Contemporary Art, Long Island (MoCAL.I.).
Ray-Britt obtained a Master of Fine Arts degree from the School of Visual Arts in Illustration as a Visual Essay (2003) and a Bachelor of Arts degree from Fordham University (1998) in both Art History and History. She was also an apprentice for the painter Katharine Kuharic. She is a trained art conservator, specializing in the restoration of American art, and studied ceramic restoration with Vladimir Deming. She is a member of the American Alliance of Museums and the Patchogue Arts Council.
Ray-Britt is a Yoga Alliance certified yoga teacher and currently studies with Sarah Tomlinson in Ayurveda yoga, yantra art, and meditation.
Artist Statement |We live within one of the most beautiful places on earth. With our shoreline and our forestry, our Long Island is as beautiful as it is diverse. In this time of the pandemic, I have been on countless walks, noticing the natural beauty of our home and recording it in the studio through my art. I discovered the native Tulip Tree last June—'Liriodendron tulipifera' has tall thin trunks with beautiful exotic flowers and dinosaur-like leaves. I set out to record this beautiful tree in celebration of our diverse native landscape and to amplify the importance of preserving our environmental heritage.
My work is about origin. I record our origin stories through our ideas about home and place, social norm and archetypes, particularly from the feminine perspective. I am inspired by nature, history and mythology; and I'm fascinated by our world. I continue to practice studying the small details of our surroundings as they direct us to our own place of origin.
I use water-based mediums, drawing, printmaking materials, and textiles to explore ideas, which result in a series of paintings, prints, collage, animations, and digital montage. These works may thread together in abstraction or a figurative manner.
Social Media Links
Website: www.moriahray.com | Instagram: @moriahsdesign
Robyn Bellospirito
Artist Bio | Artist Robyn Bellospirito has been exhibiting her art for over thirty years in galleries and museums in the New York metropolitan area, around the country, and abroad. Robyn is listed in Who's Who in American Art and Who's Who of American Women and holds a Bachelor's Degree in Art History. She has worked in some of New York's finest museums, including The Metropolitan Museum of Art and The Frick Collection. Aside from her art, Robyn is a writer, a tanpura player, a dance art performer, a tarot card reader, and a shamanic practitioner. She resides in Long Island, NY.
Artist Statement | Painting has been my primary form of expression since I was eight years old when I saw my parent's paint box filled with oil paints and asked if they'd teach me how to use them. It's been a powerful form of self-expression and discovery ever since. Images emerge spontaneously and without any pre-planning and retain a strong connection to my spiritual life. Many are monochromatic with faint imagery forming in a wash of raw umber, while rich, vibrant colors also often call me to indulge them on the canvas in juxtaposition to the dark. When I can't find expression in any other way, art is my way to speak. Recently I've begun working with the form of circles and spirals which bring me to a center of self, and reflect that inner space once they are completed. Aside from my art, I do butoh dance performances, play tanpura, read tarot cards, and practice shamanism.
Artist Robyn Bellospirito – Social Media Links
Website: www.robynbellospirito.com | Instagram: @bellospiritorobyn
Christine Stevens
Artist Bio | Christine Stevens holds a Bachelors of Fine Arts in Painting and a Masters in Art Teaching from the Maryland Institute College of Art. Christine Steven is passionate about drawings primarily from her life experiences and of her loved ones. Through drawing she connects the act of creating a mark – to a second of the observed experience, uniting herself and her subjects on one page. Christine has been a teaching artist in the Bellmore Merrick Central High School District since 2005. Christine uses drawing as a way to process her life experiences. After becoming a mother, she set out to record the lives, emotions, and growth of her children through her art-making.
Artist Statement | Since last March I've begun exploring how my point of view has changed since quarantine. At first, I began looking out the window of my own home which led to my looking towards windows as a symbol of this time. We look to them for freedom, to observe, and to seek connection. In this series, I experiment with imagery of hope and despair allowing my subject to be held within and sometimes breaking out of window frames.
I've begun challenging myself by first digitally collaging my subject matter into an elaborate emotional landscape. I then draw those collages focusing on form, light, and subtlety, I view these drawings as my own windows of hope in tumultuous times.
Social Media Links
Website: www.kanestevens.com | Instagram: @KaneStevensStudio
Eileen Novack
Artist Bio | Eileen started in photography shooting film back when it was the only option, many years ago. She had a very extensive darkroom in her parents' home and spent many hours there honing her understanding of the craft. She was a budding product/advertising photographer, whose first client paid her with vegetables from their garden.
Eileen did eventually find additional clients who did pay in non-vegetable currency. She also participated in a group show at a New York City gallery on 57th St. With work involving Kodachrome slide manipulation.
When a fire destroyed most of her work in the late 80's she decided to pursue other career paths and spent the next twenty or so years in the software world, and let her interest in photography fade. Retiring in 2012 she found a renewed interest in photography and started learning about this new digital imaging world and where she might fit in and to also have some fun.
She has a keen interest in history and especially photographic history. With the period of the first half of the Twentieth Century being the most exciting. Photography was changing rapidly and moving into the mainstream art and commercial realms in a very dynamic way. The great advertising and fashion photographers were developing on the East Coast and the move away from Pictorialism had taken hold on the West Coast with group f.64.
Artist Statement | Long before we were forced to stay at home, I have been exploring the objects around us every day in our homes. The things that we never give a second thought to. They surround us, we use them, we eat them, we break them, and we throw them away. These are mostly objects that are the refuse of our industrialized society that we take for granted. They do have; if not beauty; at least some elegance on an industrial scale. Some are products of nature; most are products of industry.

Bringing them into a studio environment allows them to be seen as they might have once been when the industry was marketing them. Using a generally direct clear approach gives an opportunity to see what we have ignored without distraction.
Social Media Links Website: studios.quillstone.com
Maria Spector
Artist Bio | I am a New York artist who has an M.F.A. in Painting from Queens College, an Ed.M. in Counseling and Consulting Psychology from Harvard, and a B.A. in Art and Psychology from Binghamton University. I received Individual Artist Support Grants from the New York City Department of Cultural Affairs and the New York State Council on the Arts. I have taken part in museum, gallery, and university shows at the Anchorage Museum, Purdue University Galleries, Islip Art Museum, NUTUREart Gallery, Plaxall Space, and the Knockdown Center. Recently, my work was featured in the exhibits Girlhood at the Howland Center in Beacon, NY, Every Woman Biennial at La Mama La Galleria, and Feminine Identity at St. Joseph's College Gallery. In addition to creating paintings and multidisciplinary art, I have worked extensively as a curator, juror, and am an active teaching artist. In response to the current coronavirus pandemic emergency, I have accepted a position as a contact tracer in New York State because we need art, we need artists, and we need our galleries, colleges, and museums to gather together in person again.
Artist Statement | There are no accidents in my paintings. My art is made in painstaking detail using gouache on paper. At times, if I find the need, I use digital collage, appropriation, and multidisciplinary projects to reach my artistic vision. I explore issues of femininity and masculinity in my work, In my Candy Girls and Boys Under the Sugar-Plum series, the theme seems innocent, but if you consider it in the context of fine art, historical and pop culture, the sexual messages are implicit. The names we give candy and fruit often overlap with names we use to describe sexuality. In my tree, the candy and fruit have double meanings – a girl might be Good and Plenty, a Sweet Tart, or may desire a Sugar Daddy. In one painting, a girl places an oversized, hard strawberry candy into her basket while wearing a dress that depicts an orgy of strawberry eaters appropriated from a painting by Hieronymus Bosch. I am bringing the ideas and painters of the past and merging them into the present. In this, I use my work to question how and when we sexualize young girls and boys in today's culture.
Social Media Links Website: www.mariaspector.com
Anna Tsontakis-Mall
All my grandparents are from the island of Crete, where I had visited before. In 1982 I would return with a different purpose to study ceramics and art history to trace my ancestral and artistic roots.
The Minoan civilization of Crete predates Classical Greece by a thousand years. They reached the highest level of achievement in art and craft that flourished in 1,500 BCE within a sophisticated palatial culture. This course of study brought me to the mainland of Greece where many of the Cretan Craftspeople were employed for their fine work. This spurred my interest in the ceramics of mainland Greece. I had seen Attic Ware at the Met but now I looked at it with fresh eyes. I enjoyed the stories the figures told. I felt a connection to them. They spoke to me about their lives, their struggles, passions, joys, pain, the whole array of human emotions. I heard their voices and chose to use this in my work at a time when I felt voiceless. For me, they have been a vehicle into my inner landscape. An adventure that has not lost its power even decades later. Even though this is my ancestry I feel that it's a part of all human ancestry as all human experience incorporates love, curiosity, anger, dreams, birth, death, ad infinitum. Although the outer appearance is Greek, the experience is universal. It has become my understanding, my expression of my humanness connected to all of humanity.
All my work is made of clay. All pieces are bisque fired. 7are charred with smoke by a sawdust firing. The bottom 2 are higher fired in a wood firing. The Fury is just low-fired earthenware.
Eileen Palmer
Artist Bio | Eileen Palmer is a multi-media artist in the broadest sense. Her media include mosaics, collage, printmaking, painting, metals, clay, jewelry design, glass, and fiber arts. In addition to creating art, Eileen also is a Museum Curator and Program Developer. She holds a Master's degree in Museum Studies from Harvard University; her passions include developing programs for people challenged with disabilities and collaborating on public works of art with a social impact.
Artist Statement | Much of my work is brightly colored, shiny, and occasionally playful and mischievous. I try to initially attract the viewer with whimsy and fun, then when I've got their attention, a deeper concept is revealed. The various materials I use are part of the concept I am developing—be it vintage China, a loved one's costume jewelry, fractured mirror, or glass shards—each material has its own language.
When developing a piece, I put much thought into my artist statements. They are usually a key to understanding the concept I'm trying to relay. If the viewer is not interested in exploring a deeper context, but the art puts a smile on their face—that's good too!
Social Media Links Website: Womensharingart.org/artistgallery/eileenwpalmer/ | Instagram: @ewpalmer14
---
SONG SLAM 2021 ARTISTS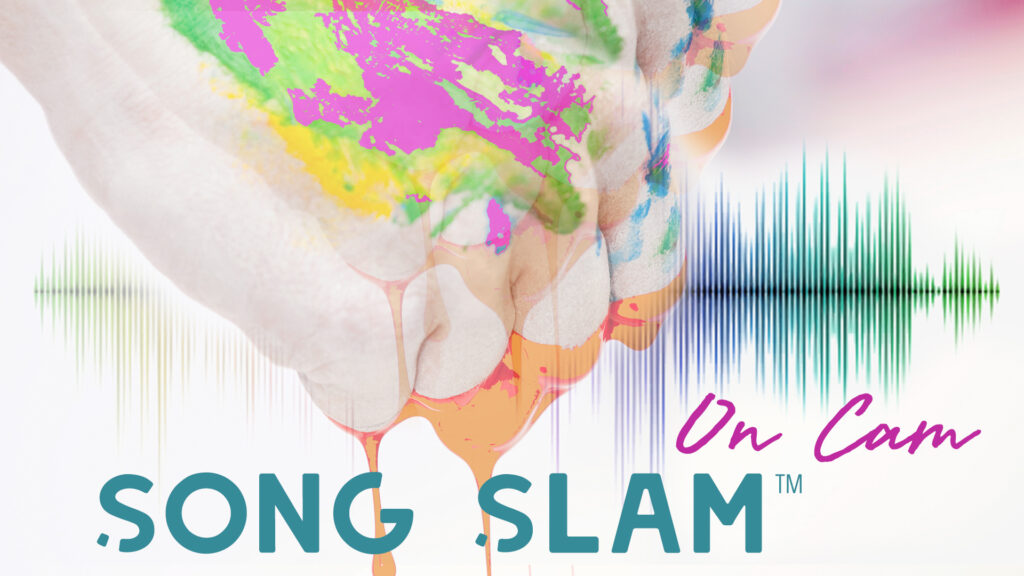 Song Slam on Cam; Beyond The Music
Song Slam invited musicians, songwriters, and sound engineers to submit 3-5 songs with a short statement about each work, artist/group bio, artist/group resume, and up to 5 samples of art used for their albums. Selected artists were given 5 minutes to talk about the technical, inspirational, lyrical, compositional, and instrumental techniques they use.
Mara Keen
Artist Bio | Mara's love for piano, composing, and performing began at the age of 6. She is a graduate of George Mason University and received her Bachelor of Music in composition. She spent a semester studying at Oxford University researching various musical styles and music history. Currently she is working on her Master of Music and is expected to graduate in 2022. She is also teaching private piano lessons and building up her film score portfolio.
Artist Statement
Song #1: Cloudless
The idea for "Cloudless" came from my love of solo piano work. I love the feeling of getting lost in a song, not having to think or worry about anything in that moment. "Cloudless" is an indeterminate work, with a loose musical structure and is largely up for interpretation or improvisation. It is meant to evoke the feeling of being lost in time, maybe somewhere up in the clouds.
Song #2: Red Spring
"Red Spring" is a fanfare dedicated to everyone fighting for positive change so we can live in harmony with each other. A fanfare is an introduction, and this was my way of putting a joyful noise out into the world, hoping to get some positive energy back. Dr. Smith, my former private composition professor, once said to me the best way to give back to the musical world, is to contribute to it. With that in mind, I created "Red Spring".
Song #3: Closed Doors
The lyrics for "Closed Doors" were written when I overheard a couple arguing one day. I started making up a story in my head about why they were arguing and then wrote lyrics to tell this story. This was the first piece I wrote my own lyrics for and begun my love of songwriting. Composing this piece taught me the importance of telling a story in a way that connects with the listener.
Song #4: Sailing
"Sailing" started as a method for me to familiarize myself with writing for wind instruments and French horn. It was originally never meant to be a finished piece, but after spending a lot of time researching how/why wind instruments and French horn blend so well together, and what voice parts they usually take, I decided to throw some ideas down on paper and ran with it. In the end, I was happy with the result.
Social Media Links Website: marakeenmusic.com | Instagram: @mara_keen
Rorie Kelly
Artist Bio | Rorie Kelly makes lady beast music. Her mission as a songwriter is to empower people who don't feel like they fit and inspire them to love themselves fiercely and to become their own heroes. A powerhouse performer, she gigs constantly around the northeast and lights up stages with her fiery vocals and her sense of humor.
Rorie is known for her feminism and empowerment work for women and the LGBT community. Her empowerment anthem If You Teach a Bird to Sing took her to the Obama White House in 2016 to perform at the Bisexual Community Briefing. In 2017, it was chosen as a top 10 Staff Pick by WFUV DJ John Platt.
Rorie has released two studio albums, Wish Upon a Bottlecap and Rising Rising Rising (which the singer refers to as her "badass empowerment album"). In the time of the COVID pandemic, Rorie has started a weekly livestream series called Monday Night Muses which streams every Monday night from 7-9 pm ET on her Youtube, Facebook, and Twitch pages. Her new album, Shadow Work, will be released in Spring 2021. The singer promises the album will be "big, dark, and 150% more witchy."
Social Media Links | Website: www.roriekelly.com
Nico Padden
Artist Bio |Nico Padden is a one-woman folk-rock riot. Ben Folds said she has "a big voice, gorgeous voice," and that her song Pirate Queen is "original and classic at the same time." Her 2016 album A Light in the Dark,'with songs about finding hope amidst difficult circumstances, was a Long Island local sleeper hit, selling over 1,000 copies and streaming over 3,000 times. Her songs have been compared to Alanis Morisette's work in Newsday, and Smithtown Matters News called her a "soulful singer & lyricist."
Padden's newest album, recorded & mixed by Kevin Kelly at The Workshoppe East in Huntington, is due for release in 2021. Entitled Pirate Queen, the work is a mix of Americana, vintage pop/rock & folk, that celebrates the strength of the fierce, brave women in her life. Padden was born and raised in Farmingdale and though she has toured all over the Eastern seaboard as a performer, she currently resides in Valley Stream with her husband Dan and chihuahua mix, Charlie.
Song Statements
Pirate Queen:
This song is a love song to my fiercely dedicated group of superfans/friends who sell merch at all of my shows, support my crowdfunding campaigns, help me with all of my DIY music video projects, proudly wear their Nico Padden t-shirts in their social media posts, and just, in general, are the most awesome supporters an indie singer-songwriter could ask for. The love I have for them is like family; this song expresses that.
White Flag:
This song was inspired by my late grandmother, who I lived with from the time she was 93 until her death at nearly age 99. At age 94, she had to let go of her driver's license and her car which was very difficult emotionally for her. This song, though lyrically pointed in the direction of a lovers' breakup, was inspired by the emotion of my grandmother letting go of the control and autonomy she had as a person who could drive herself places.
Fish Out of Water:
This is a song about making the best of things when you're neither square nor round, and you're a peg that doesn't fit in any hole! The "I don't fit in" experience is universal, at least some of the time, and I wanted this to be an anthem about just learning to dance and have fun and live life to the fullest despite feeling like you don't quite belong anywhere. The accompanying music video was a DIY Long Island effort with some of my favorite humans.
Mother & Father:
As the title suggests, this song is a dedication to my parents and all of the sacrifices they made to make my life good. My father is a quiet, thoughtful, poetic soul who writes stories, draws, builds, and fixes things around the house, and reads insatiably. He is an introverted, self-taught guitarist and has incredible taste in rock and pop music, and he owns a record collection I stole from vigorously as a teenager. My mother is a very public persona who loves the spotlight, a do-er, the center of her social circle, always the person with the idea of how to get things done. She's a trained classical musician and spent her career as an influential music educator. She is 100% extroverted and has a huge stage presence.
I am so exactly 50% each of their personalities, it is uncanny. The two of them combined make the perfect recipe for a singer-songwriter: one part poet who wants to be alone and write sad songs, one part stage-lover who wants people to listen to them sing incessantly.
This is my love song to them for making me exactly who I am, and my reminder to myself to cherish them while they are here on this planet with me.
27 Heartbeats:
This song is dedicated to and inspired by Kaitlin Roig-DeBellis, the Sandy Hook elementary school teacher who saved the lives of her 15 students by hiding them in a tiny bathroom stall and keeping them quiet. I watched every interview I could find with her and was incredibly taken with her story. She said: "If we're going to live, we have to find a hiding place … Evil is coming for us and there's nowhere to go." Believing they were about to be murdered, she told them, "I need you to know that I love you all very much."
When I release this song to the public, I hope to use it to raise funds for the Brady campaign, a group I have been involved with that actively seeks to increase gun-control laws in this country. It is my hope that no teacher ever has to hide children in a closet to save their lives from an active shooter ever again. 
SOCIAL MEDIA
www.nicopadden.comwww.nicosmusiclessons.comwww.
nicosmusiclessons.com
FB | Nico Padden
Gabriella Amato
Artist Bio | Gabriella Amato is a fifth grader at Wilson Elementary School in Rockville Centre. She has been taking piano and singing lessons for three years. She has also been studying violin for one year and plays in the Wilson fifth-grade orchestra. She writes songs and has had her song "See You Again," published on the Wilson School website home page. She has been a state finalist in the PTA Reflections competition for her song, "This is Us." She will attend NYSSMA on piano, voice, and violin this year for the first time. Gabriella is also an accomplished artist and loves to draw and paint. She lives with her family including her brother Nicholas and chihuahua, Lucy.
Artist Statement
This is Us:
Gabriella was inspired to write "This is Us," because of her own experiences of being bullied in first or second grade. She wanted everyone who ever experiences bullying to know how special they are and feel good about themselves. This song was entered in the PTA "Reflections" contest and was given honors at the state level in 2019. This was the first song that Gabriella ever wrote when she was only in third grade. She wrote the song completely by herself with no help from her teachers or parents.
See You Again:
Gabriella wrote this during her experience of virtual learning during the Covid-19 pandemic as a fourth-grader. She was feeling very heartbroken about missing her friends, but eager to see them again. She decided to turn these mixed feelings into a beautiful song. She wrote it because she couldn't wait to see her friends again, and she wanted every one of them to know how much they were in her heart. Her song was posted on the school website for all the students to see and to realize how much she really missed them, her teachers, and her normal school life. The entire Wilson School community including Gabriella's principal, 5th-grade teacher, and school music teacher loved the song and felt it was comforting during such a difficult and confusing time.
I Matter Because
Gabriella wrote this song for the PTA Reflections contest. The contest prompt was "I matter because…" and students could write about what they thought about that topic. Gabriella felt that she matters because she is such a good friend. She says, "My friends would be sad without me and I do a lot for them. When my friends are sad I try to help them and keep them happy. If they didn't have me when they were feeling sad, they might keep feeling really sad and they wouldn't know what to do." Gabriella loves to make her friends laugh. She loves to think of jokes that will make them smile. It makes her feel happy when other people are happy. Gabriella felt that the best answer to "I matter because…" would be about the way that she helps others and that's why she wrote this song.
John Tabacco
Artist Bio
John Tabacco is an American composer, singer-songwriter, engineer, multi-instrumentalist, and graphic artist. He is co-founder of SA3 (a proprietary analog to digital conversion technology for sound and video) and has engineered /mixed and mastered music for the past 35 years. He is the CEO of It Iz What It Iz Music Publishing that currently holds over 700 songs in its catalog. His music background consists of extensive study of orchestration with noted 20th-century composer John Lessard, harmony with the late electronic music maverick Bulent Arel, and composition with Stony Brook University professor Peter Winkler. He received a BA in Music from Stony Brook University in 1983. For over 20 years Tabacco has been the host of Clam Radio, a two-hour free form radio show on WUSB 90.1FM alternate Thursdays from 9-11 AM
Naomi Rabinowitz
Artist Bio
Nesconset, NY native Naomi Rabinowitz is a multi-instrumentalist, composer, writer and fused glass artist.
Rabinowitz hails from a family of musicians: her mother, Joyce, is a pianist; her father, Melvin plays guitar; her late paternal grandfather, Morris, played violin, and her late great-uncle, Sid Robin (her grandfather's brother) was a well-known Big Band-era composer who penned the lyrics to the jazz hit "Undecided."
Rabinowitz' began playing piano when she was just 3, learning the basics from her mother. She switched to flute at 9 and fell in love with the instrument, which she's played for 38 years.
Though she studied classical music, she was inspired after seeing a live performance of jazz flautist Herbie Mann while attending Long Island's arts camp, Usdan. However, when she asked her junior high school conductor if she could join jazz band, he replied that she'd have to play something other than flute. She added tenor saxophone to her repertoire.
Throughout high school at Sachem North and college at SUNY Binghamton, Rabinowitz participated in numerous ensembles including orchestra, jazz band, wind ensemble and pit orchestra. In college, she took up clarinet and tripled on woodwinds in jazz band and the pit.
Outside of school, she played for local ensembles, including Bay Area Friends of Fine Arts (BAFFA) and the Long Island Chamber Music Association.
During the summers of 1993, she taught woodwinds at the arts sleepaway camp, Ballibay, in PA; the next year, she served as the Younger Music Director at Ivy League Day Camp in Smithtown. Meanwhile, she gave private woodwind lessons to Long Island students.
Rabinowitz studied Literature & Rhetoric in Binghamton and obtained her Master's degree in journalism from Syracuse University. She then wrote for Soap Opera Digest magazine from 1998-2012. However, she never stopped playing flute. From 2005-08, she performed with NYC-band Isabel And The Whispers, and in 2008, she recorded her first album FLUTE PATH. On the album, Rabinowitz played the flute and piano parts.
In 2012, Rabinowitz left journalism behind to become a full-time artist and musician. Her business, Naomi's Designs, takes her to libraries and senior centers, where she puts on flute concerts for the residents and teaches fused glass art workshops. She's also performed in many local events and establishments, including the Port Jefferson Dickens Festival, The Songbox in Seaford, ATEAZ Coffeehouse in Kew Gardens and Maple Grove Cemetery's cultural center.
During the COVID crisis, Rabinowitz has focused on composing her latest album, FLUTE OF FANCY and joined the advisory boards for Maple Grove and Association Of Chamber Music Players (ACMP). She also performs "mini concerts" on her Facebook and YouTube channels While her original music contains jazz and classical elements, she enjoys covering genres not usually associated with flute – like heavy metal and disco. Her dream is to jam with Ian Anderson from Jethro Tull.
Artist Statement
SONGS FROM NAOMI RABINOWITZ' ALBUM, "FLUTE OF FANCY"
Firefly: This jazz piece was inspired by the swarms of fireflies seen on a summer night; their lights make them look as if they're dancing in a syncopated rhythm. The tune reflects that with a heavily syncopated bass line that provides a counterpoint to the fast-paced flute melody. This and the other songs were all produced with GarageBand.
Raining On The Roof: Though the flute has a heavy improv line, the percussion stars in this piece, playing on the driving nature of a rain storm. The percussion plays steadily throughout the song, mimicking the pattering of the rain.
Uncertain: "Uncertain" is an ode to this past chaotic year. However, the tune, which contains jazz and classical elements, gradually builds to a happier-sounding bridge. This interlude represents hopeful times ahead.
November Roses: This was inspired when a pink rose bush appeared in late November – an unexpected treat during that time. The music slows down at the chorus, reflecting the "pause" taken to look at the flowers.
5. On The Other Hand: Though this song is instrumental, the flute acts as different "voices," mimicking a conversation. The style is more pop than jazz.
Social Media Links
www.facebook.com/NaomiRabinowitzMusic
www.instagram.com/naomirabmusic/
Special thank you to our generous sponsors for making this program possible!