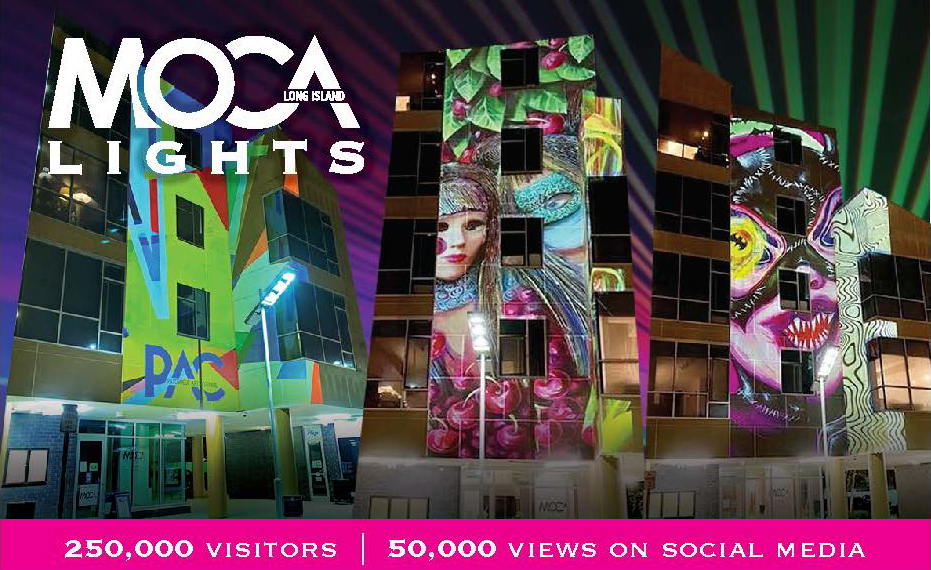 CALL FOR SUBMISSIONS | WORK IN ALL MEDIA INCLUDING SHORT VIDEO, ANIMATION, GIFS & DIGITAL WORKS
LIGHTS ON MOCA
One of our favorite locations for MoCA L.I.ghts, is our very own facade. For 2022 the facade of PAC • MoCA L.I. will be dedicated to the artists we serve! Submit your work for possible inclusion in a special projection LIGHTS ON MoCA L.I. When submitting your work keep in mind the facade is a long, thin vertical composition. Works may be cropped. By submitting your work for possible inclusion you are giving PAC the right to crop the work as needed for the projection. You can see a visual example in the image above.
As the days get shorter and darker the Village of Patchogue will begin to glow again, transforming the downtown into an open air museum as the Patchogue Arts Council presents MoCA L.I.ghts 2022. This program includes a series of compelling, site-specific artist-designed light works that include projection, video, animation, and gifs. Installations will take place on the
facades of various architecture, the Patchogue Theatre marquee, and our pop-up projected galleries. A live broadcast of MoCA L.I. events will take place on social media!
LIGHTS ON MoCA L.I. | A rotating series of works will be curated from an international open call. This exhibit will take place during the peak of MoCA L.I.ghts activities, October 13 – 16, 2022, each night from 6:00 – 11:00 PM.
Artists working in any media are welcome to submit works for consideration.
Please note, works chosen will be projected – physical works are NOT shown for this projected exhibit.
Submissions Details
• Submissions due September 20, 2022.
• Artists will be notified through email no later than October 1, 2022.
• Subject line must include: ProjectionsOnPAC_YourName
Submit online below.
READ Guidelines at link below


Please email info@patchoguearts.org with any questions.
PATCHOGUEARTS.ORG
MOCA L.I.GHTS® 2022 | LIGHTS ON MoCA L.I.
CONVOCATORIA DE PROPUESTAS |
TRABAJO EN TODOS LOS MEDIOS, INCLUIDOS EL VÍDEO, LA ANIMACIÓN, LOS GIFS Y LAS OBRAS DIGITALES
Uno de nuestros lugares favoritos para las luchas de MoCA L.I. es nuestra propia fachada. Para 2022 la fachada de PAC • MoCA L.I. estará dedicado a los artistas a los que servimos! Envíe su trabajo para su posible inclusión en una proyección especial LIGHTS ON MoCA L.I. Al enviar su trabajo, tenga en cuenta que la fachada es una composición vertical larga y delgada. Las obras pueden estar recortadas. Al enviar su trabajo para una posible inclusión, le está dando a PAC el derecho de recortar el trabajo según sea necesario para la proyección. Puedes ver un ejemplo visual en la imagen de arriba.
A medida que los días se acortan y oscurecen, el pueblo de Patchogue comenzará a brillar de nuevo, transformando el centro en un museo al aire libre mientras el Patchogue Arts Council presenta MoCA LIghts 2022. Este programa incluye una serie de atractivos sitios específicos diseñados por artistas. Trabajos de luz que incluyen proyección, video, animación y gifs. Las instalaciones se llevarán a cabo en las fachadas de varias arquitecturas, la marquesina del Patchogue Theater y nuestras galerías emergentes proyectadas. Una transmisión en vivo de MoCA L.I. ¡Los eventos se llevarán a cabo en las redes sociales!
LIGHTS ON MoCA L.I. | Se seleccionará una serie rotativa de obras de una convocatoria abierta internacional. Esta exhibición se llevará a cabo durante el pico de actividades de MoCA LIghts del 13 al 16 de octubre de 2022, cada noche a partir de las 6:00 – 11:00 PM.
Los artistas que trabajan en cualquier medio pueden enviar obras para su consideración. Tenga en cuenta que las obras elegidas serán proyectadas; las obras físicas NO se muestran para esta exhibición proyectada.
Envíe un correo electrónico a info@patchoguearts.org con cualquier pregunta.
PATCHOGUEARTS.ORG