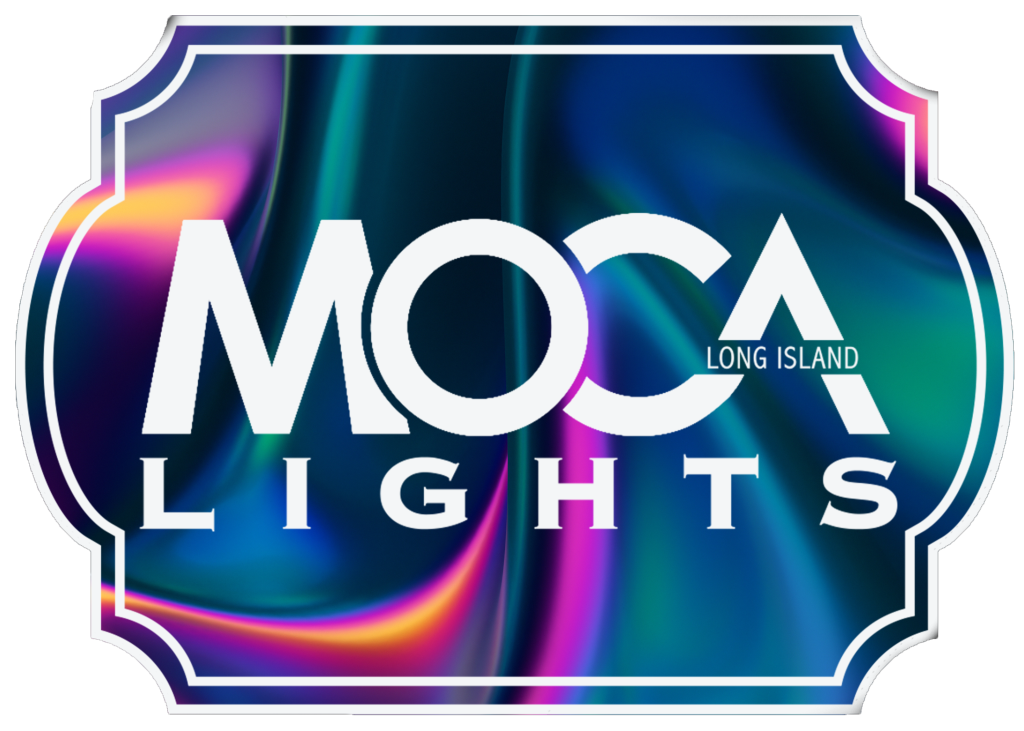 MOCA L.I.GHTS® 2023 | NIGHT VISIONS POP-UP PROJECTION GALLERY
CALL FOR SUBMISSIONS | WORK IN ALL MEDIA INCLUDING VIDEO, ANIMATION, GIFS & DIGITAL WORKS
As the days get shorter and darker the Village of Patchogue will begin to glow again, transforming the downtown into an open air museum as the Patchogue Arts Council presents MoCA L.I.ghts 2022. This program includes a series of compelling, site-specific artist-designed light works that include projection, video, animation, and gifs. Installations will take place on the facades of various architecture, the Patchogue Theatre marquee, and our pop-up projected galleries. A live broadcast of MoCA L.I. events will take place on social media!
NIGHT VISIONS | pop-up projected gallery screens will be placed in various locations throughout the Village of Patchogue creating an immersive art gallery experience for the community. Works by selected artists will be projected and screened at selected downtown locations including Roe Walkway Plaza & The Better Man Distilling Co.! This exhibit will take place during the peak of MoCA L.I.ghts activities
October 5 – 9, 2023, each night from 6:00 – 11:00 PM
MoCA L.I.ghts is part of the Patchogue Arts Council's PAC P.O.V. Festival Season.
PAC P.O.V. 2023
Boundless horizons formed from infinite centers.
Every person has a unique set of life experiences affecting the way they look at the world. Some take their experiences and turn them into unique expressions that we call art. Art, then, is a unique expression from a distinct point of view. These works of art are given to a world of individual viewers whose interpretations are based on their unique experiences. A myriad of artworks and an infinite number of interpretations.
For 2023 PAC-MoCA L.I. will explore through events, open calls, and curated exhibitions the infinite possibilities of what art can be.
—
Please email [email protected] with any questions.

MOCA L.I.GHTS® 2023 | NIGHT VISIONS POP-UP PROJECTION GALLERY
CONVOCATORIA DE PROPUESTAS | TRABAJO EN TODOS LOS MEDIOS, INCLUIDOS EL VÍDEO, LA ANIMACIÓN, LOS GIFS Y LAS OBRAS DIGITALES
A medida que los días se acortan y oscurecen, el pueblo de Patchogue comenzará a brillar de nuevo, transformando el centro en un museo al aire libre mientras el Patchogue Arts Council presenta MoCA LIghts 2023. Este programa incluye una serie de atractivos sitios específicos diseñados por artistas. Trabajos de luz que incluyen proyección, video, animación y gifs. Las instalaciones se llevarán a cabo en las fachadas de varias arquitecturas, la marquesina del Patchogue Theater y nuestras galerías emergentes proyectadas. Una transmisión en vivo de MoCA L.I. ¡Los eventos se llevarán a cabo en las redes sociales!
"NIGHT VISIONS" VISIONES NOCTURNAS | Se colocarán pantallas de galería proyectadas emergentes en varios lugares de Village of Patchogue, lo que creará una experiencia de galería de arte inmersiva para la comunidad. ¡Las obras de artistas seleccionados se proyectarán y proyectarán en lugares seleccionados del centro, incluidos Roe Walkway Plaza y The Better Man Distilling Co.! Esta exhibición tendrá lugar durante el pico de actividades de MoCA L.I.ghts
Del 5 al 9 de octubre de 2023, cada noche de 6:00 p. m. a 11:00 p. m.
Los artistas que trabajan en cualquier medio pueden enviar obras para su consideración.
Tenga en cuenta que las obras elegidas serán proyectadas; las obras físicas NO se muestran para esta exhibición proyectada.
Detalles de envíos
• Envíos hasta el 15 de agosto de 2023.
• Los artistas serán notificados por correo electrónico a más tardar el 20 de agosto de 2023.