---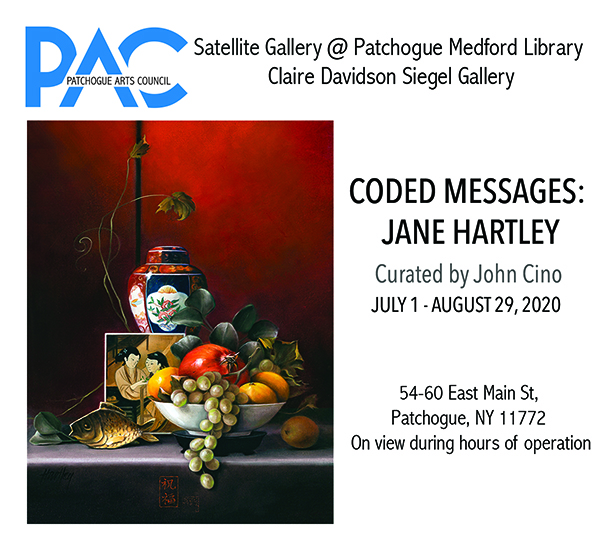 Coded Messages: Jane Hartley
Curated by John Cino
July 1 – August 29
One could simply take in the beauty of Jane Hartley's still life paintings. It is easy to get lost in the minute detail of natural objects, patterns, and reproductions of works of art. They are a tour de force of the painting craft, capturing intricacies of texture and light available only through oil, a medium mastered by the painters of the Northern Renaissance. Indeed no one would be faulted for appreciating these paintings for their simple beauty, but there is more to them.
The works in Coded Messages come from two related series. Messages of Happiness and Flora, Fauna & Far East, in each series, the artist extends the symbolic language to China. In the piece, The Lady and the Warrior, Ms. Hartley evokes enduring love by recalling a Chinese legend in which Lady Yee accompanies her warrior husband Hsiang Yu into battle. As defeat appeared imminent, the Lady attempts to console his spirits but fails and commits suicide. The loving couple is masterfully described through pieces of sculpture and ceramic, which are strewn with poppies. In the legend, poppies blossom from her gravesite representing her strong and bright spirit.
The Patchogue Arts Council would like to thank Mary Cantone of the William Ris Gallery for the loan of these works.
About the Artist:
Jane Hartley is a fine artist from Saint Simons Island, GA. She earned her MFA from the Maryland Institute College of Art. She is a Signature Member of American Women Artists and is represented by the Williams Ris Gallery in Jamesport, NY. Her artwork has been exhibited nationally, with select exhibitions at Tucson Desert Art Museum (Tucson, AZ), Robert Lange Studios (Charleston, SC), and the South Street Art Gallery (Easton, MD). For more information on the artist, visit her website, www.janehartley.com.
---
Please help us continue to provide free programming and artist resources like the above!
---
Satellite Galleries News
---
Solo & Group exhibits of distinct vision by regional artists are presented to visitors. Mission Statement: The Patchogue Arts Council is dedicated to serving the community by encouraging, promoting and supporting the arts.
---