---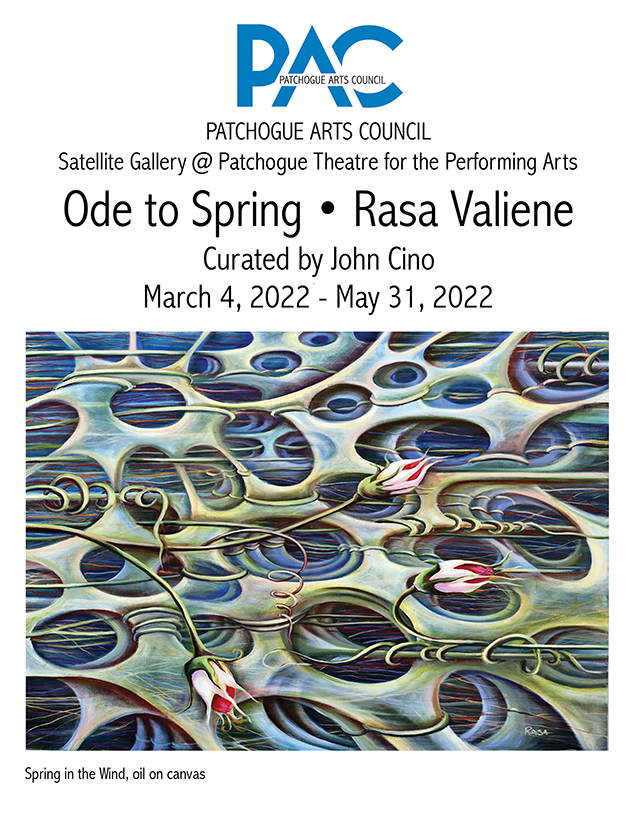 Patchogue Arts Council Lobby Arts Gallery
Patchogue Theatre for the Performing Arts
Rasa Valiene: Ode to Spring
Curated by John Cino
March 4, 2022 – May 31, 2022

The Patchogue Arts Council and the Museum of Contemporary Art, Long Island are proud to announce an exhibition of the work of Rasa Valiene at their satellite gallery in the lobby of the Patchogue Theatre for the Performing Arts.

Rasa Valiene (born 1962) is an artist from Lithuania, one of the Baltic states. Her creative work is quite distinguished and based not only on careful studies of the European tradition but also on thorough investigations of our inner world full of dreams and fancies. She reveals a sort of imaginative reality understood as the scintillating mirage of the soul. Sometimes her pictures are almost abstract. Nonetheless, various symbols and signs are preserved; they indicate that the artist tries to render some inner meaning. Ms. Valiene plays tirelessly with bright and vivid colors, using certain rhythmical patterns and lines at the same time. She creates picturesque and decorative compositions full of energy and gladness which emphasize beauty and goodness as the main paradigms of her creative work.  However, the artist never risks exploring the dark and destructive sides of the soul. Ultimately, she regards the world as a kind of perpetual miracle.  Excerpted from Algis Uzdavinys, Art Critic
There will be a live discussion between the artist and curator followed by a reception for the artist on Tuesday, April 5 at 6:00 pm 
For more information about the artist or inquiries into sales contact: Patchogue Arts Council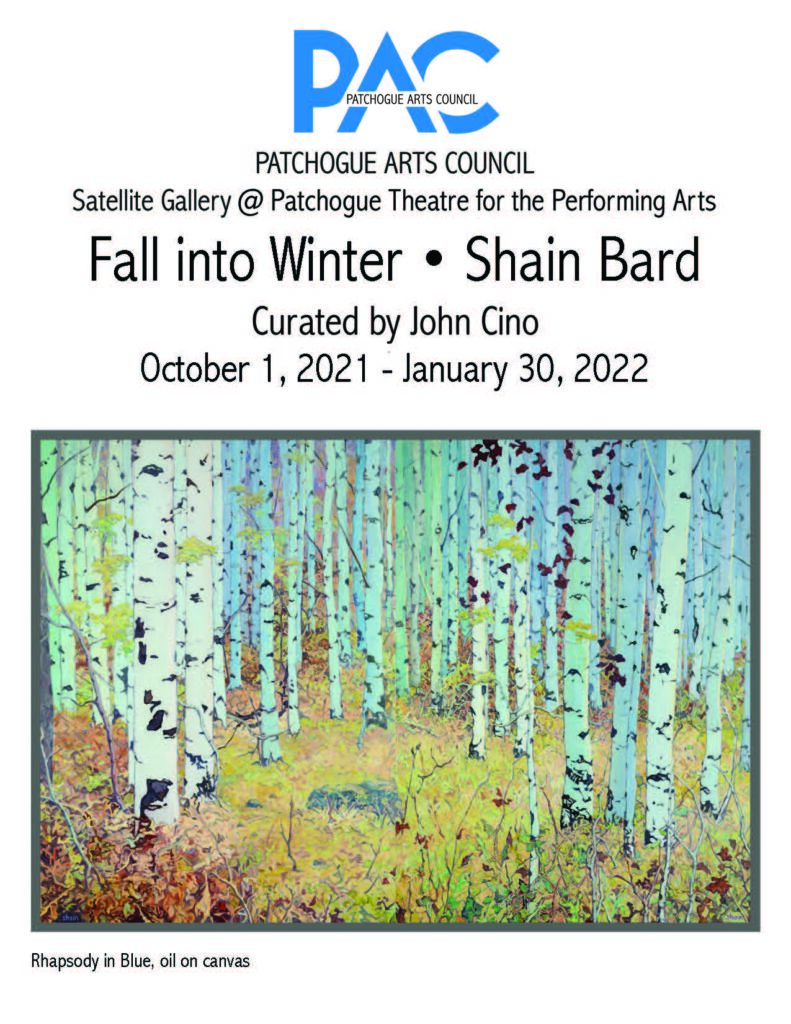 PATCHOGUE ARTS COUNCIL • MOCA L.I.
Shain Bard: Fall into Winter
@ Patchogue Theatre for Performing Arts Lobby Gallery
Curated by John Cino
October 1, 2021 – January 30, 2022
Artist Reception – November10, 6:30 – 8:00 pm

The Patchogue Arts Council (PAC) and the Museum of Contemporary Art Long Island (MoCA LI) return to the gallery at the Patchogue Theatre for the Performing Arts with a timely exhibition Shain Bard: Fall into Winter. Huntington based artist Shain Bard paints light filled landscapes in oils. She is a master at capturing the light as it reflects off her subjects, which are primarily trees. Whether painted off in the distance or up close, her trees become surfaces for reflecting light.

Shain Bard: Fall into Winter spans two seasons examining the lights and surfaces of Autumn and Winter. Of note is her fascination with birch trees which dominate the exhibition.
Shain Bard is an oil painter who has been in numerous gallery exhibitions, one woman shows, and has her work in many private and corporate collections. She is the recipient of many awards in juried exhibitions for her paintings, which have been described as "luminous, poetic, and powerful." Her education includes a Master's of Fine Arts from Lehman College. Bard currently teaches painting and drawing at the Art League of Long Island.
---
Please help us continue to provide free programming and artist resources like the above!
---
Satellite Galleries News
---
Solo & Group exhibits of distinct vision by regional artists are presented to visitors. Mission Statement: The Patchogue Arts Council is dedicated to serving the community by encouraging, promoting and supporting the arts.
---