LONG HALL GALLERY @ TOAST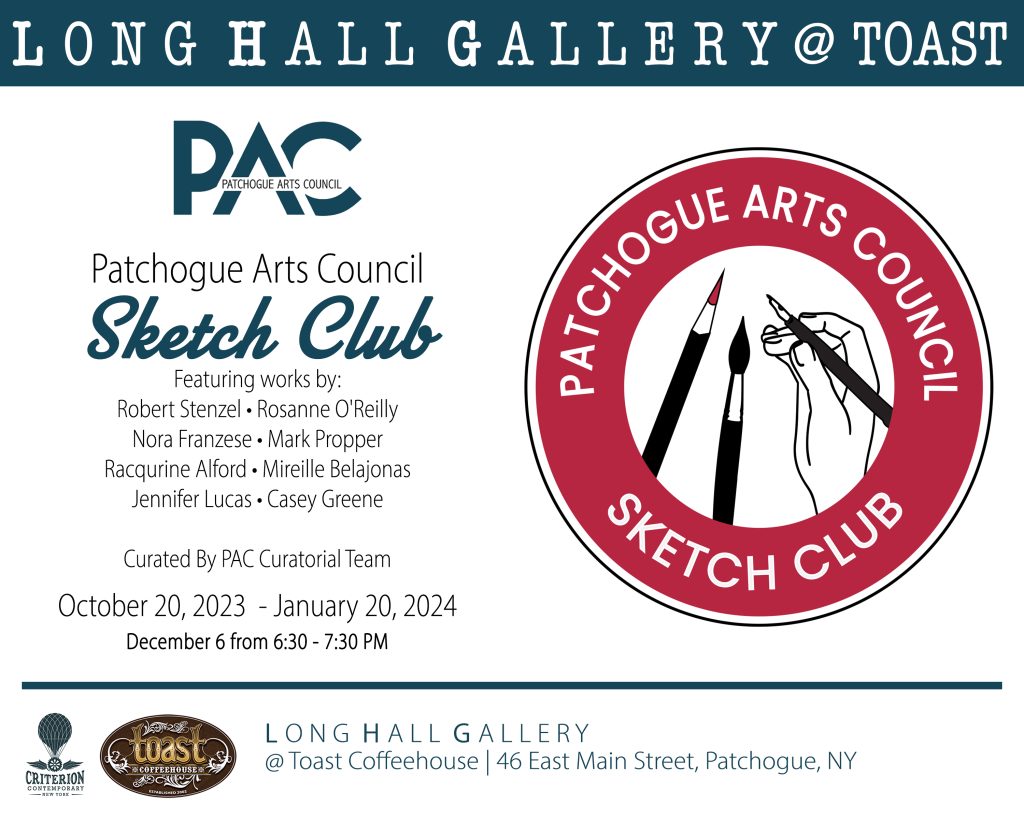 PAC Sketch Club
On view through January 20, 2024
RECEPTION | December 6 from 6:00 – 7:30 PM
Curated By PAC Curatorial Team
Robert Stenzel • Rosanne O'Reilly • Nora Franzese • Mark Propper
Racqurine Alford • Mireille Belajonas • Jennifer Lucas • Casey Greene
Robert Stenzel |Humans use REM sleep as a way to process their emotions, evoking vivid dream imagery. This stream of consciousness is what Robert Stenzel attempts to capture in his work, while using the artistic process as a form of emotional catharsis. Each piece is a door opened into the Jungian Mansion of the Mind, peeling away layers of the subconscious and creating a Rorschach test for the viewer.
Robert Stenzel is a multidisciplinary artist and curator who pulls from their experience in papercutting, small metals, and fiber arts. He has apprenticed under a master papercutter and received a BFA in Studio art from Cal Poly Humboldt. Stenzel currently works out of his home studio in Ronkonkoma, New York.
Rosanne O'Reilly | I became enamored with the translucent layering effects of watercolor paints during my years with the Patchogue Sketch Club, Long Island Watercolorists, and South Bay Art Association. I enjoy the challenge of painting en plein air and infusing added layers of color, from my imagination. I also deconstruct everyday objects that would end up in the trash and collage them into some of my paintings. I experiment with all sorts of art supplies, materials and techniques. Passion drives the artist to create a story to share and I feel successful when my story is conveyed.
Nora Franzese | Patchogue based artist, Nora Franzese, prefers working in acrylic, but enjoys working in watercolor and pen and ink and is not afraid to try new materials, especially in her art room with her students. Nora illustrates children's books for various authors and publishers and is in the process of completing a picture book she both illustrated and wrote. She has not only worked both as an illustrator for comic book and traditional publishers, but also as a graphic designer for various international companies like Nikon, Computer Associates, Regents Sports, and Symbol Technologies to name just a few. You can find Nora's work on Instagram @noralee.illustrationson and on Youtube as Franzese Art sharing art lessons for children and young artists.
Nora holds a bachelor's degree in Fine Art & Design from New York Institute of Technology and a Masters in Art Education from Dowling College, and teaches art in the Patchogue-Medford School District since 1999 marrying both her skills and art education with her love for creating art with or for children.
Mark Propper | Mark Propper is an artist residing in the Patchogue area of Suffolk County, NY. Their mediums are graphite, acrylic, watercolor, and printmaking. They are the lead person of the Patchogue Sketch Club, inheriting the group from Gina Lento in 2018.
Mark Propper's focus is scattered. They focus on the intensity of expression in pursuit of communicating specific messages, even if that message is merely about aesthetics or the use of the chosen medium. Largely self-taught they did take two painting classes with Jeanne Connell Cameron at Hillsborough Community College in Tampa, Florida and studied briefly with Linda Prentiss in the realms of drawing and printmaking.
Racqurine Alford | Former student of Art and Design High School and FIT, I am a mother of 5 who owns a small business, teaches yoga, and is a certified CNA state security guard that loves culture. My work is dreamy and can be described as surrealist.
Mireille Belajonas | Born in Belgium, Mireille went to art school at St.-Lucas, Antwerp and graduated as a goldsmith from Technicum, Antwerp. Her love for detail is reflected in her watercolors and acrylics. She has illustrated a children's book "Billy and the Blanketmonster" written by Robert Reichel and has created a beautiful line of greeting cards for sale at local stores and her studio.
Her art has been shown at various exhibits at the Islip Art Museum, Islip Town Hall, The Baffa Gallery in Sayville, Bayard Cutting Arboretum in Oakdale, Memorial Library in Greenport, The Bayport-Blue Point Library, The Patchogue-Medford Library, MoCA L.I., and the Reboli Center in Stony Brook.
Jennifer Lucas | Jenn was interested in science and art at an early age and always wanted to combine the two – which led to SUNY Stony Brook for a BFA – with a minor in Biology. Jennifer also earned a certificate in Natural Science illustration from the New York Botanical Garden in 2017.
Jenn is teaching painting and drawing locally at CEED, several libraries, and Wertheim Wildlife Refuge. The pieces displayed are studies of bones, her favorite subject to draw and paint!
Casey Greene | Casey Greene is a fine artist based on Long Island, NY. She studies and explores in many different mediums but as of recently has found a home in watercolor and mixed media.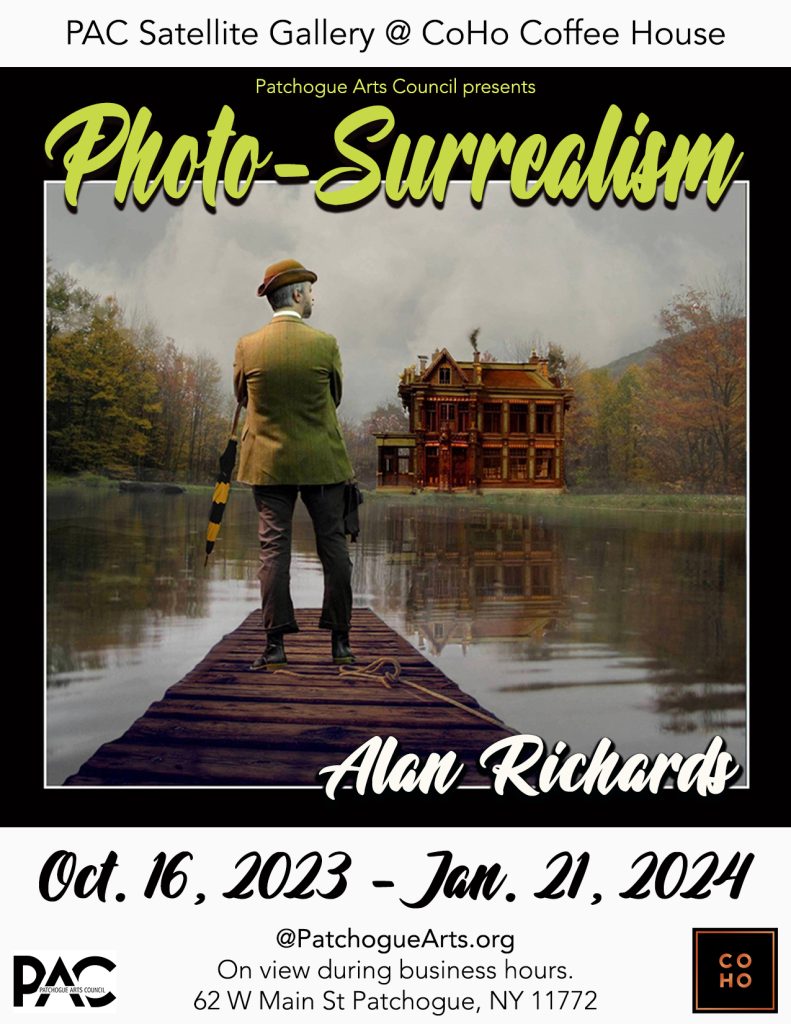 AUGUST 13, 2023 BY PAC MOCA (EDIT)
Gallery @ CoHo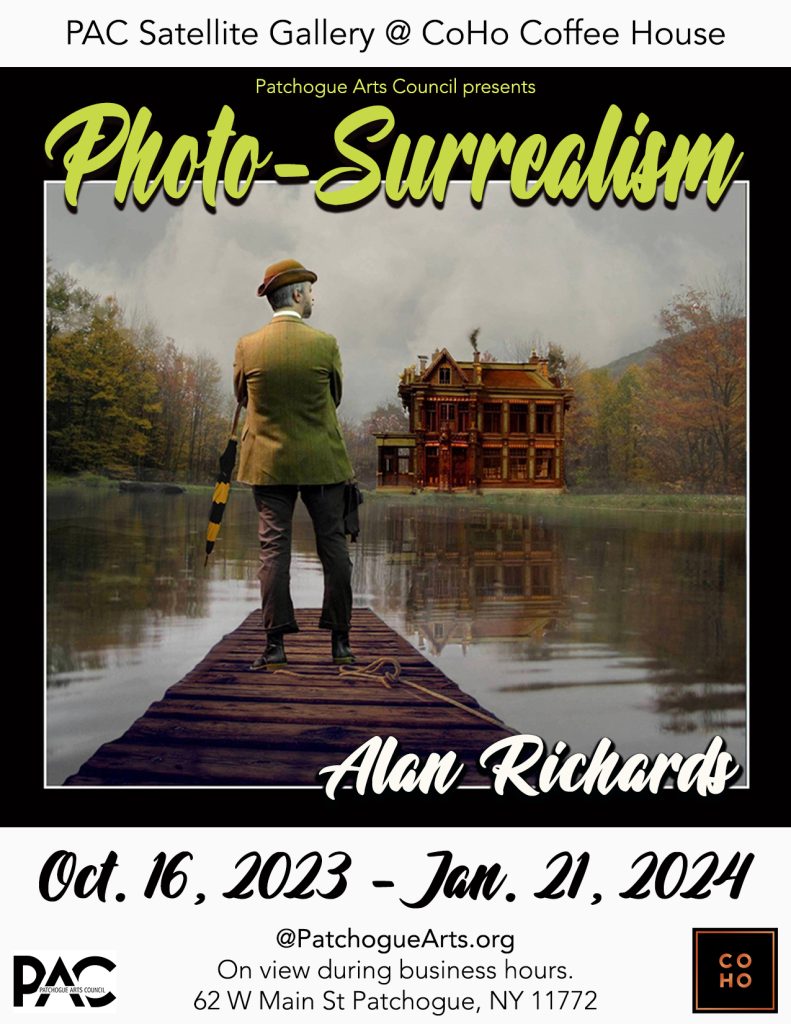 Photo – Surrealism @ CoHo
Alan Richards
Through – January 21, 2024
Reception | TBA
Alan Richards | My work may be classified as photomontage. It uses multiple photographic images, segments of images, drawings, vectors, or clips that are fused to create a single composite image. The images may be playful, satirical, or of a more serious nature.
I try to tell a story with each image. My artwork represents the human condition. It reflects how I view events and the interaction between people and the world.
My work is primarily based on photographic images. I either take the images myself or I use found/vintage or other images combined with my images. The images are supplemented by drawing to bring the various elements into a single image.
I enjoy the work of Edward Hopper, Rene Magritte, and David Hockney, and see my work falling somewhere between all three artists.
I look for the unusual in a person or persons. It's not whether a person is fat or skinny, one color or another, or any other physical attribute. It's a special aspect of an individual which makes them appear to me to be special. It's their human quality that attracts me.
I do not have a set pattern about how an image grows. I guess it is organic in that elements of the final image change over the time I'm working on the picture. Sometimes, an entire background will change or elements will be added or deleted. The end goal is to create an image with visual interest. I may start out with some notion of the potential look of the final piece, but that often changes as the piece progresses.
The above exhibits are part of the Patchogue Art Council's PAC P.O.V. Festival season;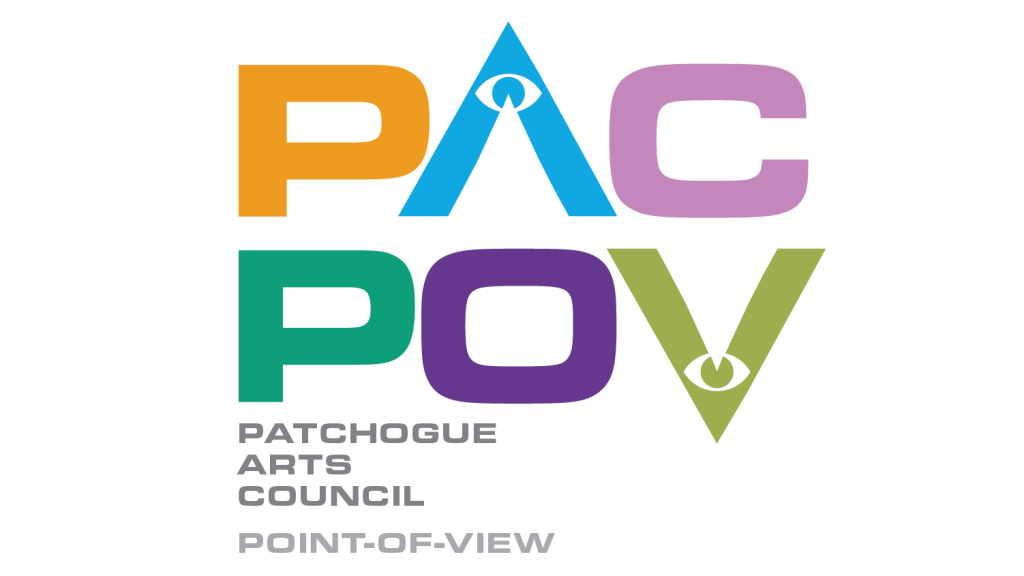 Every person has a unique set of life experiences affecting the way they look at the world. Some take their experiences and turn them into unique expressions that we call art. Art, then, is a unique expression from a distinct point of view. These works of art are given to a world of individual viewers whose interpretations are based on their unique experiences. A myriad of artworks and an infinite number of interpretations. For 2023 PAC-MoCA L.I. will explore through events, open calls, and curated exhibitions the infinite possibilities of what art can be.
PAC P.O.V. | Boundless horizons formed from infinite centers.
Please help us continue to provide free programming and artist resources like the above!
---
Satellite Galleries News
---
Solo & Group exhibits of distinct vision by regional artists are presented to visitors. Mission Statement: The Patchogue Arts Council is dedicated to serving the community by encouraging, promoting and supporting the arts.
---