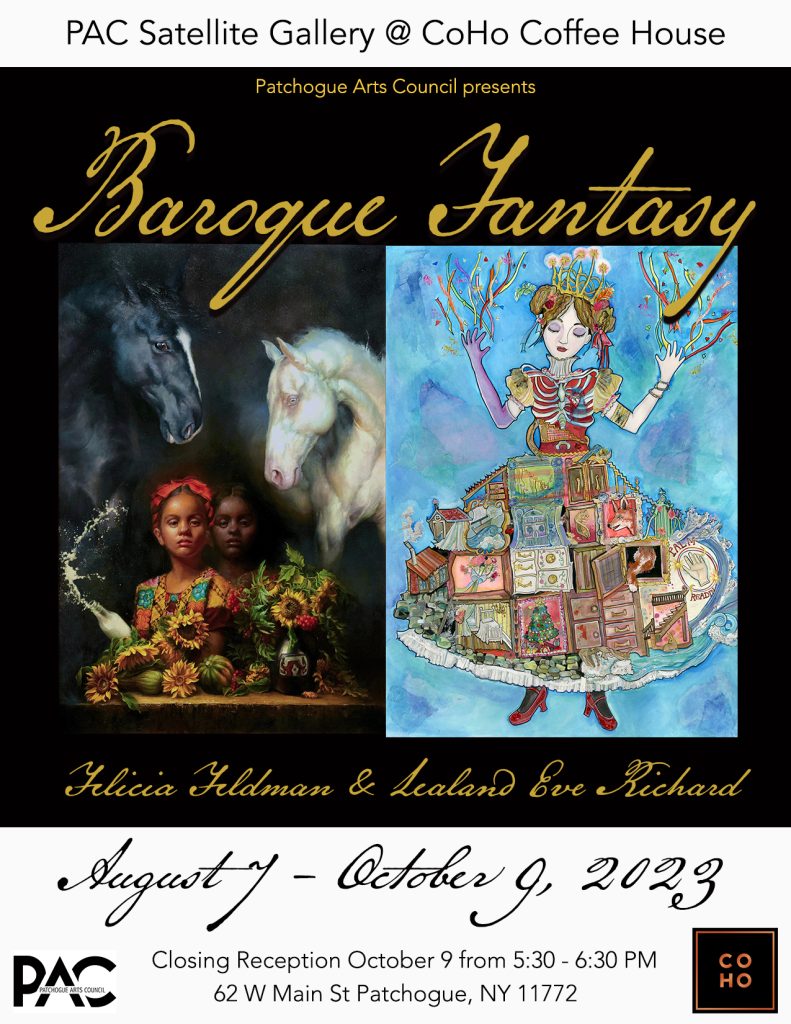 Baroque Fantasty @ CoHo
Felicia Feldman & Lealand Eve Richard
August 7 – October 9, 2023
Reception | October 9 from 5:30 – 6:30 PM
Baroque Fantasy, an engaging exhibition that invites the audience to embark on a captivating storytelling journey, offering a mesmerizing window into new worlds. Featuring works by Lealand Eve Richard and Felicia Feldman.
Presented together within this exhibition are compelling narrative collage paintings of artist Lealand Eve Richard and the evocative artworks of Felicia Feldman. These two artists skillfully delve into layered narratives, intricate textures, and thought-provoking symbolism, creating a tapestry of artistic expression that is truly captivating.
Drawing from the rich and opulent aesthetics of the Baroque era, intertwined with contemporary surrealism and the imaginative realms of fantasy, this exhibition delivers a powerful combination of artistic styles that resonates with both history and modernity.
As viewers step into the realm of these narrative collage paintings and reflective moments of quiet stability, they are transported on a profound journey of introspection, wonder, and intrigue. The essence of the Baroque era lingers throughout, providing an alluring sense of timelessness, while simultaneously embracing the evolving visions and expressions of contemporary art.
Through Baroque Fantasy, the audience is invited to immerse themselves in the intricate stories and imaginative worlds crafted by Lealand Eve Richard and Felicia Feldman. Their artworks evoke emotions, spark curiosity, and invite contemplation, leaving a lasting impact on those taking the time to experience this enchanting exhibition.
FELICIA FELDMAN | Born on November 1st, 1984, in Taegu, South Korea, Felicia Feldman stands as a prominent artist with an impressive academic background. Armed with a Masters in Fine Arts (Painting) from the prestigious New York Academy of Art and a Bachelor's of Fine Arts (Painting) from the esteemed Maryland Institute College of Art, Felicia's artistic journey has been enriched through various independent studies and classes under the guidance of renowned artists such as Odd Nerdrum, Steven Assael, Vincent Desiderio, and Alan Feltus. Her passion for nurturing artistic talent led her to teach at the Long Island Academy of Fine Art for an impressive span of 12 years, while she continues to impart her expertise at the Rowayton Art Center. Presently, Felicia resides in the vibrant artistic community of Greenwich, CT, where her creative endeavors flourish..
STATEMENT | Life is in constant motion, physically and emotionally. With all the flux around us, I want to create a small moment of quiet stability with a minor element of unrest. This is so we can realize that after any quiet moment, we must return to uncertainty. Every artist, in my opinion, has a responsibility to say something: tell a story, make a statement, innovate etc. I see my responsibility as that of a caregiver, one who strives to create reprieve. Often beginning with existing flora and fauna, the paintings veer into the otherworldly through color, pattern, and symbolic narrative elements.
LEALAND EVE RICHARD | Lealand Eve Richard, an accomplished artist and dedicated art educator residing in Bellport, New York, boasts a diverse and illustrious career. Graduating with a Bachelor of Fine Arts from Brooklyn's renowned Pratt Institute in 2002, she flourished as a freelance commercial illustrator until 2010. Lealand's artistic prowess extends across watercolor, collage, and oil paint mediums, crafting enchanting, multi-layered pieces that exude a captivating sense of magic. Her work has graced the pages of numerous publications and has garnered prestigious clientele, including Hasbro Inc./ Wizards of the Coast and Hot Topic stores, while also leaving an indelible mark in the realms of fashion, book, and magazine publishing. In 2011, Lealand furthered her educational journey, earning a Master of Science in Education from Hofstra University, and becoming certified to teach Visual Arts, Birth through Grade 12, in New York State. Presently, she imparts her artistic wisdom to young minds as a valued faculty member at the South Country Central School District, where she passionately guides students in Kindergarten through Grade 7 in the world of fine arts. Throughout her educational endeavors, Lealand remains devoted to her own artistry, producing captivating works in oils, watercolor, and collage. Her artistic journey has been celebrated through exhibitions held in esteemed galleries and non-traditional venues throughout the vibrant art scenes of Long Island and New York City.
STATEMENT My narrative collage-paintings are an evolving, deeply personal reflection on my life and my family's colorful history. I create two-dimensional vignettes made up of many layers. My paintings are created in oils on wood panel or canvas, but I often use a variety of processes and materials to achieve the finished work. I layer paint, cut-paper collage, different transparent tissues, vellums, fabrics, tin milagros and religious medals, even candy wrappers to create a dimensional and cohesive whole. Layering colors and textures, my aim is to create a shifting, dream-like atmosphere, a window into a different world.
My paintings often deal with the construction of identity; the way we gather items to ourselves-both sentimental ephemera, and the patchwork of memories, perceptions and vanities that we use to cobble together a sense of self. I often use scraps of ribbon and lace and broken bits of sentimental trinkets to embellish my paintings, or religious medals and tin milagros that speak to my Roman Catholic upbringing.
My work frequently explores issues of beauty, captivity, confinement and discomfort. The female figures that I paint are central to my work. Archetypal stand-ins, I wrap my characters in layers of tulle and lace. Frequently, I portray them entangled or framed in some kind of organic tangle of vegetative matter. There is an undercurrent of anxiety, and also purpose, to their actions. They are en route to mysterious destinations or engaged in inexplicable tasks. The viewer wonders about the role that these women play. The question of female sexual availability has always been one that interests me, and in my work I deliberately portray my characters in an undefined role, and as participants in a visual reality where they are the lone subjects.
The carnival is another predominant theme in my work. My great-grandfather owned a traveling carnival called Prudent's Amusement Shows, which toured through the 1950s and 1960s. I have often heard my mother and grandmother tell vivid stories about the many seasons they worked there, and this has given me a life-long enthusiasm for carnival culture. There is a sense of transience and grit which undergirds the brightness of this world, and that sense of unease draws me to try to capture that dreamlike feeling, the sense of something half-remembered. I'm inspired by the dizzying whirl of the carnival- the lights at night, the glitter, the bright faded metal structures looming against the sky, promising danger and a giddy rush of adrenaline.
These themes are intertwined with many other inspirations- the changing colors of sea and sky through different lights and weather that I observe in my tiny coastal hometown. Old-fashioned children's illustrations, and the way that they tell a straightforward narrative but inform the telling with such a grace and elegance; among my favorites are Tenniel, Arthur Rackham and Hilary Knight. Victorian stage sets, and the atmosphere of willful, beautiful artificiality that they create; the stacked two-dimensional layers that together, form a living environment of depth and harmony. All these disparate elements serve to inform a world of my own making that I seek to make visible one small window at a time.