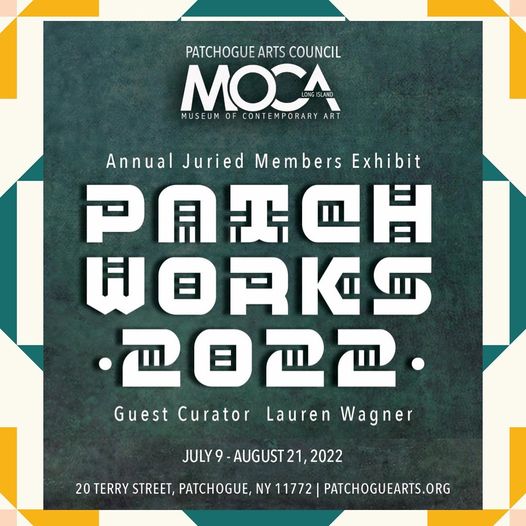 PATCHWORKS 2022 | Annual Juried Members Exhibition
Guest Curator Lauren Wagner
July 9 to August 21, 2022
Reception: July 9 from 5:00 -7:00 PM
The Patchogue Arts Council is pleased to announce it is accepting submissions from current Patchogue Arts Council members for inclusion in its Annual Juried Members Exhibition entitled Patchworks 2022. The exhibition will run from July 9 to August 21, 2022, with an opening reception on July 9 from 5:00-7:00 PM. We are pleased to announce Lauren Wagner, Executive Director, Long Island Arts Alliance, will guest curate this annual exhibition.
The Annual Juried Members Exhibition gives all current members of the Patchogue Arts Council the opportunity to exhibit their artwork at MoCA L.I., located at 20 Terry St. Suite 116, in Patchogue, NY. There is no submission fee, and artists are invited to submit up to two works of art in any medium. The exhibition highlights the many talents of the Patchogue Arts Council members, exhibiting a mixture of painting, sculpture, photography, and more. 2022 marks the eleventh year PAC has held an exhibition exclusively for its members.
Submission Deadline: June 25, 2022, by midnight
Not a member? You can become a member at the time of submission.
You don't have to live in Patchogue to be a member either! Our membership includes artists near and far – from Montauk to Romania and beyond.
ALL submission details and information at the link below!
About our guest curator Lauren Wagner is the Executive Director of the Long Island Arts Alliance (LIAA), a non-profit arts organization servicing the creative sector island-wide. With 16 years of administrative, development, marketing, programmatic, and sales experience in both for-profit and non-profit arts organizations, she brings a diverse set of skills and perspectives to her position with LIAA in order to support a culture where artists and arts organizations can thrive on Long Island.
Her passion for the arts, in its many forms, stems from her appreciation and respect for those who create, as well as the fundamental belief that the arts are essential to community and connection. She uses her positive attitude and tireless energy to advocate for the arts and support the work of the Island's world-class arts institutions, creatives, arts educators, and cultural spaces.

Lauren holds a master's degree in Museum Studies from Johns Hopkins University and earned her Bachelor of Science degree in Arts Administration from Wagner College in 2006. She currently lives in Patchogue, NY and is inspired daily by her husband and 3-year old son.