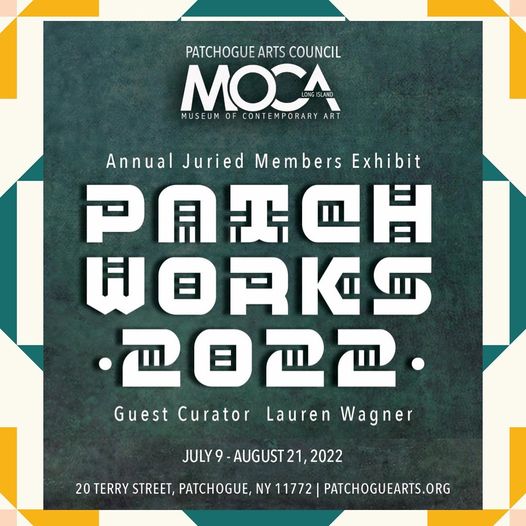 PATCHWORKS 2022 | Annual Juried Members Exhibition
Guest Curator Lauren Wagner
July 9 to August 21, 2022
Reception: July 9 from 5:00 -7:00 PM
The Patchogue Arts Council is pleased to announce its Annual Juried Members Exhibition entitled Patchworks 2022.
The exhibition will run from July 9 to August 21, 2022, with an opening reception on July 9 from 5:00-7:00 PM. We are pleased to welcome Lauren Wagner, Executive Director, Long Island Arts Alliance, as guest curator for this annual exhibition.
The Annual Juried Members Exhibition gives all current members of the Patchogue Arts Council the opportunity to submit their work for this juried exhibit at MoCA L.I., located at 20 Terry St. Suite 116, in Patchogue, NY. The exhibition highlights the many talents of the Patchogue Arts Council members, exhibiting a mixture of painting, sculpture, photography, and more. 2022 marks the eleventh year PAC has held an exhibition exclusively for its members.
Artists
Mary Ahern • Chris Ann Ambery • Ayako Bando • Christine Baum
Rosaria Bazan-Pepe • Val Bisagni • Scott Duffy • JoAnne Dumas
Safia Fatimi • Isabella Fernanda • Francisco Gonzalez • Beatrice Emilia Hogan
Holly Hunt • Jenny Ink • Michael Josiah • Kathryn Ko • Sue Kroll
Christine • MacDonagh • Colin MacDonagh • Jeff Macholz • Mike McLaughlin
Kim Mendelson • Harold Naideau • Eileen Palmer • Linda Pasca • Mark Propper
Khurshid Saleem • Michael Sauer • Bill Shillalies • James Slezak • Robert Stenzel
Pamela Waldroup • Constance Sloggatt Wolf • Courtney Young
About our guest curator Lauren Wagner is the Executive Director of the Long Island Arts Alliance (LIAA), a non-profit arts organization servicing the creative sector island-wide. With 16 years of administrative, development, marketing, programmatic, and sales experience in both for-profit and non-profit arts organizations, she brings a diverse set of skills and perspectives to her position with LIAA in order to support a culture where artists and arts organizations can thrive on Long Island.
Her passion for the arts, in its many forms, stems from her appreciation and respect for those who create, as well as the fundamental belief that the arts are essential to community and connection. She uses her positive attitude and tireless energy to advocate for the arts and support the work of the Island's world-class arts institutions, creatives, arts educators, and cultural spaces.
Lauren holds a master's degree in Museum Studies from Johns Hopkins University and earned her Bachelor of Science degree in Arts Administration from Wagner College in 2006. She currently lives in Patchogue, NY and is inspired daily by her husband and 3-year old son.