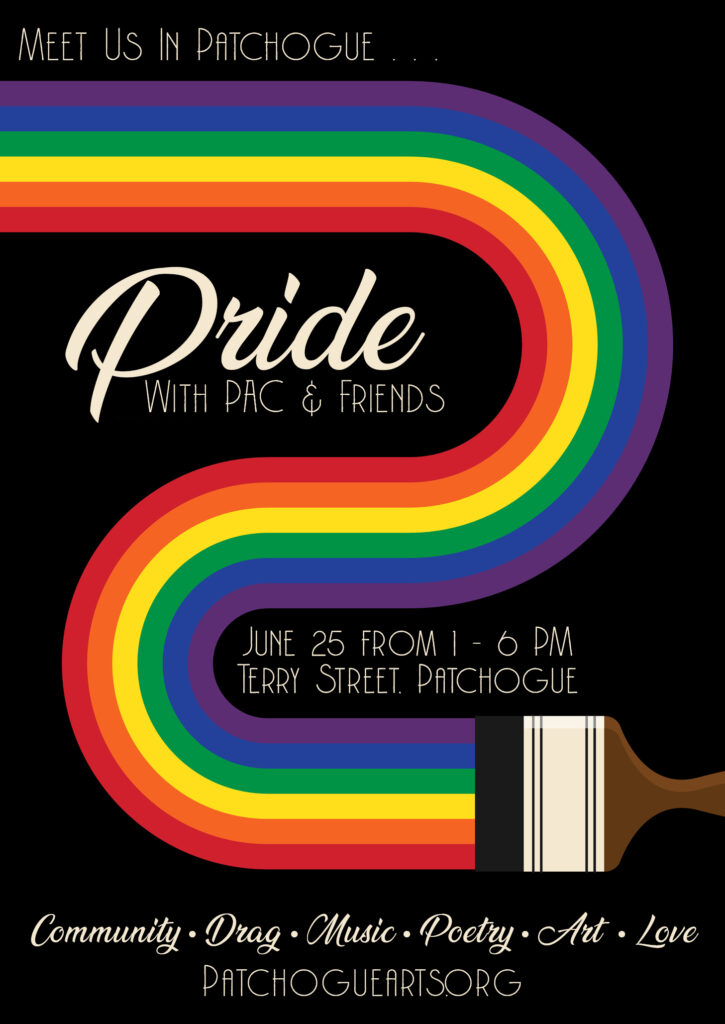 Meet us in Patchogue | PRIDE with PAC & Friends Community • Drag • Performance • Music • Poetry • Art • Film • Love Saturday, June 25 from 1:00 – 6:00 PM • Free and open to the public Terry Street, Patchogue
We invite you to Meet Us In Patchogue for PRIDE with PAC & Friends and connect through the arts. In the heart of Patchogue on L.I.'s official arts district we come together in PRIDE.
Saturday, June 25 from 1: 00 PM – 6:00 PM we will have a day of celebration on Terry Street featuring live performances from local, national, and international artists, mini art exhibits, drag, poetry, music, film, live painting, L.I.local organizations and the launch of the Discover Patchogue Magazine!
This event is made possible in partnership with Patchogue Arts Council • Museum of Contemporary Art L. I., Plaza Media Cinema & Center, Patchogue Medford Library, Village of Patchogue, Greater Patchogue Chamber of Commerce, SEA of Visibility, Long Island PRIDE Festival, BOPPI, Project Hope, SEPA Mujer, and growing.
BORN THIS WAY & LOVE WINS PERFORMERS Curated by Anu Annam 1:00 – 6:00 PM | Outside on Terry Street
*LOVE WINS INTERNATIONAL FILM FESTIVAL @ PLAZA MEDIA CINEMA & CENTER (ticketed event) 4:00 PM – 11:00 PM | Inside Plaza Media Cinema Link below for tickets
https://www.plazamac.org/love-wins-film-festival
This event is made possible with public funding and support from; Suffolk County Village of Patchogue Greater Patchogue Chamber of Commerce
BORN THIS WAY PERFORMERS | RAINBOW CONNECTION Curated by Anu Annam
THE QUEENS Toni Homeperm—emcee LaBelle—emcee
Bella Noche
Annie Manildoo
POETRY
Rusty Rose
Travis Madison
Bri Onishea
Terri Muuss
Jerome Lewis (Poetry & Music)
MUSICAL GUESTS
SINGER-SONGWRITER
Rorie Kelly—guitar and piano
Brandon Ramirez
Kyle Royce—piano
Delaney (Belle Curves)
Andraleia Buch-Bass
Marylin Pardo-Classic Rock
CLASSICAL
Zephyr Chuaprasert—Viola
Danielle Davis—Opera
RAP
Capitol (Rainer)
MOSAIC VISUAL ARTISTS EXHIBITING
Visual Artists
Eileen Novack
Rob Miller
Mark Propper
Sam Neuk
Puneeta Mittal
Laura Resurreccion
NIRI Art
Robyn Bellospirito
Con Artist
John Schindler
Billy Gotharts Levenberg
Nicole Franz
Carol J. Amodeo
Dan Seagraves
Greg Fox
Anu Annam
Teen Artists
Zephyr
Leila Barrett
Leo Gagliardo
Corey Richter
Dahlia Soto
LOVE WINS PERFORMERS (TBA)