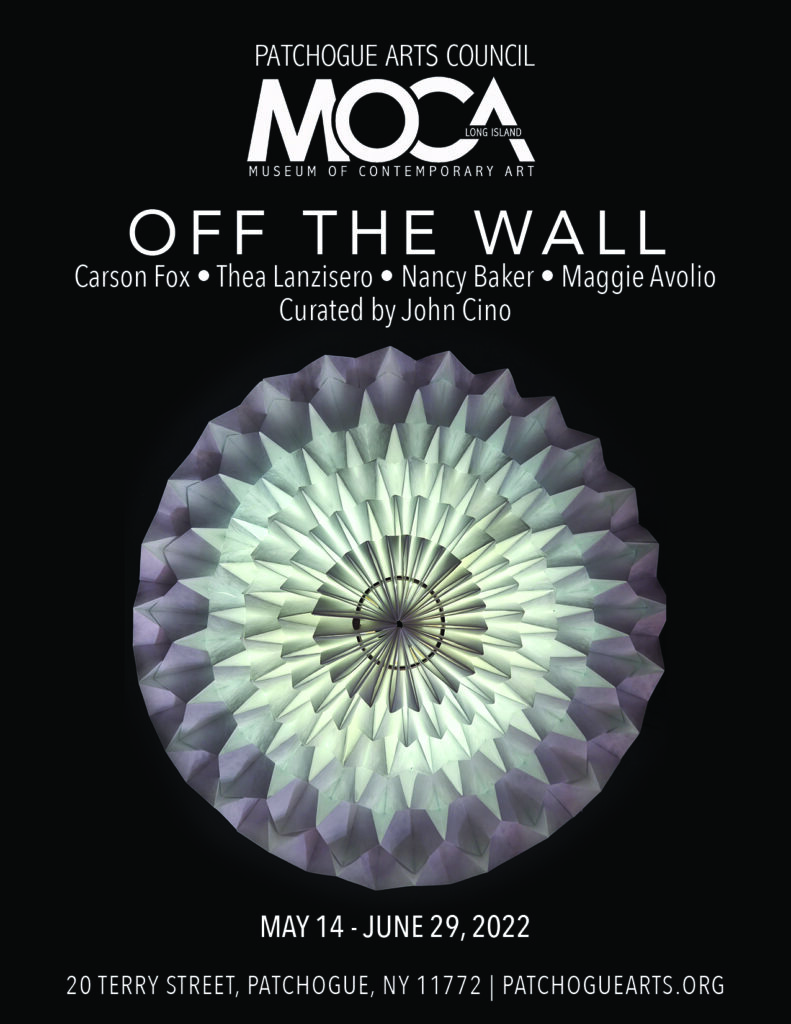 PATCHOGUE ARTS COUNCIL • MOCA L.I.
OFF THE WALL
May 14 – June 29, 2022
Reception: May 14, 2022, 5:00 – 7:00PM
Coffee with the Curator, artist's panel discussion: June 4, 11:00 AM
Click link to view gallery in interactive 360º virtual tour.
The Patchogue Arts Council and Museum of Contemporary Art Long Island (PACMoCA) presents OFF THE WALL Saturday, May 14 through Wednesday, June 29. OFF THE WALL presents the work of four artists whose works are installations on the interaction with the wall from which they are hung. OFF THE WALL is curated by John Cino.

Maggie Avolio makes works that examine the potential for flat materials to be folded into three dimensional space. In works that can be considered minimal, she makes allusions to architecture, clothing, and other primary objects, purely through the geometry of folds. For OFF THE WALL she has created a series of works designed to fit the space of the exhibition.
Nancy Baker creates large scale constructions with a kaleidoscopic sense of detail. Her primary materials are hand or digitally printed papers which are then cut into geometric shapes and interwoven into elegant configurations. In their profusion of detail, they speak to the 'competition for space and sky' in the urban environment.
Carson Fox creates site-specific installations by suspending hundreds of cast resin units which are individually suspended onto the wall in complex forms. Using powdered pigments and diamond dust each resin unit is treated uniquely. Often her resin forms take the shape of flowers which radiate in riotous colors creating exhilarating, pulsating, organic forms.
Thea Lanzisero is a web weaver who explores the unseen forces creating 'interconnections beyond our physical understanding'. Her webs bind natural and artificial materials through weaving, knitting, sewing, and welding, as she contemplates the effects of technology on our intimacy with the natural world and thus on our inner spirit.
Often 'wall art' is safely placed between frames which isolate it from its surroundings. Not so with the artists of OFF THE WALL whose works are all wall mounted sculptures whose works not only interact with their environment, but comment on it as well.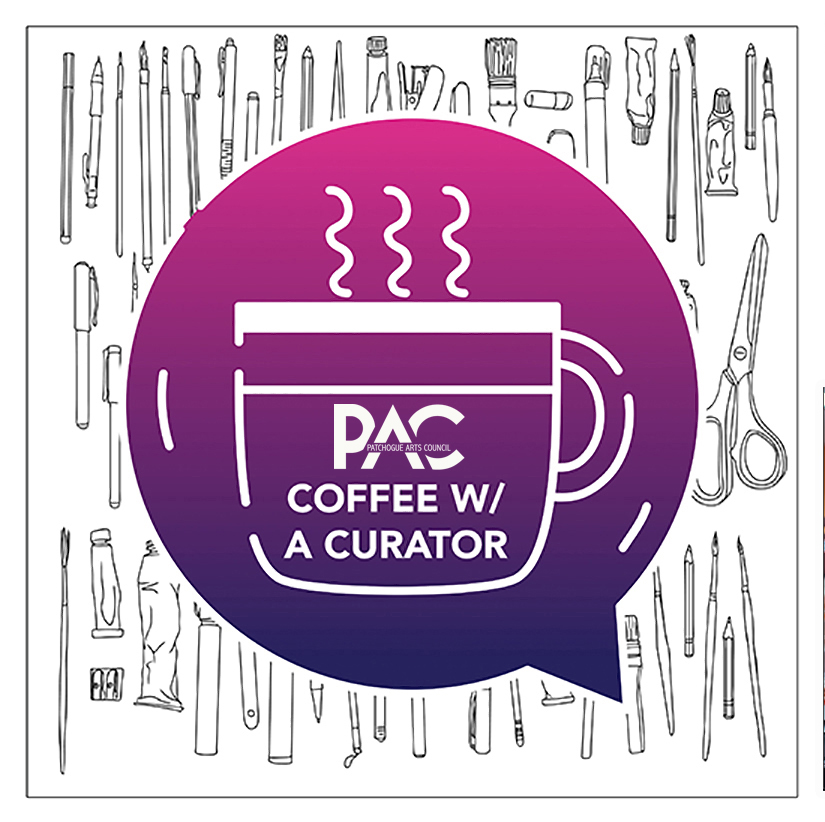 Coffee with the Curator, artist's panel discussion:Saturday, June 4, 11:00 AM Cohosted by Patchogue Medford Public Library
Hybrid EventIn person @ MoCA L.I. 20 Terry Street, Patchogue
or virtually
Meeting ID: 897 1991 6147 | Passcode: 871360