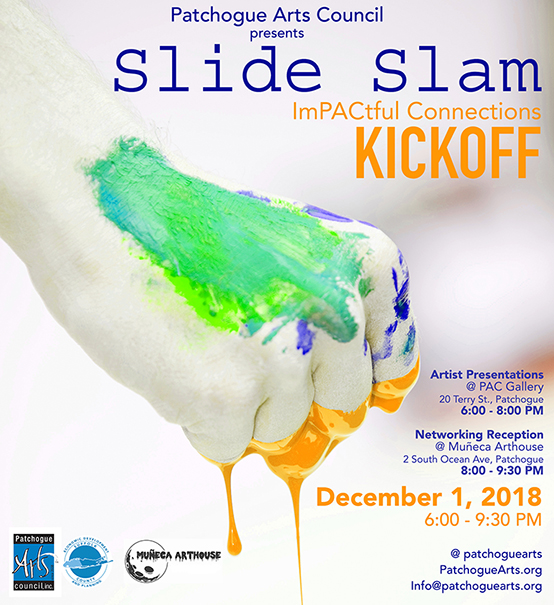 The Patchogue Arts Council is excited to announce 2018-2019 Slide Slam Kickoff! 
Join us December 1 from 6:00 – 8:00 PM at the PAC Gallery to hear 5-minute artist presentations from 15-20 selected artists for an audience! Immediately following presentations from 8:00 – 9:30 PM we will host a networking reception at Patchogue's newest gallery – Muñeca Arthouse. The PAC Gallery is located at 20 Terry Street, Patchogue. Muñeca Arthouse is just a block away, located at 2 South Ocean Avenue.
What is Slide Slam?
Slide Slam will feature selected artists presenting their work for five minutes each. Artists will have the opportunity to network with special guests including curators and arts professionals seeking new artists. This program is part of PAC's 2018 imPACtful connections: Island-wide networking for creatives and supported
in-part with public funding provided by Suffolk County.
This special programming will consist of five Slide Slam events serving as a catalyst to help unify LI's creative clusters by creating numerous substantial opportunities for artists through collaboration with other organizations, curators, collectors, arts professionals, and collectives.
As a result, we will strengthen the collective artist presence on Long Island like our neighboring arts communities such as Brooklyn/Dumbo, Hudson & the like. Slide Slam hosts will include Patchogue Arts Council & Muñeca Arthouse, Paul W. Zuccaire Gallery, Heckscher Museum of Art, Haven Art Gallery and an East End location TBA.
Slide Slam Events:
Slide Slam 1 Kickoff PAC Gallery & Muñeca Arthouse 
Saturday December 1, 2018, from 6:00 – 9:30 PM
PAC Gallery @ 20 Terry Street ( Suite 116), Patchogue NY
Muñeca Arthouse @ 2 South Ocean Avenue, Patchogue
Slide Slam 2: Paul W. Zuccaire Gallery 
Thursday December 6, 2018, from 6:00 – 9:00 PM
Stony Brook University | Staller Center For Arts 1st Fl, Stony Brook, NY
Slide Slam 3: Haven Gallery
Saturday January 19, 2019, from 3:00 – 6:00 PM
155 Main Street, Northport, NY
Slam 4 : Heckscher Museum of Art
Thursday February 7, 2019, from 6:00 – 9:00 PM
2 Prime Ave, Huntington, NY 11743
Slide Slam 5: TBA
Slide Slam events are free and open to the public.
*This program is supported by Suffolk County public funding.