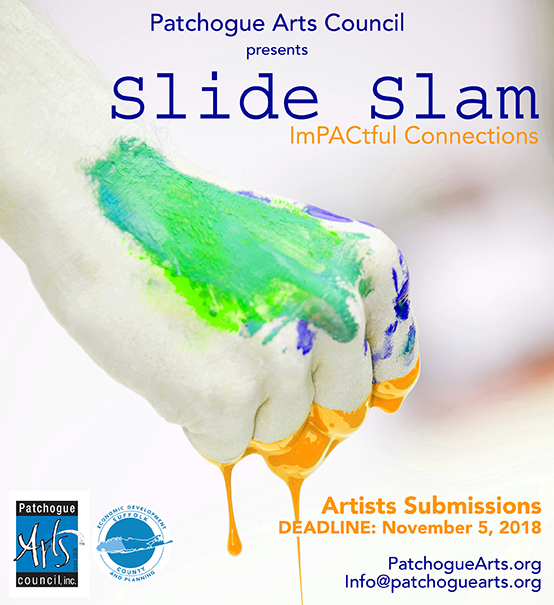 The Patchogue Arts Council is excited to announce 2018-2019 Slide Slam program. Slide Slam will feature selected artists presenting their work for five minutes each. Artists will have the opportunity to network with special guests including curators and arts professionals seeking new artists. This program is part of PAC's 2018 imPACtful connections: Island wide networking for creatives and supported in-part with public funding provided by Suffolk County.
This special programing will consist of five Slide Slam events serving as a catalyst to help unify LI's creative clusters by creating numerous substantial opportunities for artists through collaboration with other organizations, curators, collectors, arts professionals, and collectives.
As a result we will strengthen the collective artist presence on Long Island like our neighboring arts communities such as Brooklyn/ Dumbo, Hudson & the like. Slide Slam hosts will include, Patchogue Arts Council & Muñeca Arthouse, Paul W. Zuccaire Gallery, Heckscher Museum of Art, Haven Art Gallery and an East End location TBA.
Are you ready for your 5 minutes of fame
and maybe something more?
CALL to ARTISTS
The ultimate presentation with an audience full of arts professionals – all there to see your work for possible inclusion in various opportunities and exhibits across Long Island!
Released: October 15, 2018
Deadline: November 5, 2018
Notifications: November 6 – 12, 2018
ARTISTS | Now is the time to submit to be a Slide Slam Artist
Artists should email the following information to info@patchoguearts.org
Email Subject: Slide Slam Art Submission _ Artists Name
5 images of your work with title, date, media information in the body of the email. Please make sure each image file is labeled with Artist last name_Title_date
Artist Bio
Artist Statement
Artistic Resume/CV
This information should be sent in ONE email. All of the above are needed for a submission to be considered complete and will not be reviewed if incomplete.
Submissions are accepted via email only. Former Slide Slam artists can submit to participate again.
Artists selected do not choose the location for presenting. Selected artists are curated to specific location. Requests from artists to present at a specific location are not accepted.
There is only a one time submission to be considered for all five Slide Slam events and coordinating opportunities.
2018 – 2019 will include five Slide Slam events, each linked to a substantial exhibition opportunity. These events will be hosted in five different locations spread throughout Long Island in efforts to merge the artist community on a broader scale. An open call for artist submissions is now open!
Slide Slam I: Kick Off PAC Gallery & Muñeca Arthouse
Saturday, December 1, 2018 from 6:00 – 9:00PM
20 Terry Street ( Suite 116), Patchogue NY
www.PatchougueArts.org
Slide Slam 2: Paul W. Zuccaire Gallery
Thursday, December 6, 2018 from 6:00 – 9:00 PM
Stony Brook University | Staller Center For Arts 1st Fl, Stony Brook, NY
www.Zuccairegallery.stonybrook.edu
Slide Slam 3: Haven Gallery
Saturday, January 19, 2019 from 3:00 – 6:00PM
155 Main Street, Northport, NY
http://www.Havenartgallery.com
Slam 4 : Heckscher Museum of Art
Thursday, February 7, 2019 from 6:00 – 9:00 PM
2 Prime Ave, Huntington, NY 11743
http://www.Heckscher.org
Slide Slam 5: March East End Location TBA