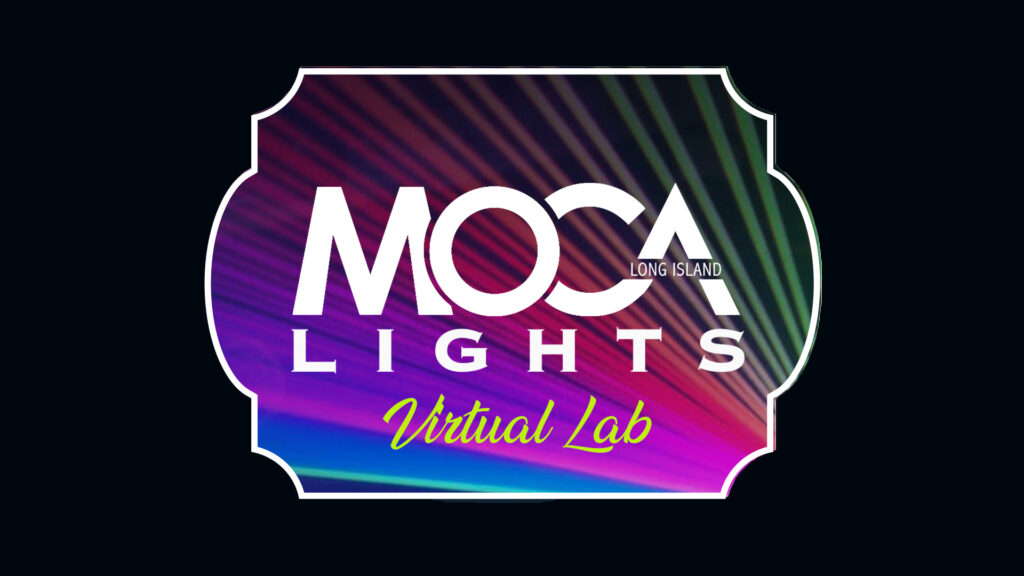 PAConnected: MoCA L.I.ghts Virtual & Live Labs are made possible through a special collaboration with the Patchogue-Medford Library, PAC has created unique educational opportunities for any community member artists & non-artists alike interested in experimenting with projection & animation as a medium in a series of virtual labs inspired by MoCA L.I.ghts installations.

Each year new Virtual Labs are created by MoCA L.I.ghts artists.
2023| Sage Cotignola – Hand drawn illustrations animated for Art on the Marquee®. Join artist Sage Cotignola for a tutorial the she takes her hand drawn illustrations and creates a site specific animation for MoCA L.I.ghts 2023 Point of Light – Art on the Marquee® exhibition.
2022 | Getting Sassy With Photoshop • Learn to Animate with Amanda Reilly. Amanda Reilly as she animates an original illustration using photoshop. New for 2022 after the release of this lab we will host a LIVE session with the artist. Please join us in person and bring any questions you may have. Before you register and attend please watch the video. The LIVE demo will not include watching the video.
2021 | Photoshop GIFs with Takafumi Ide with take a look at creating works specifically for the MoCA L.I.ghts call for art for the Art on the Marquee exhibition. 2021 Virtual Labs also include a three-part series of simple labs that show you how to animate your traditionally create artworks or photographs. Utilizing various types of online and downloadable software artist Moriah Ray Britt walks through each option step by step to animate your art! This series includes Animate Free – GIFs using Giphy, Animate Your Art – using Photoshop, Animate Easy – using Google Slides
2020 | Stop! Motion Animation with artist Jennie Thwing, Creating GIFs with artist Ryan Seslow, and Mad Magic demonstration of the projection mapping process with artist Kelley Bell.
VIRTUAL LAB | Sage Cotignola – Hand drawn illustrations animated for Art on the Marquee®
Virtual Lab | Sage Cotignola – Hand drawn illustrations animated for Art on the Marquee® Join artist Sage Cotignola for a tutorial the she takes her hand drawn illustrations and creates a site specific animation for MoCA L.I.ghts 2023 Point of Light – Art on the Marquee® exhibition! Sage Cotignola is a Brooklyn-based Illustrator originally from the East End of Long Island. Since graduating from Pratt Institute in 2014, Sage has been showing paintings throughout Long Island and NYC, creating album covers, custom illustrations, comics and more. Sage works mainly in gouache on paper or wood rounds, creating intricate, narrative paintings that feature folkloric creatures and the cyclic harmonies found in nature. Inspired by fairy tales, urban legends, contemporary cartooning and animation and more, each image present s characters for the viewer to connect with and a story to interpret.
Much of my art comes from my interest in storytelling and creating new worlds while taking inspiration from natural phenomena. For this animation, my goal was to give an impression of worlds beyond our own from just a glimpse of scenery and characters, allowing the viewer to imagine what comes next. The paper puppet creatures were hand-painted in gouache in my typical style, while the backgrounds were constructed with a variety of more tactile materials (wool, canvas, tissue paper, sequins, pressed foliage, styrofoam). You can check out more of my work at sagecotignola.com. I'm also on Instagram @sagecotignola.
VIRTUAL LAB | GETTING SASSY WITH PHOTOSHOP
VIRTUAL LAB | GETTING SASSY WITH PHOTOSHOP
MoCA L.I.ghts 2022 is coming soon! As an annual offering PAC invites artists to share their animation process so that other artists and anyone interested can learn to translate their work to animation. Join Long Islands' own Sassy Daisy, artist Amanda Reilly as she animates an original illustration using photoshop. Reilly will be a featured artist in this years MoCA L.I.ghts projection installations. A local artist with a distinctive style her work has moved from a live painting, drawing, and illustration to projection works submitted through our Projections on PAC & Art on the Marquee open calls.
ABOUT AMANDA REILLY Amanda Reilly is an interdisciplinary female contemporary fine artist & illustrator based out of New York. She has an unhealthy obsession with the color red and grew up absorbed in her doodles and drawings. She graduated from Farmingdale State College in 2013 with a degree in graphic design from their Visual Communications program. At FSC she received an outstanding academic excellence honors award by the Visual Communications department. Before graduating she started professionally showing at various art galleries within New York. She was awarded a spot in the Society Of Illustrators Student Scholarship Exhibition as well as the Director's Cut show at The Art League Of Long Island in 2012. She is a self taught painter who is known for her energetic illustrative style and subjects immersed in chaos. Always an advocate for public arts, in 2015 she founded Sideshow Sketch Night, whose mission it was to merge the boisterous and colorful world of the NYC sideshow and cabaret scene with the young growing art scene of Long Island. With only a small team of two, she held exciting themed costumed live drawing events throughout Long Island, NY for two years. In 2020 "Human Nature" her solo show at Muñeca Arthouse of 30+ new works was featured in Hi-Fructose & she exhibited and was published in the Society Of Illustrators 62 (2020)
Watch the video tutorial and then join us in person
LIVE LAB | Getting Sassy with Photoshop • Learn to animate with Amanda Reilly
September 1 @ 7PM
Location | Patchogue – Medford Library in Meeting Room A
Please register by emailing [email protected]
---
VIRTUAL LAB | ART ON THE MARQUEE TUTORIAL
Photoshop GIFs with Takafumi Ide with take a look at creating works specifically for the MoCA L.I.ghts call for art for the Art on the Marquee exhibition. In this lab, photoshop will be used to turn photographs into a simple animation and set it up to fit the unique digital display that we utilize for the Art on the Marquee program.
ABOUT TAKAFUMI IDE Takafumi Ide is an interdisciplinary media artist working with sound and light to create installations. He received his B.A. in graphic design from Tama Art University, Tokyo in 1989. He has worked for more than ten years as a graphic designer and an illustrator in Japan.
After observing 911 in Brooklyn, he decided to go to graduate school to learn fine art. In 2007, he received his M.F.A. in studio art from Stony Brook University (SBU), NY, and now works as an Instructional Support Technician in the Art Department. Ide has received several honors; Sculpture Space Fellowship and Residency (partially funded by Pollock-Krasner Foundation and NYSCA), SOS Program Grant (NYFA), and project grants from Nomura Cultural Foundation, ISE Cultural Foundation, Asahi Shimbun Foundation, SBU FAHSS Grant, and NYU ITP Camp Fellowship.
He has mostly exhibited in non-profit organization galleries in NYC area; Sunroom Project Glyndor Gallery in Wave Hill, ISE Cultural Foundation, and AC Institute. Ide was invited to exhibit in Tallinn IV Drawing Triennial 2012 and received "honorable mentioned". His photo-collage work was included the Long Island Biennial 2014 at The Heckscher Museum of Art. Ide's light and sound sculpture "threshold" has been lent until 2021 in the Stone Quarry Hill Art Park, Cazenovia, NY. His sound interactive sculpture, "debacle, 2015" has been exhibited in the NYC Electroacoustic Music Festival 2016. In 2017, Ide was invited to exhibit his site-responsive sound installation for Wave Hill, Bronx, and he was also invited to exhibit his site-responsive work in Nakanojo Biennale 2017. He created a new work for Nakanojo Biennale 2019 in the artist-in-residence program and traveled to Japan with the President's Travel Grant; the support of the Stony Brook University Arts, Humanities, and Lettered Social Sciences Initiative.
VITRUAL LAB SERIES | ANIMATE FREE • ANIMATE EASY • ANIMATE YOUR ART
ABOUT MORIAH RAY-BRITT Moriah Ray-Britt is a visual artist who creates paintings, prints, digital art, and artist book editions. She's exhibited in New York City, Long Island, and Jersey City at galleries such as AIGA, Artists Space, Brooklyn Waterfront Artists Coalition, DestinationNY, hpgrp gallery, PPOW Gallery, SVA Eastside Gallery, Waldo Art Space, and the Museum of Contemporary Art, Long Island (MoCAL.I.).
Ray-Britt obtained a Master of Fine Arts degree from the School of Visual Arts in Illustration as a Visual Essay (2003) and a Bachelor of Arts degree from Fordham University (1998) in both Art History and History. She was also an apprentice for the painter Katharine Kuharic. She is a trained art conservator, specializing in the restoration of American art, and studied ceramic restoration with Vladimir Deming. She is a member of the American Alliance of Museums and the Patchogue Arts Council. She is also a Yoga Alliance certified yoga teacher and currently studies with Sarah Tomlinson in Ayurveda yoga, yantra art, and meditation.
---
VIRTUAL LAB | MAD MAGIC
MAD MAGIC • Projection Mapping Demo with artist Kelley Bell Utilizing "MadMapper", artist Kelley Bell will demonstrate the process of projection mapping to create an immersive viewing experience! During this virtual lab, you will see exactly how the artist transforms some of Patchogue's familiar architecture for Long Islands' first MoCA L.I.ghts projection mapping installation.
ABOUT KELLEY BELL Kelley Bell is an artist, animator, and educator living in Baltimore Maryland. Her work draws from a penny arcade of visual influences: automata, midcentury design and illustration, midway rides, carnival games, and hand-lettered signage. Her animation and installation work includes screenings at the Visionary Arts Museum in Baltimore, Maryland, the Annapolis Film Festival, the Propeller Center for the Arts in Toronto, Ontario, and the Ontario Science Center. Her large-scale projection mapping works and other illuminated art have appeared in numerous festivals like the MOMENTUM festival in Toledo, Ohio, Dlectricity in Detroit, Michigan, the InLight Festival in Richmond, Virginia, the Lumen Festival in Staten Island, New York, Light City in Baltimore, Maryland and Animafest Zagreb in Zagreb, Croatia. Kelley holds an MFA from the University of Maryland, Baltimore County in Imaging and Digital Arts, and a BFA in Graphic Design from Pratt Institute. She is an Associate Professor of Design at the Visual Arts Department at the University of Maryland, Baltimore County. cakeweek.com
---
VIRTUAL LAB | STOP! MOTION ANIMATION
STOP! MOTION with artist and professor Jennie Thwing This special video tutorial led by artist and professor Jennie Thwing will utilize an easily accessible app called Stop Motion. Jennie walks through the simple steps to create a stop motion animation using basic materials. Watch the video, give it a try and join us for a live Q&A to answer any of your questions about the process!


ABOUT JENNIE THWING Jennie Thwing is a Queens-based artist, animator and educator. She received her BFA from Tyler School of Art and her MFA from the University of Maryland Baltimore County. She teaches time-based media at SUNY Farmingdale State College. She has had solo exhibitions at the Arlington Arts Center, the Center for Emerging Visual Artists, the Pittsburgh Center for the Arts, The Mainline Art Center, Soho 20 Gallery, School 33, Fleisher Art Memorial Dene M. Locheim Gallery, Nexus Foundation for Today's Art and Studio 34 and has an upcoming exhibition at the 20.20 Gallery in Lansdowne, PA. She has curated numerous multidisciplinary exhibitions and attended residencies in the US, Norway, New Zealand, and Canada. And has received numerous awards including the 2014 Meyer Family Award for Contemporary Art; an Environmental Art Project Grant at the Schuylkill Center; a 2013 – 15' Center for Emerging Artists Fellowship; a 2014 SPARC Artist in Residence grant; and a 2014 & 2019 Queens Arts Fund Grant. IG @jenniethwing | www.jenniethwing.com

---
VIRTUAL LAB | WHAT THE GIF?
WHAT THE GIF? with artist and professor, Ryan Seslow Learn what a GIF is and how to make one with the artist and professor Ryan Seslow. Using your own artwork or photos create a short looped animation. This video will show you how to create a GIF that you can then submit for possible inclusion in the Patchogue Arts Council MoCA L.I.ghts Art on the Marquee artist opportunity. To read more about submitting your GIF visit this link.

ABOUT RYAN SESLOW I'm an artist, a graphic designer, front end web designer, and a professor of digital art & design living and working in New York City. I'm Deaf & Hard of Hearing. As a visual artist, I'm often working with a synthesis of applied arts, new media, digital, and Internet art. I like to show my work both on and off the web. I share a lot of my current projects, exhibitions, and collaborations here on the blog section of this website.

As a professor of Digital Art & Design, I teach various hybrid studio art, digital art, graphic design, new media, digital storytelling, communication technology & web design courses for graduate and undergraduate level programs simultaneously in NYC between CUNY York College & the Borough of Manhattan Community College, NYIT, The Graduate School of Technology at Touro College, & Iona College. I completed my 15th year of teaching this past spring semester.

As a graphic designer, front-end web designer, and illustrator, I offer various design services to help you and your business. I specialize in working with new, small, and medium-sized businesses, as well as one on one with individuals. I'm passionate about helping you create a presence and identity here on the web.www.ryanseslow.com | IG@RyanSeslow

ABOUT MOCA LIGHTS A signature event of the Patchogue Arts Council. MoCA L.I.ghts; Transforms the Village of Patchogue into an immersive open-air museum and arts destination. MoCA L.I.ghts programming will include a number of outdoor art experiences including Art on the Marquee, Artchitecture, and the Night Vision pop-up projected gallery. Innovative projected artworks utilizing specialized projection mapping techniques, animation, and site-specific media works created by local, national, and international artists will be exhibited for free to the public on foot, by car, and online. Long Island's first immersive art experience of its kind.
---
Please help us continue to provide free programming and artist resources like the above!