PAConnected: MoCA L.I.ghts Virtual Labs | August – October 2020 
Through a special collaboration with the Patchogue-Medford Library and Cornell Cooperative Extension of Suffolk, PAC will be offering unique educational opportunities for any community member artists & non-artists alike interested in experimenting with projection & animation as a medium in a series of virtual labs inspired by MoCA L.I.ghts installations.
Virtual labs will include: Stop Motion Animation with artist Jennie Thwing, Creating GIFs with artist Ryan Seslow, and a demonstration of the projection mapping process with artist Kelley Bell.

Additional programming is planned with Cornell Cooperative Extension of Suffolk to coordinate with a special installation entitled GSB Projected Aquaculture by Kelley Bell and Corrie Park. These programs will take place during MAPPED, on-site in the Village of Patchogue.
All programming is planned to be socially responsible and safe for all to enjoy as each individual feels comfortable. All presentations will be viewable on foot, by car, and live-streamed. Free and accessible to all.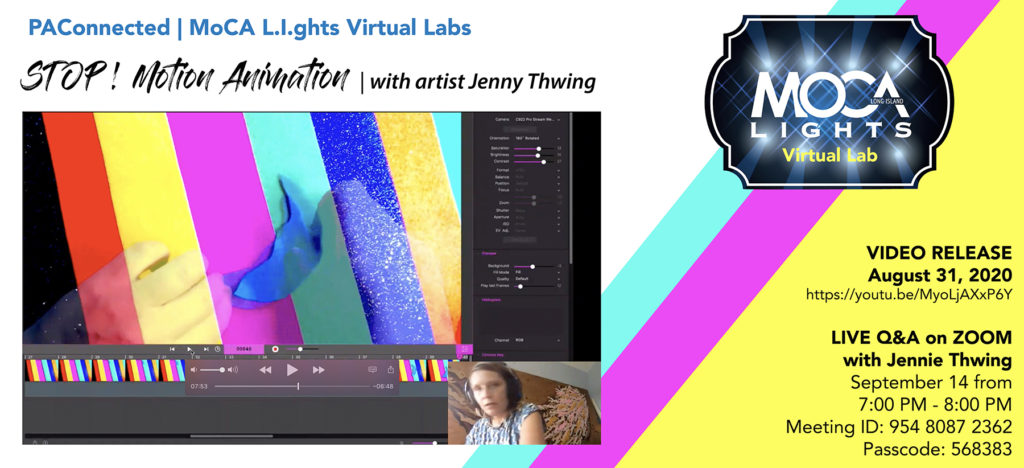 STOP! MOTION with artist and professor Jennie Thwing This special video tutorial led by artist and professor Jennie Thwing will utilize an easily accessible app called Stop Motion. Jennie walks through the simple steps to create a stop motion animation using basic materials. Watch the video, give it a try and join us for a live Q&A to answer any of your questions about the process!
VIDEO RELEASE August 31, 2020, Youtube Link

Q&A LIVE SESSION with Jennie Thwing Please RSVP and send questions prior to the event to info@patchoguearts.org September 14 @ 7 PM on ZOOM
Join Zoom Meeting at this LINK
Meeting ID: 954 8087 2362
Passcode: 568383

ABOUT JENNIE THWING Jennie Thwing is a Queens-based artist, animator and educator. She received her BFA from Tyler School of Art and her MFA from the University of Maryland Baltimore County. She teaches time-based media at SUNY Farmingdale State College. She has had solo exhibitions at the Arlington Arts Center, the Center for Emerging Visual Artists, the Pittsburgh Center for the Arts, The Mainline Art Center, Soho 20 Gallery, School 33, Fleisher Art Memorial Dene M. Locheim Gallery, Nexus Foundation for Today's Art and Studio 34 and has an upcoming exhibition at the 20.20 Gallery in Lansdowne, PA. She has curated numerous multidisciplinary exhibitions and attended residencies in the US, Norway, New Zealand, and Canada. And has received numerous awards including: the 2014 Meyer Family Award for Contemporary Art; an Environmental Art Project Grant at the Schuylkill Center; a 2013 – 15' Center for Emerging Artists Fellowship; a 2014 SPARC Artist in Residence grant; and a 2014 & 2019 Queens Arts Fund Grant. IG @jenniethwing | www.jenniethwing.com
Facebook Event for VIDEO RELEASE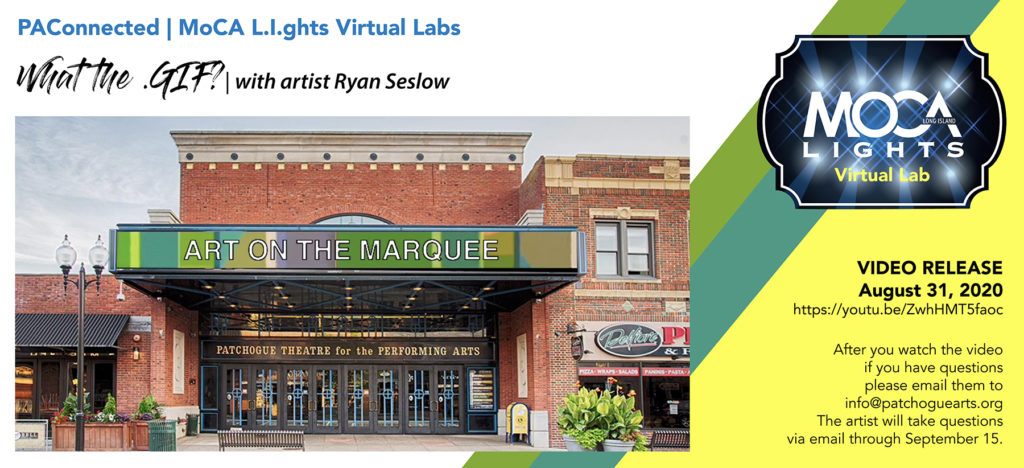 WHAT THE GIF? with artist and professor, Ryan Seslow Learn what a GIF is and how to make one with the artist and professor Ryan Seslow. Using your own artwork or photos create a short looped animation. This video will show you how to create a GIF that you can then submit for possible inclusion in the Patchogue Arts Council MoCA L.I.ghts Art on the Marquee artist opportunity. To read more about submitting your GIF visit this link.

VIDEO RELEASE August 31
Send any questions to info@patchoguearts.org with the subject GIF. Ryan will be answering questions via email through September 15th.

ABOUT RYAN SESLOWI'm an artist, a graphic designer, front end web designer, and a professor of digital art & design living and working in New York City. I'm Deaf & Hard of Hearing. As a visual artist, I'm often working with a synthesis of applied arts, new media, digital, and Internet-art. I like to show my work both on and off the web. I share a lot of my current projects, exhibitions, and collaborations here on the blog section of this website.
As a professor of Digital Art & Design, I teach various hybrid studio art, digital art, graphic design, new media, digital storytelling, communication technology & web design courses for graduate and undergraduate level programs simultaneously in NYC between CUNY York College & the Borough of Manhattan Community College, NYIT, The Graduate School of Technology at Touro College, & Iona College. I completed my 15th year of teaching this past spring semester.
As a graphic designer, front end web designer, and illustrator, I offer various design services to help you and your business. I specialize in working with new, small, and medium-sized businesses, as well as one on one with individuals.
I'm passionate about helping you create a presence and identity here on the web.www.ryanseslow.com | IG@RyanSeslow

ABOUT MOCA LIGHTS MoCA L.I.ghts will transform the Village of Patchogue into an immersive open-air museum and arts destination. MoCA L.I.ghts programming will include a number of outdoor art experiences including Art on the Marquee, Mapped, and the Night Vision pop-up gallery. Innovative projected artworks utilizing specialized projection mapping techniques, animation, and site-specific media works created by local, national, and international artists will be exhibited for free to the public on foot, by car, and online from October to December 2020.
The vibrant businesses of our downtown will become a backdrop to the first immersive arts experience of its kind to take place on Long Island. Art on the Marquee October 3 – December 31, 2020, In collaboration with the Patchogue Theatre for the Performing Arts, a rotating series of artist-created videos, gifs, animation, and digitally created still works will be created specifically for viewing on the marquee of the theatre building. The presentation will begin at 8:20 PM (20:20) and remain on view until midnight each day starting October 3 – December 31, 2020. Works for this program are curated from an international open call.

---
Please help us continue to provide free programming and artist resources like the above!