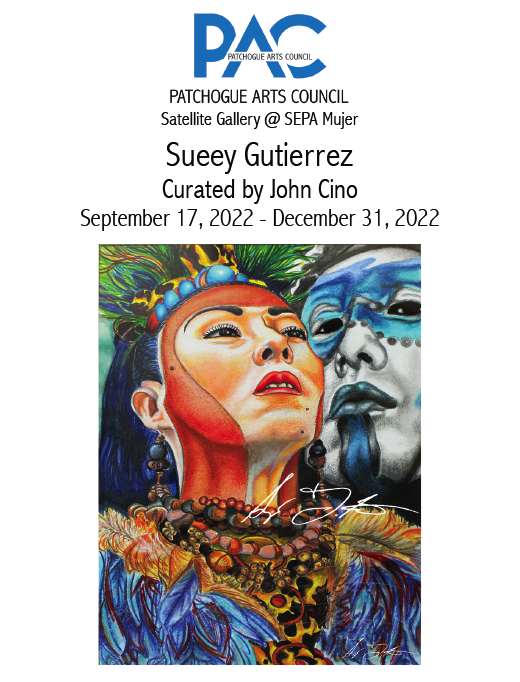 Patchogue Arts Council
SEPA Mujer
Sueey Guitierrez
Curated by John Cino
September 17, 2022 – December 31, 2022
The Patchogue Arts Council in collaboration with SEPA Mujer is proud to present the art of Sueey Gutierrez at SEPA Mujer through December 31, 2022. On display are fine art prints taken from the artist's original paintings. SEPA Mujer is located at 110 North Ocean Avenue, Patchogue. The work will be available for viewing during business hours with a reception for the artist October 19 from 5:00 – 7:00 PM.
All prints were donated by the artist and will be offered through an ongoing auction and final bids will be accepted on Friday November 4th at
SEPA's 29th Anniversary Ball at the Stereo Garden in Patchogue.
Sueey Gutierrez is a New York-based artist born and raised in Brooklyn. Her family is Salvadoran of Mayan descent. Her work has been exhibited in numerous galleries and public spaces. She has been featured in Newsday and Timber Journal, a Colorado literary magazine. Her work can be found in the homes of private collectors located in New York, California, Puerto Rico, El Salvador, and Spain. In July 2021 her solo show "Divina" at Muñeca Arthouse featured 30 pieces of new work embracing her cultural and familial heritage. The exhibition examined what is beautiful, strong, and powerful in women of color. Original works are
currently on display in a two-person exhibition with Filiberto Perez in Dos Mundos at the Patchogue Theatre for the Performing Arts through January 1, 2023.
SEPA Mujer, Inc. is a 501(c)(3) non-profit organization that has been working to support immigrant women on Long Island since 1993 by bringing together community members and advocates to speak out against injustice, provide access to opportunities and services, take a stand against domestic violence and other abuses, and push for social change. SEPA Mujer is located at 110 North Ocean Avenue, Patchogue.
For information on the auction, viewing and Masquerade Ball: (631) 980-2555, info@sepamujer.org
For more information about the artist or exhibition contact the Patchogue Arts Council at 631-627-8686
What: Sueey Gutierrez
When: September 17 – December 31, 2022
Where: SEPA Mujer, 110 North Ocean Avenue,
Patchogue, NY 11772