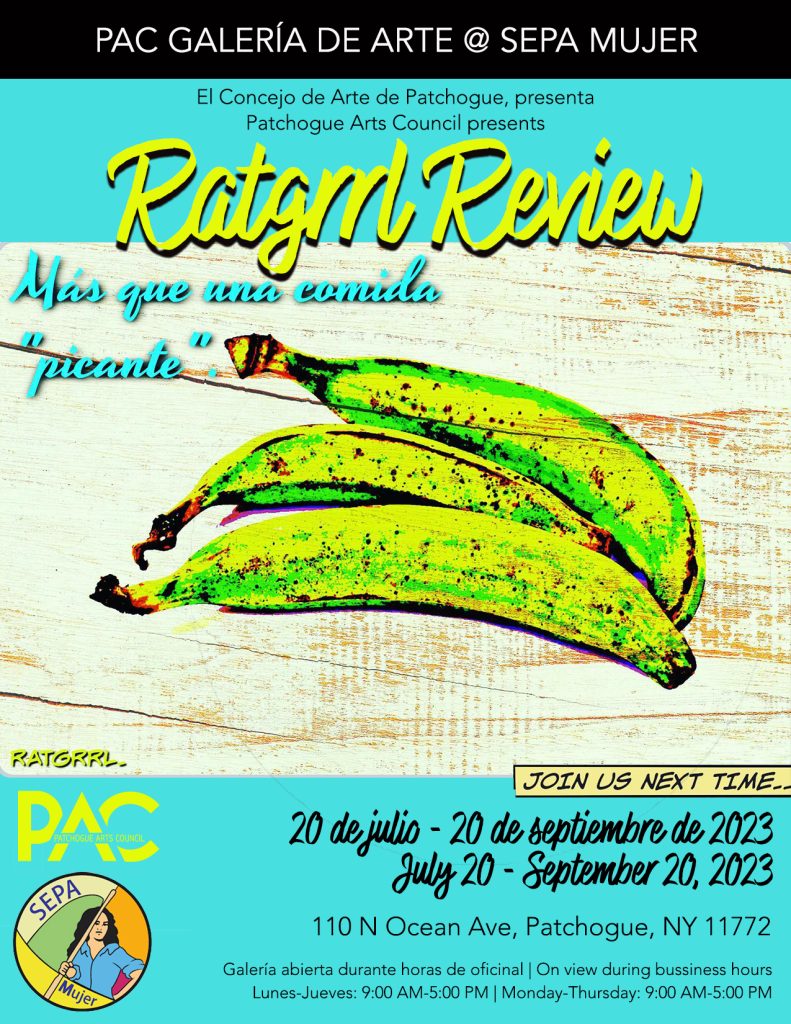 Patchogue Arts Council
SEPA Mujer
Ratgrrl Review
Curated by PAC Curatorial Team
July 20, 2023 – September 20, 2023
The Patchogue Arts Council in collaboration with SEPA Mujer is proud to present the art of J. Valentin aka Ratgrrl. Ratgrrl Review will be on view July 20 through September 20, 2023 at SEPA Mujer is located at 110 North Ocean Avenue, Patchogue.
Sueey Gutierrez
J. Valentin a.k.a Ratgrrl
Born in 1977, the last of 4 kids. I grew up on Long Island, an 80's child during the early days of hip hop (which my older brothers were listening to.) I loved it from a young age. That is part of what influences my artistic aesthetic.
My mother loved very ornate french provincial style, and had the same classic furniture for decades. I think that is why I love working with furniture. I love taking something classic or "old fashioned", and giving it a vibrant new life. I am no stranger to sadness and loss; because of that I have always felt like an old lady inside. I guess I identify with the furniture…they feel old before their time, bruised and battered. I try to give them life after that madness.
After much loss, my art often has a bit of a sad and spooky vibe. I understand a life after transition-be it death, grief, or neglect. It can come back to life again in some way… My collage and digital works are a representation of this; putting the torn pieces together making something new and whole again. I am heavily influenced by my grief, as I try to make myself whole again.
My family is everything. They are my heroes, hence the comic book art influence. My husbands, brothers and father are a source of my humor and integrity. I am a strong and sweet latina like my sister, mother and grandmother before me. All of that love is poured into my art.
Follow her on Social Media
Facebook e Instagram: @muñecaarthouse
Facebook e Instagram: @ratgrrl
SEPA Mujer, Inc. is a 501(c)(3) non-profit organization that has been working to support immigrant women on Long Island since 1993 by bringing together community members and advocates to speak out against injustice, provide access to opportunities and services, take a stand against domestic violence and other abuses, and push for social change. SEPA Mujer is located at 110 North Ocean Avenue, Patchogue.
For more information about the artist or exhibition contact the Patchogue Arts Council at 631-627-8686