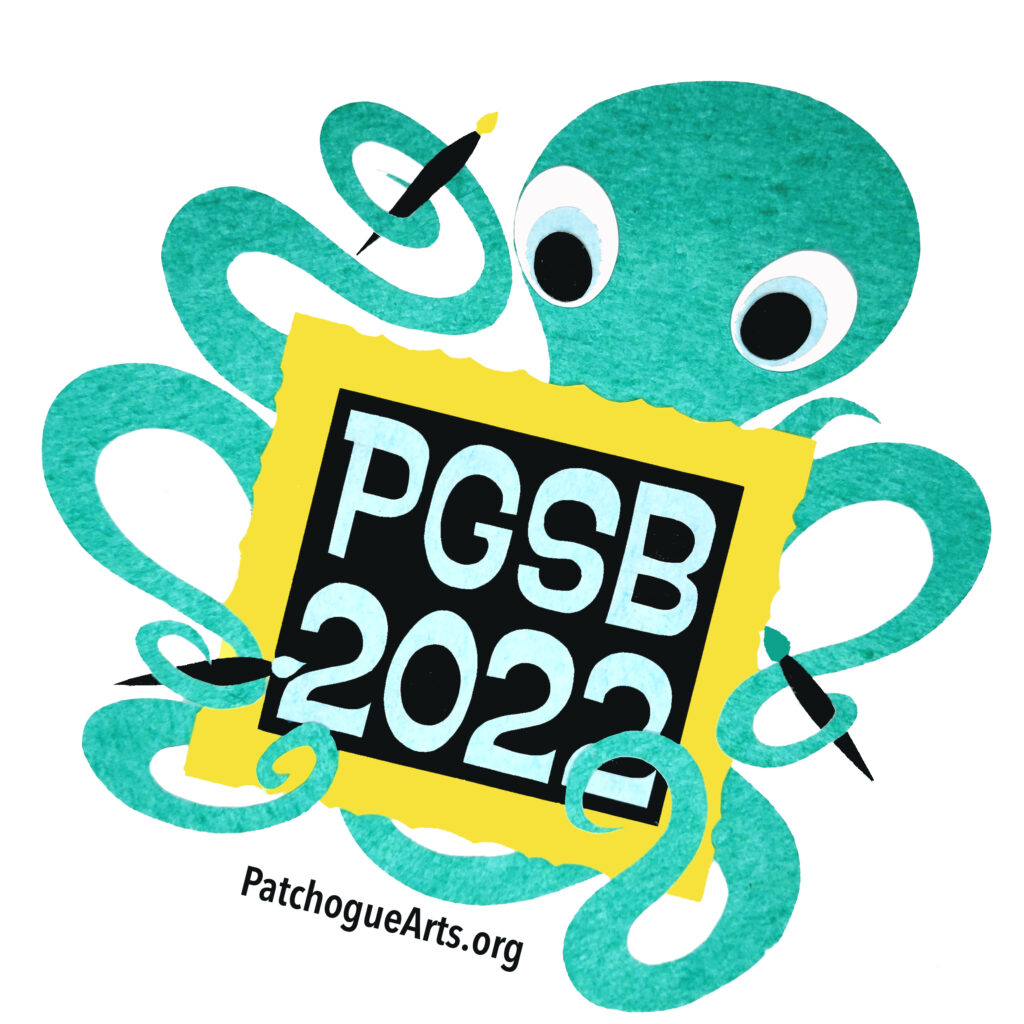 Annual Plein Air Event, Exhibition & Wet Paint Sale
Artists paint | August 19 – August 27, 2022 Exhibition and Wet Paint Sale on view August 28 – September 4, 2022 PGSB Closing reception September 4 from 2:00 – 5:00 PM Guest Juror Alexandra Giordano
Please make sure you register at the link below before or after you use the payment link above.
The Patchogue Arts Council (PAC) is pleased to announce Paint the Great South Bay 2022 Plein Air Event, Exhibit, and Wet Paint Sale. The Patchogue Arts Council invites artists to paint en plein air along the Great South Bay, ranging from Smith Point Beach to The Fire Island Lighthouse.
Proceeds from this event help the Patchogue Arts Council continue to create events and programming that encourage, promote, and support the Arts on Long Island.
NEW PROCEDURE: In efforts to keep PGSB 2022 as safe as possible for artists and staff during this time, the following procedure will replace pre-event "stamping" that has taken place in the past.
During the PGSB Painting time frame (August 20 – August 27) artists must:
• Email two photographs of themselves in front of the work at the painting location at the start of the piece and one image with the finished piece.
• Each photograph should also include the official PGSB 2022 date card filled out with the day's date. (These cards will be included with registration packets)
• Email these images before drop off to info@patchoguearts.org.
**Submissions will not be accepted without them
Important Event Dates:
Friday, August 19 through Saturday, August 27, 2022 Artists at work and Painting the GSB – RAIN OR SHINE
August 19 & 20 | Packet pick up by appointment. A PAC staff member will reach out via email after you register to provide more info.

August 27 | Time TBA | Registered artists are invited to bring their framed and ready to hang work to the Patchogue Arts Gallery located at 20 Terry Street, Suite 116. We will host drop off by appointment and will reach out to artists to arrange a drop off time. You may drop off each other's works too!

August 28 – September 4: Exhibition, Reception and Wet Paint Sale to celebrate the end of the PGSB plein air event.

September 4 from 2:00 – 5:00 PM: Reception procedure and event details for PGSB 2022 registered artists will be announced in June 2022.

September 4 from 5:00 – 7:00 PM: Paintings picked up from Patchogue Arts Gallery. PAC will not be responsible for work not picked up by Sunday, September 4, 5 PM – 7 PM

Special drawing events/ meet ups will be announced in July!
Locations
The Great South Bay on the South Shore of Long Island, which includes the towns/villages/areas of Shirley, Bellport, East Patchogue, Patchogue, Blue Point and Bayport, Sayville and West Sayville, essentially the areas south of Sunrise Highway.
Plein Air Artists must agree to the following rules for the Plein Air event:
Event will be limited to 40 plein air artists in the 18+ category and is on a first come first serve basis. This year we are happy to announce a special Young Artist category for artists 17 and under. There is no fee for the young artist category and the same rules apply.

To be eligible to participate in the exhibit and wet paint sale, painting must be done between Friday, August 19 through Saturday, August 27, 2022.

• All artists must register prior to the PGSB event.
• All art must be completed en plein air during the outing.
• No work done with photo references will be permitted.
• Completed work no larger than 24×24 inches.
• Attend the reception on Sunday, September 4 from 2:00 PM – 5:00 PM
• All painting mediums will be accepted for exhibit and sales.
• Paintings must be properly framed and wire mounted, (gallery wraps accepted, although the painting MUST be wired correctly) with no hooks or brackets, and brought to the Patchogue Arts Gallery on Saturday, August 27 from 7:00 – 9:00 PM.
• At drop-off, all paintings entered into the show will be checked for the email with image sent to: info@patchoguearts.org.
• Labels and other paperwork will be included in your artist registration packet.
• All art must be completed during the plein air outing and done on location on the South Shore. A Facebook group has been set up for artists to post their locations so that spectators will know where the artists are painting. Hashtags and Instagram will be set up and artists are encouraged to post their progress.
ARTISTS MUST AGREE THAT ALL ART PAINTED DURING THE EVENT WILL BE SUBJECT TO 30% commission. If you are painting at a location and are approached by someone interested in purchasing the painting you are working on, that painting is under the contract of the event, and the 30% commission must be paid to PAC. Failure to pay the commission to PAC will result in the artist being ejected from the event, and any participation fees will be forfeited by the artist. NO EXCEPTIONS. This event is based on the honor system and is relying on the INTEGRITY of the artists participating in this event.

Artists are encouraged to submit 2 pieces.
Allow images of work entered into the sale to be used by the Patchogue Arts Council for publicity purposes.
Artists are responsible for making arrangements to have your paintings picked up on Sunday, September4, 5 PM – 7 PM. The Patchogue Arts Gallery will not store paintings, so please make arrangements to have your unsold work picked up. PAC will not be responsible for work not picked up by Sunday, September 4, 5 PM – 7 PM
PAC will not be responsible for any personal injury or property loss or damage regardless of the cause during this event.
Registration Details:
*Patchogue Arts Council Current Paid Members $15.00:
Non-members: $30.00
*Artist may become a member or renew at time of registration.
• August 10, 2022 Register by this date to be included in promotional materials.
All applications must be accompanied by the non-refundable registration fee and PAC member form. Please make checks out to The Patchogue Arts Council and write PGSB in the memo section.
Registration will remain open until all 40 spots are filled.
Participating artists must agree to the terms and conditions of the Paint the Great South Bay Plein Air Event, Exhibit, and Wet Paint Sale.
Once 40 artists have registered, a waiting list of artists will be created. Fees will not be held for those on the waiting list, and CASH payment will be due on Saturday, August 20, 2022 for those on the waiting list.
Please contact info@PatchogueArts.org for any questions or concerns;
Information for Spectators, Patrons of Wet Paint Show & Sale
The Wet Paint Plein Air Exhibit and Sale will take place
August 28 – September 4, 2022
Exhibition hours: Sunday 8/28 through Wednesday 8/31: 1- 5 PM
Thursday & Friday 9/1 & 9/2: 2-7 PM
Saturday 9/3: 1- 5 PM
Closing Reception for all artists, families, & guests: September 4, from 2 – 5 PM Patchogue Arts Gallery,
20 Terry Street, Suite 116,
Patchogue, NY 11772
This event is open to the public.
REGISTRATION
CATEGORY:
Professional artist 18+
Young Artist 17 and under (FREE no registration fee)
Payment Category:
Event fee for current paid PAC Member: $15.00
Event fee for non-Member: $30.00
To become a member or to submit your registration with your renewal:
PAC Artist Membership ($30) + Event Fee ($15): $45.00
PAC Student/Senior (60+) Artist Membership ($20) + Event Fee ($15): $35.00
ABOUT OUR JUROR
Alexandra "Sasha" Giordano
Alexandra "Sasha" Giordano is the Assistant Director at the Hofstra University Museum of Art. Her responsibilities include curating exhibitions, managing the collection, developing programming and strategic planning. Alexandra is currently curating the exhibition When We All Stand, January 2023, which examines the collective power of the arts and artists to chart a pathway for national recovery in the areas of social justice, civic participation and activism. The exhibition is planned in conjunction with the Barack H. Obama Presidential Conference at Hofstra University, April 2023. Previously, Alexandra worked for The Metropolitan Museum of Art as the Assistant National Manager of Visual Planning where she developed campaigns that coordinated with merchandising, marketing, design and curatorial departments. She is adjunct faculty at SUNY Farmingdale College and Nassau Community College where she teaches Prehistoric Art to Gothic Art, Renaissance Art to Modern Art, American Art, Baroque Art, Renaissance Art, History of Graphic Design, and Freshman Seminar classes. In 2019, she received a SUNY Students First Grant for developing curriculum to include virtual and augmented reality in the art history curriculum. Alexandra holds a Master of Arts in Art History from CUNY Queens College with a focus on late pagan and early Christian iconography.