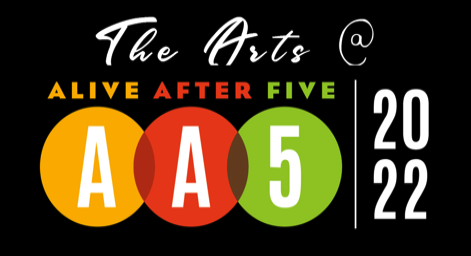 A Call For Artist Vendors for
The Arts @ Alive After 5
Alive After 5 is back and the arts will have an even larger section than years past! Patchogue Arts Council will be curating art vendors alongside live painters and in collaboration with Dorene Rose's Art Stage for live original music and poetry!
We will be located at the top of South Ocean (where it intersects with Main Street).
Set up begins at 3:30 PM
July 14, July 28, August 11, August 25
$75 per date
Submission Deadline: July 1
Notifications: July 3
Vendor Payment Deadline: July 6
VENDOR APPLICATION
The outdoor space per vendor is a standard 10' x 10′. (Table, tent, and ALL materials are to be provided by vendor. No electricity is provided.
Vendors are encouraged to bring battery-operated lighting and/or plan accordingly).
Selected vendors will pay a fee of $100 per 10' x 10′ space.
Vendor fees for all dates will be due by July 6.
Submitting an application does not guarantee a vendor space. This section of the event is curated and does have limited spaces.
A payment link will sent once vendors are selected.
Cash or checks must be payable to The Patchogue Arts Council, Inc.
Important Notes:
Please note selected vendors will need to supply all necessary materials and supplies for their spaces. This includes a table, table cloth, lighting and all display related materials. Please note there is no wall space available. No electricity is provided so please come prepared with battery-operated lighting and/or plan accordingly. Vendors are welcome to bring an easel to set up behind their allotted spaces. No easels or displays can exceed the table width.
Set Up/Breakdown: 4:00 PM SHARP. All vehicles MUST BE removed from the street by 4:45 PM. or be towed. Arrive no later than 4:25 PM. NO EXCEPTIONS. Any vendor arriving late will be told that to participate in that evening they must park their vehicle and carry their setup to their designated spot. Vehicles will not be permitted back on site before 9:30 PM, and must be off the street by 10:30 PM. No selling after 9:15 PM.
Vendors are responsible for keeping their displays clean. All trash and boxes are to be taken with you. No refuse is to be left on the street, the curb, or in receptacles on the sidewalk. No electric service will be provided. Battery operated lanterns are recommended. No animals other than designated service dogs will be permitted as part of your booth set up.
Please note THIS IS NOT THE SAME APPLICATION FOR GENERAL AA5 VENDORS
This application is for ART vendors only and all details and arrangements are handled by the Patchogue Arts Council.
ALL APPLICATIONS MUST BE SUBMITTeD THROUGH THE LINK BLOW