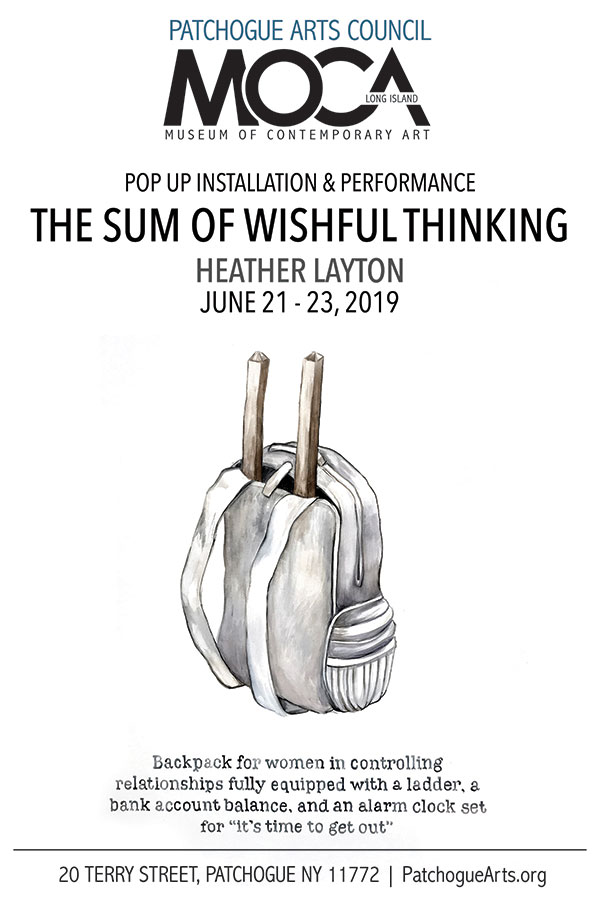 The Sum of Wishful Thinking
A Special Pop-up Installation & Performance by Heather Layton
MoCA LI Gallery
June 21 – June 23, 2019
The Patchogue Arts Council MoCA LI (Museum of Contemporary Arts, Long Island) presents The Sum of Wishful Thinking, a pop-up exhibition by Chicago artist Heather Layton from June 21 – June 23, 2019. Ms. Layton seeks to relieve some of the day to day stress of today's world through imaginative and often amusing inventions. With these "devices, mechanisms, machines, and tools" she seeks to "find common ground" and "restore our shared humanity". On exhibit will be 10 works in which she has transferred the drawings of her whimsical inventions into archival prints on silk.
The artist will be on call for two special performances. The first will take place during the Arts on Terry VIP & Discover Patchogue Launch Party on Friday, June 21 from 7:00 – 9:00 PM. And again on Sunday, June 23 from 12:00 – 6:00 PM. Both will take place at MoCA LI during the Patchogue Arts Council's annual Arts on Terry street festival. Ms. Layton will listen to your personal stressors then devise and draw an implement to alleviate your anxiety.
The Sum of Wishful Thinking is a part of Artful Antics, PAC's summer festival of the arts celebrating "humor, joy, whimsy, and play." PAC exhibitions and events can be found throughout the summer in various locations in the Village of Patchogue.
What: The Sum of Wishful Thinking by Heather Layton
When: June 21 – June 23, 2019
Where: Patchogue Arts Council, MOCA LI,
20 Terry St, Suite 116, Patchogue, NY 11772