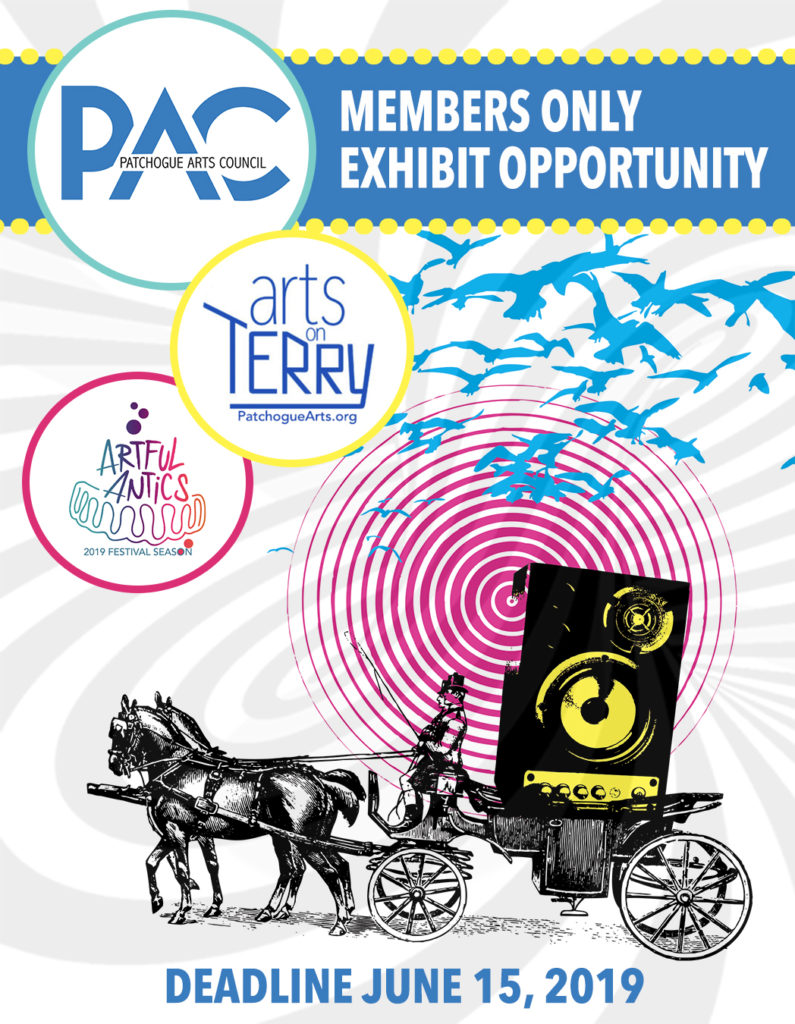 Calling all members!
Please submit your work for consideration to exhibit your work at Arts on Terry.
NEW for 2019 Patchogue Arts Council will be organizing a special exhibition featuring a curated selection of members work under the main tent at Arts on Terry!
Follow the guidelines below:
Not a member? You can become a member at the time of submission.
SUBMISSION DETAILS & GUIDELINES
Email submissions to: info@patchoguearts.org
Subject line should include: AOTMembersExhibit_ArtistName
Submissions must include 3 jpg images
Submissions must include the following information for each work; title, date of completion, media, size, value
Submissions must include a CV or artist statement
All files should be labeled with the artist's name and title of work. Ex: Yourname_titleofwork.jpg
Please submit only completed work, no works-in-progress, and indicate size of work
All work must be ready to hang
You MUST be a member of the Patchogue Arts Council
Submission Deadline: June 15
June 17: Artist Notifications – A Patchogue Arts Council representative will notify all artists via email and/or phone once artwork is selected. Please do not call for notifications.
June 22: All work must be dropped off at 20 Terry Street.
June 23 – All works on view during AOT from 12:00 – 6:00 PM.
June 23 – Removal of Artwork – All artists selected for the exhibition must make arrangements for their artwork to be picked up at MOCA L.I.. Artwork can be picked up between the hours of 6:00 – 8:00 PM Work will not be de-installed before 6:00 PM.
REQUIREMENTS & RESTRICTIONS
All work that is to be hung on walls must be wired/ready to hang
Only current members of the Patchogue Arts Council will be exhibited – now is the time to renew your membership or join!
There is no fee to submit work
Two and three-dimensional work will be accepted
Artists may submit three (3) works of art for consideration
Size is limited to 48 inches in width. There is no height limit
All artists must submit a release form once work is accepted.
Works completed within the last 3 years will be given priority