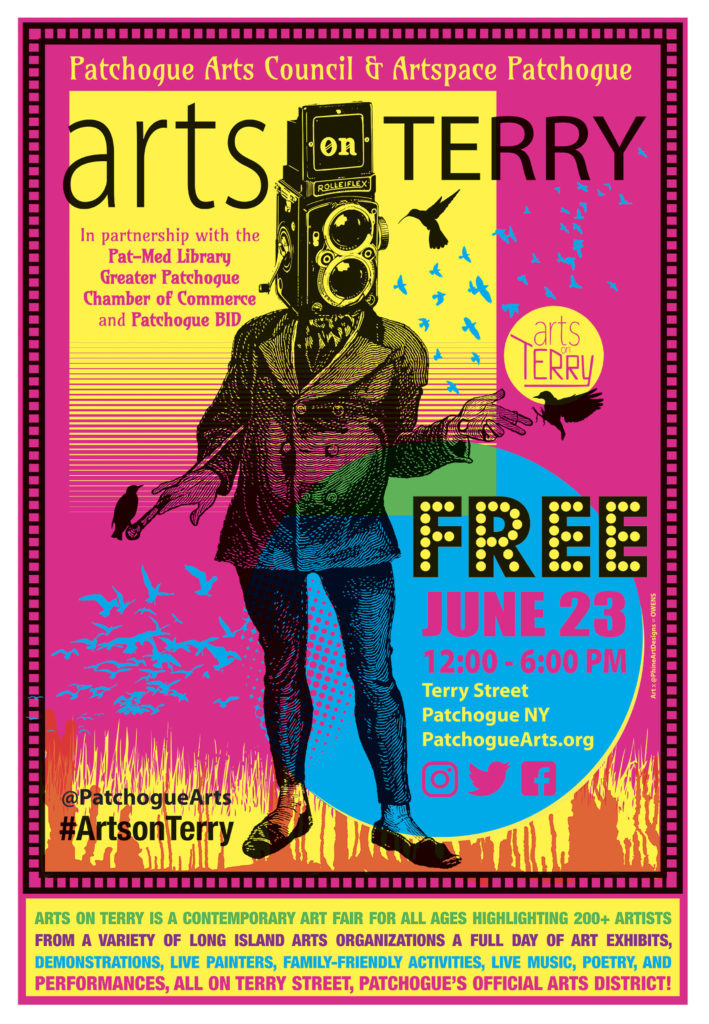 Arts on Terry ( AOT) is a contemporary art fair for all ages highlighting 200+ artists from a variety of Long Island Arts organizations, each exhibiting a curated selection of works representing its respective community in 15+ different pop-up galleries, 25+ individual artist booths, 15+ street artists. AOT will also include a full day of art exhibits, demonstrations, live painters, family-friendly activities, live music, poetry, and performances, all on Terry Street, Patchogue's official arts district!
2019 features more organizations, collectives, artists, and participants than ever before!
The arts are taking over Terry Street for the only festival of its kind on Long Island. Guests are invited to check in at our AOT info booth to pick up a map to the festival. The info booth will be located at the beginning of the festival on the west end of Terry Street.
Under the main tent 15 different pop-up galleries, curated by invited Cultural Partners, feature organizations and collectives from across Long Island each presenting works representing their members and community.
Cultural Partners; Exhibiting Organizations & Collectives include:   Artist Action Group |Huntington Arts Council | Islip Arts Council | North Shore Art Guild | PAC Sketch Group & Photographer's Group | POP! Draw | Projecting Arts | South Bay Art Association |East End Arts| Teatro Yerbabruja | The Long Island Gay and Lesbian Film – Mosaic Exhibit curated by Anu Annam| Westbury Arts | Women Sharing Art | Long Island Educator's curated by Constance Sloggatt Wolf | A special curated exhibition of PAC • MoCA L.I. members curated by John Cino & Beth Giacummo
Individual Artist Booths: Amulet Arts | Jennifer Avallone | Tom Benincase | Theresa Christensen | Trish Minogue Collins | Sage Cotignola | Albert Delamour | Jayne Dion | Divine Madness • Cocomotion | Audra Donroe | Dan Fusco | Samantha Hernandez | Adam Inzalaco | Kathryn Ko | Christophe Lima | Michael Lombardi | Michael Mastermaker | Lucie Mullen | Lynn Pisciotta | Ed Robinson | Michael Sauer | Shannon Schaper | George Schulman | Muñeca Arthouse | Nicole Scoca | Ben Stolz | Paul Warren | Vera Worthington | Live painting and DJ/Music by Diego Garcia & Friends
Demo Artists: Aw Snap Photo Booth | Gather Studio | Gabriella Grama | Long Island Glass | Gina Mars | Benny Migs Photo | Rooted Moon | Spirit Iron Works 
Street Artists creating live on large scale panels: Amanda Reilly | Caitlyn Shea | Colp One | Dan Kudreyko| Elizabeth Colantuoni | Jeanette Wagner John Hollingworth | Madiha Saeed | Mali Mowcka | Michael Krasowitz | Michel Velt | Murjani Holmes | Pam Varacek | Patty Eljaiek |Sam Neukirch | Stelios Stylianou | Takashio Hisayasu
Pop Up Installation and Performanceat Museum of Contemporary Art Long Island (MoCA L.I.) The Sum of Wishful Thinking by Heather Layton June 21 – June 23, 2019 Performances: June 21 from 7:00 – 9:00 & June 23 from 12:00 – 6:00 PM
Close Up on Patchogue | Patchogue Sketch Club: A collaborative temporary installation inspired by Chuck Close
Voltar: Live performance of tarot reading and mobile installation by artist Robert Stenzel
Sculpture Garden Artists Danielle Draik | Laurence Lee | Patrick Leon |Michael Vivona
Thematic 40'+ Mural on the Southside of the Patchogue Medford Library by Artist Katherine Kaiser
Sponsor Organizations Greater Patchogue Chamber of Commerce | Patchogue Young Professionals  |  Patchogue Theatre for the Performing Arts |Plaza Cinema & Media Arts Center | Blick Art Supply | Subtle Tea |Mademoiselle Patisserie
Children's' Section The Children's Section will include lots of hands on arts activities and entertainment fun for the whole family. Children's' entertainment, authors, illustrators, crafts, seed bomb making, fish printing, and a marine life touch tank!
Booths in this section include; BOCES Art in Education | Cornell Cooperative |Gateway Playhouse Patchogue – Medford Library | PEP Protecting the Environment in Patchogue Committee |Think Big
Live music and poetry all day!
Spotlight Stage Line up This year's Arts on Terry Spotlight Stage will feature a special performance from Dancing Classrooms and a series of music performances curated by Blue Owl Arts. Dance 12:00 PM – 12:30 PM Dancing Classrooms Music 12:30 PM – 6:00 PM The "Conversation" | Bryan Gallo | DUDLEY | Kate Van Dorn | A Band In Ship | SMG |
Poetry Tent: Words of Wonder – Patchogue Celebrates Poetry This year's Arts on Terry poetry tent was organized in collaboration with PAC's Literary Committee and poets from all across Long Island! Special thank you to our lead collaborators and organizers Melissa Sgambati, Russ Green & Brian Geraghty.
Feature Set 1 | 2:00 – 2:45 PM Hosted by Melissa Marie Kenny Gordon | Rosa Todaro | Jaecee The Poet | Daniel Trupia Open Mic | 3:00-330 PM Hosted by Andrea Manning First Come First Served, one 3mn piece Feature Set 2 | 3:45 – 4:30 PM Hosted by C.A. Nicola Rainer Pasca | Bri Onishea | Barbara Meyers Memorial Reading | Justin Vegh Open Mic | 4:45 – 5:00 PM Hosted by Brian Geraghty First Come First Served, one 3mn piece Feature Set 3 | 5:00 – 5:45 PM Hosted by Toni-Cara Frankie Soto | Sharon Dockweiler | Kev Vargh & Bruce Pandolfo
South Bay Arts Buskers Performing throughout the festival landscape. 12:00 PM – 6:00 PM Airlea Deutcher | Camryn Quinlan | Katie Shaeffer | Noah Ryan | Riley Clare
Surf Wolf Performing in front of MOCA L.I. 2:00 – 3:00 PM