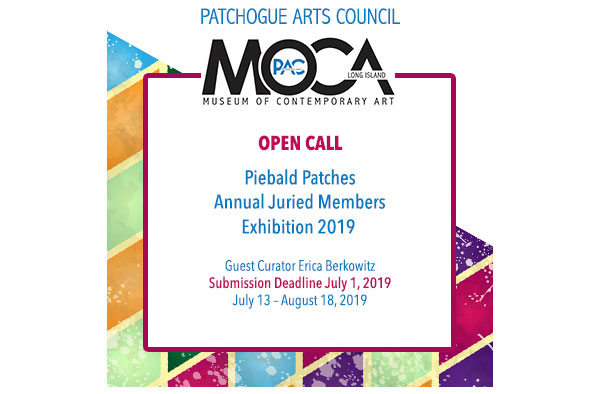 Piebald Patches
Annual Juried Members Exhibition 2019
Guest Curator Erica Berkowitz
July 13 – August 18, 2019
Reception: Saturday, July 13, from 5:00 to 7:00 PM
The Patchogue Arts Council is pleased to announce it is accepting submissions from current Patchogue Arts Council members for inclusion in its Annual Juried Members Exhibition entitled Piebald Patches. The exhibition will run from July 13 to August 18, 2019, with an opening reception on Saturday, July 13, from 5:00 – 7:00 PM. Erica Berkowitz, Director of Haven Art Gallery, will guest curate the exhibition.
PAC's annual juried member exhibition gets into the spirit of this year's festival season theme Artful Antics with Piebald Patches. The great 20th century artist Pablo Picasso often depicted himself or a stand-in as Harlequin. For Picasso, Harlequin was a symbol of artifice, the root of all art. Harlequin, a traditional stock comic performer was identified by his piebald costume. Throughout his long career, Picasso had many stylistic 'patches': Symbolism, Cubism, Surrealism, Expressionism and combinations of all, and throughout them all was Harlequin. In the spirit of Picasso's consistent reminders of artifice in ever changing styles, PAC invites member artists to submit…………
All works will be considered by our guest curator, but works supporting the festival theme of Artful Antics will be given priority.
About the Exhibition
The Annual Juried Members Exhibition gives all current members of the Patchogue Arts Council the opportunity to exhibit their artwork at MoCA L.I. (formerly PAC Gallery), located at 20 Terry St. Suite 116, in Patchogue, NY. There is no submission fee, and artists are invited to submit up to two works of art in any medium. The exhibition highlights the many talents of the Patchogue Arts Council members, exhibiting a mixture of painting, sculpture, photography, and more. 2019 marks the eighth year PAC has held an exhibition exclusively for its' members.
Not a member? You can become a member at the time of submission.
Important Information**PLEASE NOTE NEW SUBMISSION PROCESS**
Submission Details & Guidelines
Email submissions to:

[email protected]

Subject line should include: Piebald Patches_ArtistName

Submissions must include 2 jpg images

Submissions must include a CV & artist statement

All files should be labeled with the artist's name and title of work.

Ex: Yourmane_titleofwork.jpg

Please submit only completed work, no works-in-progress, and indicate size of work

All work must be ready to hang

You MUST be a member of the Patchogue Arts Council
Submission Deadline: July 1
If you are unable to submit your work digitally, you may drop off your work on July 1 at at MoCA L.I.. between the hours of 5:00 – 7:00 PM
July 5: Artist Notifications – A Patchogue Arts Council representative will notify all artists via email and/or phone once artwork is selected. Please do not call for notifications.
July 8: If you have dropped off your work, and it is unselected, artists are to make arrangements to pick up their unselected work at the Patchogue Arts Gallery between the hours of 10:00 AM – 12:00 PM (July 8)
July 13 – August 18: Exhibition Dates – The exhibition will run from July 13 through August 18 at MoCA L.I.. An opening reception will be held at the gallery on July 13 from 5:00 – 7:00 PM. The reception is free and open to the public.
August 19 – 20: Removal of Artwork – All artists selected for the exhibition must make arrangements for their artwork to be picked up at at MoCA L.I.. Artwork can be picked up between the hours of 5:00 – 6:00 PM (August 19), 9:00 – 11:00 AM, and 5:00 – 7:00 PM (August 20).
Requirements & Restrictions
All work that is to be hung on walls must be wired/ready to hang
Only current members of the Patchogue Arts Council will be exhibited – now is the time to renew your membership or join!
There is no fee to submit work
Two and three dimensional work will be accepted
Artists may submit two (2) works of art for consideration
Size is limited to 48 inches in width. There is no height limit
All artists must submit a release form
ABOUT OUR GUEST CURATOR
Erica Berkowitz has her Bachelor's Degree in Art History from Stony Brook University and her Master's Degree in Contemporary Art from Sotheby's Institute of Art. She has worked locally on Long Island at the Nassau County Museum of Art and the Islip Art Museum. Most recently, she left her position as Director of Last Rites Gallery in NYC for nearly three years to open up her own gallery space. Prior to Directing at Last Rites, she was the Director of Press and Publications at Forum Gallery. She has been working in the art world for over eight years and is also a self published author. Along with her husband, she has been collecting art for nearly a decade.
ABOUT THE PATCHOGUE ARTS COUNCIL
The Patchogue Arts Council, Inc., was formed to encourage, support, and promote the arts while aiding in the revitalization and sustainability of the community. The Patchogue Arts Council, Inc. is a 501(c)(3) non-profit corporation whose focus is to serve the greater south shore of the Town of Brookhaven. The Patchogue Arts Council is located at 20 Terry St., Suite 116, Patchogue NY and is open Thursdays and Fridays, 2:00 – 7:30 PM, Saturdays, and Sundays, 1:00 – 5:00 PM. For more information visit www.patchoguearts.org, call 631-627-8686, or email [email protected].
ABOUT MOCA L.I.
Museum of Contemporary Arts Long Island (MoCA L.I.), is the newly defined exhibition space of the Patchogue Arts Council (PAC).
By redefining PAC's exhibition space from Gallery to Museum, opportunities for the community and the artists we serve grows exponentially. PAC has always been unconventional in comparison to other arts councils. Our main focuses are to make current and contemporary art accessible to everyone and service artists across Long Island. Through our exhibition programming, we support, promote, and encourage early, mid-career, and established artists that work in all media and all walks of life.
The caliber of career-enriching opportunities that we provide Long Island-based artists is previously unheard of in Suffolk or Nassau County. We don't charge artists to submit or participate. Instead, we give stipends that assist in the costs of creation and development of our exhibitions.