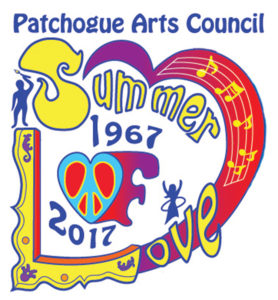 The SUMMER OF LOVE 1967-2017 phantasmagorical arts festival for all ages honoring the 50th Anniversary of the Summer of Love movement – Patchogue style!
In 1967 a convergence of cultural significance occurred in San Francisco when over 100,000 hippies, or flower children, gathered in Haight-Ashbury. This idealistic counter-cultural movement embraced the themes of peace, love, psychedelia, and Zen philosophy. It was a revolutionary time in music and art that continues to resonate today.
The Patchogue Arts Council will be celebrating the 50th anniversary of this culturally significant moment in history with a series of exhibits, performances, and events inspired by and reflective of the music and art of that time with its own Summer of Love 1967-2017 (SOL) festival. Exhibitions, performances, and happenings will be taking place throughout the town and in the PAC Gallery, all inspired by or representative of psychedelia, flower power, and the political climate of the late 60's.
Summer of Love 1967-2017 Events:
May 28 from Noon – 8:30 PM
Log Jam
Musical Performance and Happening
Blue Point Brewing Company, 
161 River Avenue 
Patchogue Arts Council Gallery
20 Terry Street, Suite 116
Thursdays and Fridays: 2:00 – 7:30PM
Saturdays and Sundays: 1:00 – 5:00PM
Reception: June 11 from 2:00 – 4:00 PM
Neil Leinwohl: The Summer of Love 
PAC Satellite Gallery @Roast Coffee and Tea Trading Company
On view during hours of operation
Summer of Love Mural 
by John Hollingworth
Patchogue-Medford Library exterior rear wall facing Artspace on 
Terry Street
Rowland Scherman: 
Sounds of the Sixties
Patchogue Theatre for the Performing Arts
Patchogue Arts Council Lobby Gallery
On view during hours of operation
Rowland Scherman: 
Lens on the Later Sixties
Patchogue-Medford Library Gallery
On view during hours of operation
Reception: June 4 from 5 – 6:30 PM
Ratgrrl: You Spin Me Round
Long Hall Gallery @ Toast Coffeehouse 
On view during hours of operation
June 4 from Noon – 6:00 PM
Arts on Terry 
Artists' Street Fair
Terry Street and Roe Walkway
Summer of Love Sculpture Garden
Corner Terry Street & S. Ocean Avenue
Surreal Abstract Expressions
Friday 2:00 – 7:00 PM, Saturdays 11:00 – 5:00 PM 
The Graffiti of War Presents
The Walls of War Tour
Friday 2:00 – 7:00 PM, Saturdays 11:00 – 5:00 PM 
June 27 from 6:00 – 8:30PM  
Eye on the Sixties:  
The Iconic Photography of Rowland Scherman
Screening and artist discussion
August 19 from 6:00 – 10:00 PM
Rain Date: August 20 6:00 – 10:00 PM
Festival del Amor
Corner Terry Street and South Ocean Avenue
July 22 from 10:30 AM – 12:00 PM
July 27 from 7:30 – 9:00 PM
Screening of 'Monterey Pop'
Plaza Cinema and Media Arts Center