Now on display at Roast Coffee and Tea Trading Co. is On the Water, a solo exhibition featuring the photography of Roy Biederman. In this series of work, collectively titled Kai: On the Water, Biederman focuses on waterfront scenes from Manhattan to Montauk. All works on exhibit were taken either on the water, or within 500 feet of water, and inspire notions of summer.
Colorful boats, buoys, and scenic offshore cityscape images all adorn the walls of Roast Coffee and Tea Trading Co. in Patchogue. One piece in the exhibition, Marian S. Heiskell, depicts a New York Water Taxi ferrying passengers around Manhattan. There is a strong sense of motion and forward movement in the composition as the ferry cuts across the water. The horizon line is lower, which allows the artist to render more of the skyscrapers, which continue to pass the boundaries of the photograph, in the background. The cloudless sky, passengers in t-shirts and sundresses, and the color palette of the photograph all inspire notions of leisure and relaxation. Upon seeing the work, the viewer is instantly whisked away, dreaming of a day trip to New York City.
Another work on display is Anton 32. The photograph depicts one of the buoys found in New York Harbor. The floating structure, one of two featured in the exhibition, is placed just to the right of the composition and aids in the navigation of the harbor's waterways. The buoy acts as a divider in the composition, balancing one of New York City's bridges and the buildings in the background. Water crashes upon its lower section and sunlight reflects off its right side. As in the previous work, the sunlight, cloudless sky, and full foliage of the background trees indicate that the photograph was taken during the summer months. There is a tranquil quality to Biederman's work; the artist has a knack for taking pictures that are beautifully composed and balanced.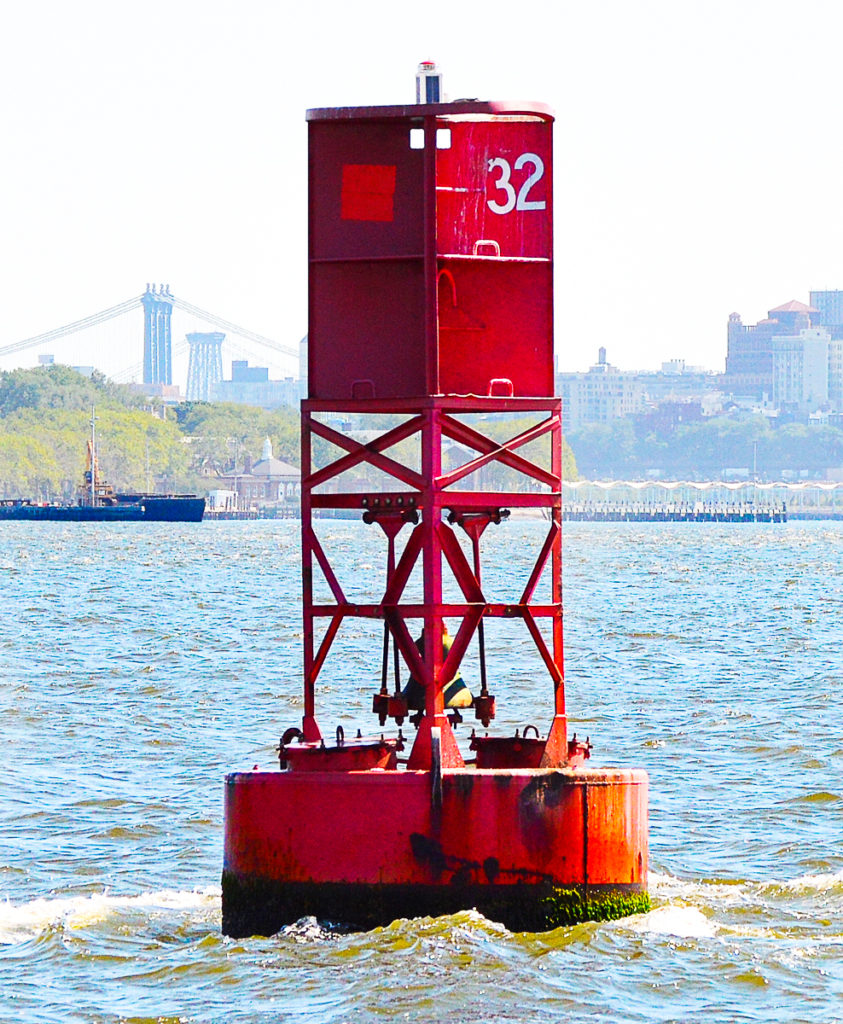 Roy Biederman is a photographer from Patchogue, NY. As a police photographer, Biederman captured Pope Francis's papal visit and President Barack Obama's visit to New York City in 2015. He is an active member of the Long Island Photographic Federation and the Patchogue Arts Council's Photographer's Group. His artwork focuses on the landscapes of New York City and Long Island as well as portraiture. The photos of Kai: On the Water, from Manhattan to Montauk were all taken while on a boat or within 500 feet of the water and are an ongoing exploration of local waterfronts.
On the Water, featuring the photography of Roy Biederman, is on display at Roast Coffee & Tea Trading Co. July 23 to September 17, 2017. A reception will be held on Sunday, July 30, from 2 – 4 PM. The reception is free and open to the public.