The Patchogue Arts Council
presents
"1967: Summer of Love"
This week's Spotlight Artist:
Amalia Drewes
---
"I am inspired by nature, spirituality, and stories of the everyday person."
-Amalia Drewes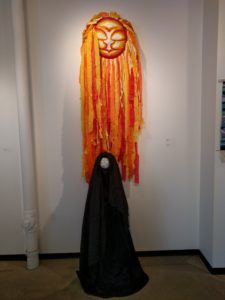 (Amalia Drewes, Sun and Moon masks, multi media, 2015 5ft long)
Pictured above was Amalia's piece that was on display at the Patchogue Arts Gallery's "1967: Summer of Love" exhibit.  
I asked Amalia what the 'Summer of Love' theme meant to her:
"First, I want to mention how important this exhibition is.  I am 24 years old, I did not have opportunity to grow up during the 60s and 70s when Love was a symbol of hope, peace, and togetherness. Love was how people "fought back" against violence and prejudices. I believe this is a similar time for the need of people coming together and sharing love with one another, to fight against the negativity of current events.
….
My Sun and Moon masks reflect the idea of lightness and darkness.  The Sun is bright and welcoming.  The Moon is dark and mysterious.  Separate, they are their own objects, but together they become so much more, they balance the ways of life.  Although the Sun and Moon are different, they must exist together in harmony.  I believe that The Summer Love exhibition gives us the same opportunity to harmonize with our communities, even if we don't always agree with our neighbors."
Amalia has done live performances with her pieces. It's interesting how people reacted to the different masks.
Amalia: "The two masks were included in an Art Performance in Thompkins Square Park, to celebrate the Sun and Moon during specific times of the year.  It was incredible to see the difference between how people reacted to the darkness of the Moon and the brightness of the Sun. I found that most people were afraid to approach me as the Moon, some even ran away from me in fear.  The Sun encouraged people to walk up to me, take pictures with me, and dance with me in the park."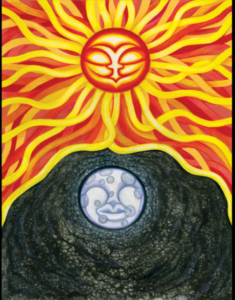 [Amalia Drewes, Sun and Moon Sketch]
---
Artist Bio:
My name is Amalia Drewes. I am a professional Mixed Media Illustrator. I lived in Manhattan and went to school at The New School, Parsons School of Design for 5 years, but I currently live in West Babylon, NY (my hometown). I graduated with a BFA in Illustration.  Although I learned a lot from school, most of my skills are self-taught through playful experimentation. I have been a part of many shows and exhibitions throughout the last 7 years. Out of all the shows that I am showcased in, I truly enjoy being a part of fundraisers and contributing to a more meaningful purpose to help others around the world.  I was included in The Child Trafficking awareness Fundraiser, hosted by Set NYC (2016), and the La Alianza
'GIRLS' fundraiser (2016).  The money made from all the sold artwork went towards the support and education for young girls and boys worldwide.  Right now, I am passionate about supporting musicians.  I have completed many Album Covers and Album art templates.  My most recent work for Album Art is
"Under One Sun," composed by Billy Drewes and completed with the liner notes written by Paul Simon. It is truly an honor to work with musicians, as I believe Visual Art and Music work hand in hand.

More at:
www.amaliadrewes.com
@AmaliaDrewes
Facebook
---
Be sure to stop by our gallery to see some of the best art Long Island has to offer.
See you next time when we feature another artist at the PAC.
Gallery Info:
Patchogue Arts Gallery
20 Terry Street, Ste. 116
Patchogue, NY 11772
631-627-8686
Hours:
Wed: By Appointment
Thurs-Fri: 2pm-7:30pm
Sat-Sun: 1pm-5pm
www.PatchogueArts.org
Facebook and Instagram
@PatchogueArts
Kevin Wieser
Social Media/Community Coordinator
for the Patchogue Arts Council