The art of grief
BY TARA SMITH
"Sad lady art" is the term Jessica Valentin uses to describe her work; one she embraces with a smile. She's always tried to make sense of her grief in a light hearted way, using the hashtag #sadladyproblems following the death of her husband, Darren, in 2015. The loss came after Darren's hard-fought battle with brain cancer, Valentin explained. But she was no stranger to grief: she had been widowed twice by the time she turned 37.
Try as she might, those themes of heartache and loss remain constant in her colorful graphic art. "I lost a husband in my twenties and in my thirties," Valentin says, softly. "A lot of what I do is influenced by my grief, and working through it, but also trying to make something colorful and beautiful out of that pain."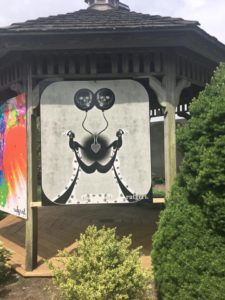 Valentin, who creates under the pseudonym Ratgrrl, is featured in the Patchogue Arts Council's Summer of Love celebration. "I love that her vision and conceptual ideas are a conglomerate of her personal interests, what she refers to as nerdy tendencies and influences that are collected like her cherished memories," said Beth Giacummo Lachacz, executive director of PAC. "[Valentin] makes sweet–bittersweet thoughts and statements with her compositions, impactful within an intimate gallery setting or as public work."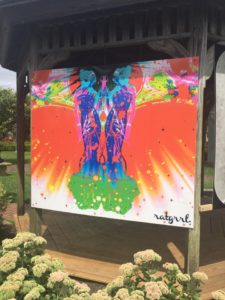 Though on the surface, Summer of Love pays homage to the year and events of 1967, Valentin drew inspiration from psychedelia to create You Spin Me Right Round, currently on display in the Toast Long Hall Gallery. "It's more summer love, and is heavily and lovingly influenced by my lives and loves with two humans who now belong to the stars," she said. "The hippie and psychedelia vibes are more secondary," she added.
The work is strung together with themes of the night sky, outer space, longing, and heartache. "People have this really beautiful relationship with the night sky and the moon," Valentin said, noting the romance of falling in love under the stars, but also loneliness of staring up at the sky, longing for love and dwelling on the past.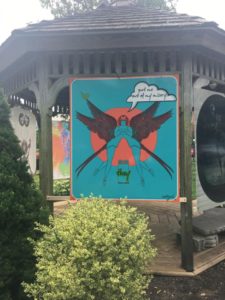 The imagery has enamored her since childhood, and the exhibit is influenced heavily by Valentin's first husband, Robert. Her niece, Eva, who was four at the time, spoke about a dream she had of Uncle Rob as an astronaut. "I thought that was such a beautiful and simplistic understanding for what it's like to know someone that's in the heavens. I was so inspired by that. Some of the images aren't overtly sad, but you get the idea that the astronauts aren't coming home."
The series perfectly captures the myriad of emotions that come with grief. The initial blow; visceral and devastating. The creeping in of pain, sadness. Waves of anguish from time to time, as you navigate in what feels like a new world.
One image reads like a comic book, with a green woman looking out at a cosmic night sky. "I'm a Martian on this planet without you," she ponders via speech bubble. Though simple, the message is profound. "Once you see the images, you have the power to understand them in terms of your own grief, your own sadness or your own heartbreak," Valentin said.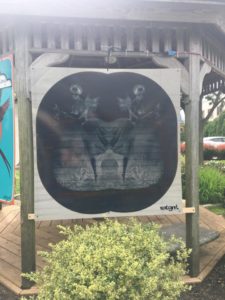 As she begins to speak about Rob, her eyes light up. She smiles, explaining his larger-than-life personality. The pair met at Patchogue-Medford High School and fell fast in love, getting married when Valentin was just 20 years old. Six years later, Rob committed suicide. It came as a shock to Valentin, who used writing as a coping method to grieve.
Once Darren came into the picture, Valentin felt more comfortable delving into visual art. "I would work on my art in the safety of being loved by someone else," she said of a monster series based on Rob's affinity for classic horror films. The Monster Mash series featured classic monsters: Frankenstein, Freddy Krueger, the Bogeyman, exploring themes of mental illness, suicide and grief.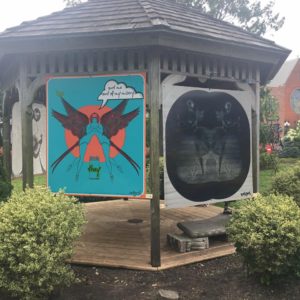 As that series wrapped up a gallery exhibition, it was deja vu for Valentin. "[Darren] had a brain tumor removed a few years prior, but then it came back," she explained. "I knew the prognosis was bad. But he didn't really want to know."
After a July 2014 surgery, Valentin said Darren passed away by January 2015. "It all happened very fast. But we had his memorial at a gallery. Some of his favorite local artists made portraits of him. It was truly awesome," she said.
Along with comic books, hip-hop tends to be a recurring theme in Valentin's work. She and Darren bonded over a love for golden-age hip hop, both growing up with it in the 1980s. "Music was the only thing that could brighten Darren up," Valentin said. "The brain cancer was just invading him and he lost a lot of his speech. But his ability to enjoy music was still there."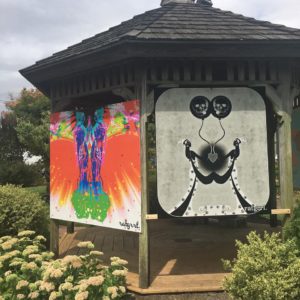 Valentin's work can be seen all across Patchogue; in the Toast gallery, on BrickHouse's doors, and in the Village Community Garden on South Ocean. The 5X5 foot image will soon be joined by two more pieces just in time for PAC's Festival del Amor on August 19.
This month marks another milestone for Valentin's art career. She has worked with RIPE gallery in Huntington as well as the East End Arts Council in Riverhead, but now joins PAC as a trustee. "I was already proud to be contributing to the arts and culture as an artist, but adding my good ideas and collaborative efforts to what is already a thriving arts scene will be a bright spot in my arts career," she said.
As a trustee, she will continue initiatives to create both personal and public art. "I try to deal with everything in a bright and colorful way," she said. "People are looking at a description of my sadness, but it's also a way of saying that there's still joy. I'm still joyful." It has taken time, but Valentin says she is dating again, optimistically. "If I could find really excellent, epic, love twice, then maybe I can find it once more."