Patchworks 2017
The Annual Juried Members Exhibition Juror: Pat Rogers
July 15 – August 27, 2017
Reception: Saturday, July 15, from 5:00 to 7:00 PM
The Patchogue Arts Council is proud to present its upcoming Annual Juried Members Exhibition entitled Patchworks 2017. The exhibition is curated by Pat Rogers, the managing editor and publisher of Hamptons Art Hub. Patchworks 2017 features the artwork of Berges Alvarez, Carole J. Amodeo, Anne T. Baum, Linda Beckerman, Thomas Benincase, Jennifer Berotti, Amy Bisagni, Jim Byrne, Ana Castro, Mary Jean Cirrito, Krystle DiNicola, JoAnne Dumas, Richard Gardiner, Joan M. Genchi, Bryan Gutman, Samantha Hernandez, Lori Horowitz, Alan N. Johnson, Neil Leinwohl, Linda Louis, Lilian Masten, Lawrence Monat, Mark Propper, Dave Rogers, Will Ryder, Ted Stamatelos, Ellen Talisman, Mac Titmus, Dwight Trujillo, Pamela Brewer-Varacek, Gina Vigliarolo, and Mary White. The exhibition is on view at the Patchogue Arts Gallery from July 15 to August 27, 2017, with an opening reception on Saturday, July 15, from 5:00 – 7:00 PM.
What: Patchworks 2017
When: July 15 – August 27, 2017
Where: Patchogue Arts Gallery, 20 Terry St., Suite 116, Patchogue, NY 11772
Cost: Free and open to the public
About the Exhibition
The Annual Juried Members Exhibition gives all current members of the Patchogue Arts Council the opportunity to exhibit their artwork at the Patchogue Arts Gallery, located at 20 Terry St. Suite 116, in Patchogue, NY. There is no submission fee, and artists are invited to submit up to two works of art in any medium. The exhibition highlights the many talents of the Patchogue Arts community, exhibiting a mixture of painting, sculpture, photography, and more. 2017 marks the sixth year PAC has held an exhibition exclusively for its members at the Patchogue Arts Gallery.
About the Juror
Pat Rogers is an award-winning arts journalist and art writer. Since 1997, Rogers has continually written about artists and finds joy in presenting art to the public. She is the publisher and managing editor of Hamptons Art Hub, an online-only publication she founded in 2012 that fosters awareness of the visual arts in The Hamptons, the East End, New York City, Miami, Long Island, Fairfield, and Westchester Counties. The Hamptons Art Hub publishes reviews, features, artist profiles, and columns presenting events and exhibitions. Rogers previously spent 13 years writing about the visual arts for The Southampton Press and was an initial arts columnist for Long Island Pulse.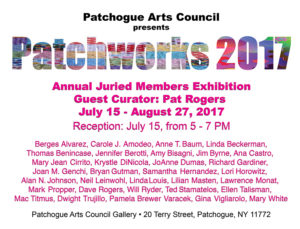 ABOUT THE PATCHOGUE ARTS COUNCIL – The Patchogue Arts Council, Inc., was formed to encourage, support, and promote the arts while aiding in the revitalization and sustainability of the community. The Patchogue Arts Council, Inc. is a 501(c)(3) non-profit corporation whose focus is to serve the greater south shore of the Town of Brookhaven. The Patchogue Arts Council is located at 20 Terry St., Suite 116, Patchogue NY and is open Thursdays and Fridays, 2:00 – 7:30 PM, Saturdays and Sundays, 1:00 – 5:00 PM. For more information visit www.patchoguearts.org, call 631-627-8686, or email info@patchoguearts.org.