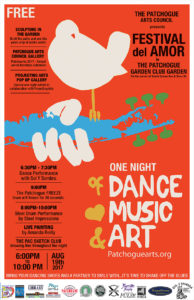 The Patchogue Arts Council
 SUMMER OF LOVE
 continues with
Festival del Amor
August 19 from 6:00 – 10:00PM
A night of Dance – Music – Art in the Patchogue Garden Club Garden
Festival del Amor
 Join us in the garden on the corner of Terry Street and South Ocean Avenue for a night of Dance, Music, and Art.
A performance by Sol y Sombra will kick the night off. Imagine a sultry evening in Spain's Andalusia. From a courtyard garden hung thick with bougainvillea comes the strum of a guitar, the wail of a Roma singer, and the exciting staccato heels of a flamenco dancers.  Join us as Sol y Sombra Spanish Dance Company presents a fiery performance of flamenco music, song, and dance.
The night will also include an exciting performance by Steel Impressions – a steel drum band, a pop up gallery exhibition in collaboration with Projecting Arts, a sculpture walk in the Patchogue Garden Club Garden, Patchogue Arts Council Gallery – Patchworks  2017 exhibition on view, live painting by Amanda Reilly, and drawing by the Patchogue Arts Council Sketch Club.
It's going to be hot, so at 9:00 PM  Freeze with us! Festival del Amor will take 30 seconds to join the Patchogue Arts Council and L.I. Against Domestic Violence in the first annual Patchogue Freeze! Pick your pose and Freeze with the Village of Patchogue and Town of Brookhaven.
Festival del Amor is part of the Patchogue Arts Council's Summer of Love Festival 1967 – 2017, a season-long event celebrating the 50th anniversary of the Summer of Love.