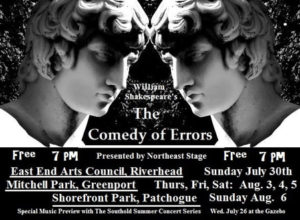 Patchogue Arts Council presents the cast for Northeast Stage's 2017 Shakespeare-in-the-Park production in Patchogue Village at the Shorefront Park Bandshell, 7:00 PM, Sunday, August 6, 2017. FREE! Thanks to Suffolk County for the Destination Downtown Grant and to all our sponsors and donors for our SUMMER OF LOVE events.
The Comedy of Errors
directed by James A. Pritchard
Keith Cornelius**: Antipholus of Ephesus
Robert Ezzard: 2nd Merchant/ Dr. Pinch
Richard Gardini: Dromio of Ephesus
Howard Levine: Balthazar
Kevin Monsell: Dromio of Syracuse
Laura Smith Pearsall: Emilia
Jim Pearsall: Egeon
Marlon Quijije: Angelo, Merchant, Scribe
Suzette Delia Reiss: Irena
Frances Sherman **: Luciana
Sarah Storjohann: Queen Solina
John Tramontana: Antipholus of Syracuse
Kristin Whiting: Adriana
Scout Whiting: Messenger
—
ABOUT THE PATCHOGUE ARTS COUNCIL – The Patchogue Arts Council, Inc., was formed to encourage, support, and promote the arts while aiding in the revitalization and sustainability of the community. The Patchogue Arts Council, Inc. is a 501(c)(3) non-profit corporation whose focus is to serve the greater south shore of the Town of Brookhaven. The Patchogue Arts Council is located at 20 Terry St., Suite 116, Patchogue NY and is open Thursdays and Fridays, 2:00 – 7:30 PM, Saturdays and Sundays, 1:00 – 5:00 PM. For more information visit www.patchoguearts.org, call 631-627-8686, or email info@patchoguearts.org.