The Patchogue Arts Council
presents
"1967: Summer of Love"
This week's spotlight Artist:
Linda Louis
---
"Art has no rules … it is not like medicine, or science, or the law… in art rules exist to be broken. Art invites the ephemeral, the subjective, the idiosyncratic. Art celebrates innovation, it delves the mind." [From Linda's artist statement]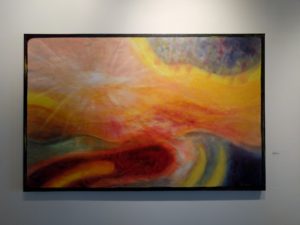 (The Mystical Trip, Oil on Canvas, 34 x52, 2016)
Pictured above is Linda's piece that was on display at the Patchogue Arts Gallery's "1967: Summer of Love" exhibit.
Linda gave us some background info about her piece:
'The Magical Trip'(now The Mystical Trip) first emerged as part of a series of 12 small, roughly 5"x 7" wax and pigment paintings on paper. They did not have a names. I informally called them 'personal experiences'. Fascinated by this particular 'personal experience', and drawn to working on wood, it transitioned itself into a 36"x36" wax and pigment painting called 'A Remarkable Journey'. After a time, while still inspired by the subject, I turned again to this particular image, thus creating the 34"x52" oil on-canvas painting called 'The Magical Trip'. – Linda Louis
This is what Linda had to say about her piece:
"I believe this work, and perhaps my entire body of work, originates in the desire to discover what's inside. Taking refuge in memory exploration is my way of interpreting the tangible world… I love the idea of recreating a 'personal experience' based on the past."
---
"I invite the viewer to come with me, to share my vision, to visit a mystical mysterious place… untouched… unspoiled…a sacred place I hope to preserve." – Linda Louis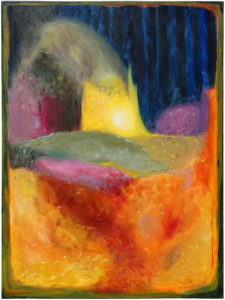 [Linda Louis, Remember the FireFlies, Oil on Canvas, 34×52, 2016]
---
Artist Bio:
Linda Louis's compulsive devotion to her personal vision, has garnered much praise and attention. Her work has been handled by three New York City galleries; her art hangs in many private and public collections; she has been featured in the New York Times and as magazine cover art with accompanying stories. Ms. Louis was also chosen as Featured artist by the National Endowment for the Arts 50th Anniversary 2015.
More at:
www.lindalouisart.com
@LindaLouisArt
---
Be sure to stop by our gallery to see some of the best art Long Island has to offer.
See you next time when we feature another artist at the PAC.
@PatchogueArts
Kevin Wieser
Social Media/Community Coordinator
for the Patchogue Arts Council