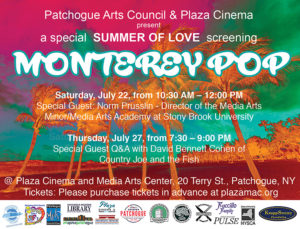 The film documents the Monterey Pop Festival of 1967, a three-day concert event that was held in June at the Monterey County Fairgrounds in Monterey, California. The documentary features lives performances from many prominent musical acts of the late 1960s including The Mama & the Papas, Simon & Garfunkel, Jefferson Airplane, The Who, The Jimi Hendrix Experience, and more.
On Saturday, July 22, from 10:30 AM – 12:00 PM the screening will include a Q&A with special guest Norm Prusslin. Mr. Prusslin is the Director of the Media Arts Minor/Media Arts Academy at Stony Brook University. He is also the founding General Manager of WUSB 90.1 FM radio and Co-Founder of The Long Island Music Hall of Fame. In addition, Norm serves as Board Chair Emeritus of the Intercollegiate Broadcasting System, the nation's college radio station membership organization.
On Thursday, July 27, from 7:30 – 9:00 PM
. the screening will include a Q&A with David Bennett Cohen, a professional musician for more than 30 years. Best known for his innovative keyboard playing as an original member of the '60's rock band,
Country Joe and the Fish
, he is an equally accomplished guitar player who has been involved in numerous music scenes throughout his varied career.
—
ABOUT THE PATCHOGUE ARTS COUNCIL – The Patchogue Arts Council, Inc., was formed to encourage, support, and promote the arts while aiding in the revitalization and sustainability of the community. The Patchogue Arts Council, Inc. is a 501(c)(3) non-profit corporation whose focus is to serve the greater south shore of the Town of Brookhaven. The Patchogue Arts Council is located at 20 Terry St., Suite 116, Patchogue NY and is open Thursdays and Fridays, 2:00 – 7:30 PM, Saturdays and Sundays, 1:00 – 5:00 PM. For more information visit www.patchoguearts.org, call 631-627-8686, or email info@patchoguearts.org.