Stir Crazy Sessions | With Artist Jayne Dion
Join us on ZOOM or watch on FB LIVE for a conversation with Jayne Dion and Beth Giacummo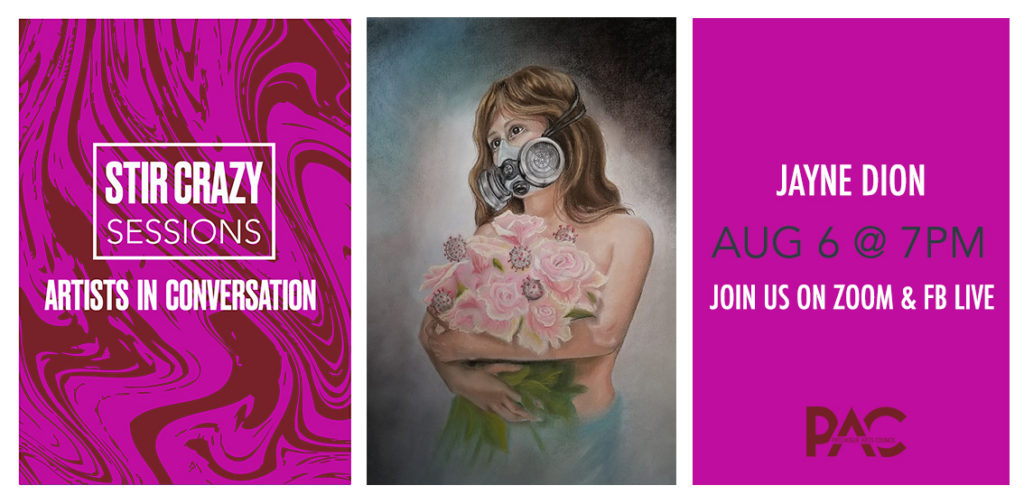 August 6, 2020
Facebook Event
Join us in the conversation to learn more about the artist, her concepts, process, and materials. Jayne will also discuss her mural completed for Clear Vision 2020
Para español haga clic aquí
About Jayne Dion
New York, based artist Jayne Dion, began her art career 30 years ago as a muralist for prominent Newport coast homes in California. This exposure led her to become the resident artist, lead set designer, and prop stylist for Anton Segerstrom at South Coast Plaza West, a luxury shopping center located in the heart of southern California. Her desire for more inspiration took her outside California's plethora of museums and theaters to New York City and then to Long Island, rich in culture and deep history. After many years of vacationing along the Great South Bay, Jayne now calls the Village of Patchogue home. Primarily a self-taught artist, Jayne went back to college at age 45 to study and improve the lights and shadows in her work. She not only earned a certificate in illustration and animation with the vision of bringing her drawings and paintings to life, she is also a proud member of Phi Theta Kappa. Jayne's art is inspired by her love of vintage photography, life experiences, dream interpretations, and the perpetual observance of strangers. Although she is trained in multi-medias of ink, oil, clay, bronze casting, and metal fabrication, which she has used in all of her body of work, Jayne's preferred medium is the one she first learned – graphite. Wood pencils elevated into the form of mechanical pencils and graphite powder applied by brush.

Jayne's passion for creating art began long before her career as a muralist, when one of her pencil drawings was published in 1980, at age 14, for a book of student poetry. Since then she has been published 3 additional times: The WALL, Literary Journal, volume XII, 2012, volume XIII, 2013, and volume XIV, 2014 as well as a feature in the December 2011 issue of O.C. Magazine, A Day in the Life of, for her work as a set designer, and in the December 2018 issue of S. D. Voyager, Art and Life with Jayne Dion. In January of 2018 Jayne decided it was time to launch her career as an independent fine artist.

Join Zoom Meeting
Meeting ID: 910 6493 9120
Passcode: 620502
---
Please help us continue to provide free programming and artist resources like the above!