CLEAR VISION 20/20 SCULPTURE GARDEN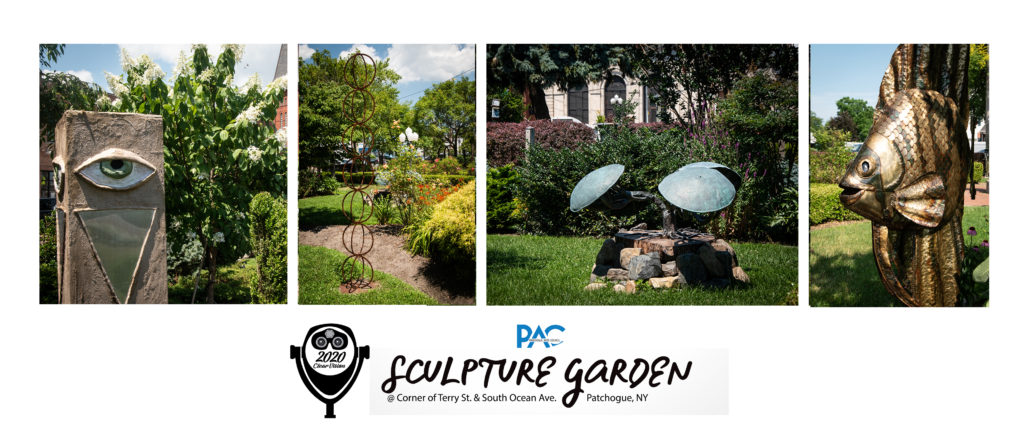 Located on the corner of Terry Street and South Ocean, Patchogue
A Patchogue Arts Council, Village of Patchogue & Patchogue Garden Club collaboration.
LOCATION: @Patchogue Garden Club Garden on the corner of Terry Street & South Ocean Avenue, Patchogue
The Patchogue Garden Club was founded in a vacant lot in 1996 to develop and maintain a public garden. The club seeks to educate the community in matters of design, gardening, and garden maintenance. The members have since assisted in planting and beautification projects throughout the village. The garden has hosted sculpture exhibits since 2014.
The 2020 Summer Sculpture Garden considers the theme of Clear Vision in a variety of ways.
Massapequa artist John Dunlop Sr. offers a literal interpretation of Clear Vision, using his welding skills in creating the realistic "Angle Fish" of 2018. John has exhibited throughout Long Island including Mather Hospital, South Huntington Library, and the Reboli Center in Stony Brook. He is an active member of LIPSS (Long Island Professional Sculptors and Supporters).
Robert Kenter is also a member of LIPSS and studied under founder David Haussler. Robert is a resident of Huntington, who creates works using found materials. Taking a different interpretation of Clear Visions, Robert transforms his finds into something new. In "Mushrooms" of 2019, copper basins are seen as mushroom caps.
Erin O'Reilly of Northport has studied Sculpture in Scotland, France, and Brooklyn's Pratt University. Erin's vision leans to the Platonic. Her welded metal sculptures offer a graceful geometric flow as is evidenced by "Gear Head", 2019. Erin is currently an instructor at LIPSS. Literally overseeing these varieties of visions in an extended engagement is Danielle Draik's "Mouthpiece". The most prominent feature of this monolithic obelisk is its all-seeing eye. Danielle lives in Queens, NY, and works at the Queens County Farm Museum.
The PAC Sculpture Garden is presented in collaboration with the Village of Patchogue and the Patchogue Garden Club. The garden is located on the corner of Terry Street and South Ocean Avenue. The sculptures will be on view thru November 2020.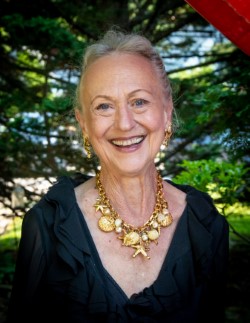 This year we dedicate the Sculpture Garden to our late beloved friend, founding member, and trustee Karen Ferb. Karen was also a member and past president of the Patchogue Garden Club and would help facilitate the Sculpture Garden project annually on behalf of the council.
PAC would like to encourage viewers to consider making a donation to the Patchogue Garden Club so that they can continue their mission and maintain the garden grounds that make it possible to host the yearly sculpture garden.
---
Please help us continue to provide free programming and artist resources like the above!