PATCHOGUE THEMESCAPE
Patchogue Arts Council & Patchogue Medford Library Annual mural project on view through May 2021
Artist Jayne Dion will paint "Optical Guardianship"the 20/20 Clear Vision Mural.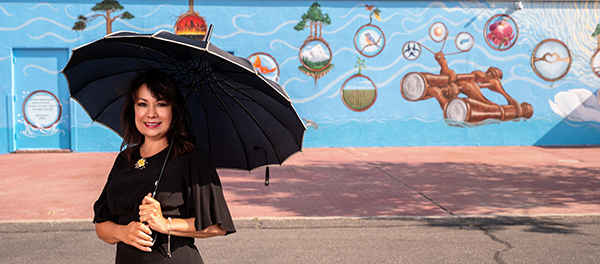 The Patchogue Arts Council (PAC) and Patchogue-Medford Library (PML) is excited to announce that the annual thematic mural project for 2020 is now complete!

This year's mural was inspired by the Patchogue Arts Council festival season theme Clear Vision 20/20. In a time when it is becoming impossible to distinguish between fact and fiction, where journalists are accused of reporting fake news and where we are bombarded with misinformation, it is obvious what we need is Clear Vision. PAC's 2020 programming and exhibitions will examine variations of vision- including clarity, veracity, integrity, ambiguity, and ingenuity.
Artist Statement:
"The "Optical Guardianship" as I refer to the piece is a series of lenses revealing elements essential to the existence of modern humanity: the preservation of our planet's vast ecosystems, interpersonal relationships, and healthcare.
I begin with reflections of sunlight under the water flowing into swirling winds leading to waves on the surface of the ocean. The above is below and below above symbolizing the topsy turvy presence of our current time.
A large pair of binoculars partially submerged in water reveal opposing reflections. The figures in these lenses represent drowning out loneliness and isolation and rising up in togetherness. They are not meant to be gender or age-specific just a representation of humanity as a whole.

Floating through the air are 9 additional lenses: 
Sail boating as a reminder of happy pastimes on Long Island.
Two hands joined to form a heart not only symbolizing racial unity but acceptance for all. The seed pod growing and spreading the message of togetherness and love.
Awareness of the plight of the world bee populations.
Representing New York, the state bird the Eastern Bluebird and the Sugar Maple state tree.
Farmlands as a vital source of food especially the local farms and vineyards of Long Island.
The majestic Mt. Shasta not only representing my home state of California but also a symbol of precious water sources.
Forest fire symbolizing natural disasters as well as deforestation.
Our solar system as a symbol of limitless possibilities for the future.
The use of trees on the lenses symbolizing knowledge, and life in addition to historical and literary uses of trees I find fitting on the wall of the library.
A large goldfish symbolizing prosperity and good fortune precariously balancing at the waters edge on the verge of plunging into the pollution of the oceans.
Lastly the beauty and purity of the swan my symbol of Patchogue.

This mural is intended to suggest a clear and reflective vision of 2020 and beyond. It is my sincerest hope that viewing this mural brings happiness, joy, and a sense of togetherness for all."
-Jayne Dion
ABOUT 2020 MURAL ARTIST JAYNE DION
New York, based artist Jayne Dion, began her art career 30 years ago as a muralist for prominent Newport coast homes in California. This exposure led her to become the resident artist, lead set designer, and prop stylist for Anton Segerstrom at South Coast Plaza West, a luxury shopping center located in the heart of southern California. Her desire for more inspiration took her outside California's plethora of museums and theaters to New York City and then to Long Island, rich in culture and deep history. After many years of vacationing along the Great South Bay, Jayne now calls the Village of Patchogue home.
Primarily a self-taught artist, Jayne went back to college at age 45 to study and improve the lights and shadows in her work. She not only earned a certificate in illustration and animation with the vision of bringing her drawings and paintings to life, she is also a proud member of Phi Theta Kappa. Jayne's art is inspired by her love of vintage photography, life experiences, dream interpretations, and the perpetual observance of strangers. Although she is trained in multi-medias of ink, oil, clay, bronze casting, and metal fabrication, which she has used in all of her body of work, Jayne's preferred medium is the one she first learned – graphite. Wood pencils elevated into the form of mechanical pencils and graphite powder applied by brush.
Jayne's passion for creating art began long before her career as a muralist, when one of her pencil drawings was published in 1980, at age 14, for a book of student poetry. Since then she has been published 3 additional times: The WALL, Literary Journal, Volume XII, 2012, volume XIII, 2013, and volume XIV, 2014 as well as a feature in the December 2011 issue of O.C. Magazine, A Day in the Life of, for her work as a set designer, and in the December 2018 issue of S. D. Voyager, Art, and Life with Jayne Dion. In January of 2018, Jayne decided it was time to launch her career as an independent fine artist.
---
Please help us continue to provide free programming and artist resources like the above!