Satellite Gallery at Patchogue Theatre for the Performing Arts
PATCHOGUE ARTS COUNCIL Presents
People & Places | Gwen Meyerson
Curated by Jay Schuck
March 4 – April 29, 2018
The Patchogue Arts Council is proud to present People & Places, a solo exhibition featuring the artwork of Gwen Meyerson. The artist paints urban scenes in oils and acrylics that capture vibrate street scenes, bustling storefronts, and a variety of architectural details. The exhibition is curated by Jay Schuck and is on view at the Patchogue Theatre for the Performing Arts from March 4 – April 29, 2018. The exhibition is open to the public during the theatre's hours of operation.
What: People & Places | Gwen Meyerson
When: March 4 – April 29, 2018
Where: Patchogue Theatre for the Performing Arts, 71 E. Main St, Patchogue, NY 11772
When: Box Office Hours: Sunday – Saturday, 12:00 – 6:00 PM
www.patchoguetheatre.org
Gwen Meyerson is a fine artist from Queens, NY. She received a BA magna cum laude from Queens College and an MFA from Florida State University. She has also studied at Sir John Cass School of Art in London and the New York Studio School in New York City. Her artwork has been exhibited nationally, with select exhibitions at the JAG Art Gallery in Lambertville, NJ; BJ Spoke Gallery in Huntington, NY; and Greenpoint Art Gallery in Brooklyn, NY.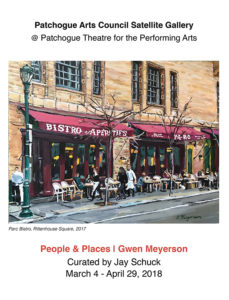 ABOUT THE PATCHOGUE ARTS COUNCIL – The Patchogue Arts Council, Inc., was formed to encourage, support, and promote the arts while aiding in the revitalization and sustainability of the community. The Patchogue Arts Council, Inc. is a 501(c)(3) non-profit organization whose focus is to serve the greater south shore of the Town of Brookhaven. The Patchogue Arts Council is located at 20 Terry St., Suite 116, Patchogue NY. For more information visit www.patchoguearts.org, call 631-627-8686, or email info@patchoguearts.org