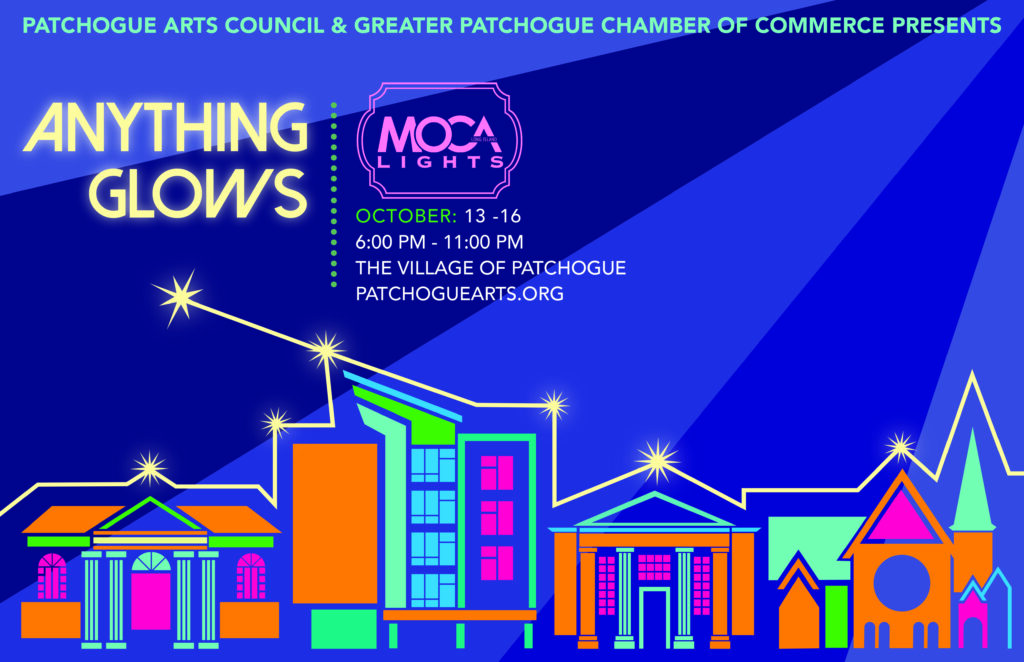 SPONSORSHIPS ARE NOW OPEN!
Dear Art Supporter,
Summer is here and so is our excitement for MoCA L.I.ghts 2022! As we continue expanding this program every year, we can't help but think of our first MoCA L.I.ghts in 2020. It was a light at the end of the tunnel for our organization as we did our best to provide free, safe arts experiences while fundraising to keep our organization and community moving through the Covid-19 crisis; ultimately, the event attracted over 250,000+ people and garnered 75,000 organic impressions on social media. Given its success, we embarked ongrowing the event in 2021; with more partnerships and wider-reaching community support, the event doubled in size. This year, we are challenging ourselves once more to push even further to develop new experiences as well as raise the necessary funds to support a project of this scale.
As we look to the future, we remember that this all started with the Patchogue Arts Biennial andWalking Arts Tours that filled the countless vacant spaces of Downtown all before we even had our official 501(c)3 status over 14 years ago. It has been a transformational event both figuratively and literally for PAC as an organization as it has helped propel our service to the community, far beyond the white walls of our space at 20 Terry Street, and hashelped us create a stronger presence for the arts as a whole.
MoCA L.I.ghts has become a large part of Patchogue Arts Council • Museum of Contemporary Art L.I.'s proven history of high caliber and impactful programming that has been awarded competitive funding from the NYS Council on the Arts, Suffolk County Cultural Affairs, Long Island Community Foundation, and the Knapp Swezey Foundation. With events like this that bring the arts to the forefront of the community, we are proud to be considered a leader amongL.I. arts organizations and advocacy groups that stand as an economic driver in New York. Now that MoCA L.I.ghts has become an annual event, we look forward to building a legacy of innovation and seeing the limitless impacts the arts can have on the Village of Patchogue and its visitors from near and far.
This is all made possible by our partnership with the Greater Patchogue Chamber ofCommerce and other collaborators including: the Village of Patchogue, Patchogue BID, Patchogue Theatre for the Performing Arts, and educational collaborators Eastern Suffolk BOCES Arts in Education, Pat-Med Library, and Cornell Cooperative Suffolk County & Marine Department. With help from all these organizations, PAC will be able to continue contributing culturally, educationally, and economically to its surrounding area.
MoCA L.I.ghts has been praised as the most exciting experience with the arts one could have. We are still glowing from the community engagement we experienced in 2020 and 2021; it wasunlike anything we have seen before. MOCA L.I.ghts 2022 will again transform the entire village into a public arts destination unlike any other and the best part is it will be accessible to all members of the community.
Support and donations from community members like yourself are absolutelycrucial to the sustainability of this project. PAC continues to navigate the tricky watersof the Covid-19 crisis, but it is imperative that programs like MoCA L.I.ghts continue offering the community inventive opportunities to engage with art for free and draw visitors to our Main Street.
Please consider a donation or sponsorship that is meaningful to you. Your support will help to ensure that art and culture continue to have a place in the lives of those in our shared L.I. community. We sincerely hope that you will join the Patchogue Arts Council in ourefforts to enliven our downtown with the arts for a long, long time.
Luminously,
Beth Giacummo | PATCHOGUE ARTS COUNCIL MoCA L.I. EXECUTIVE DIRECTOR
David Kennedy | GREATER PATCHOGUE CHAMBER OF COMMERCE EXECUTIVE DIRECTOR
MoCA L.I.ghts 2022 will transform downtown Patchogue into L.I.'s only immersive, open-air museum with site-specific projected installations on both modern & historic architecture throughout the downtown to be viewed by the public at not cost on foot, by car, or live-streamed. Surrounding businesses will again become a vibrant backdrop to this unique arts experience, rejuvenating and illuminating the Village for spectators of all ages. The work of over 100 local, national, & international artists of varied career levels – emerging, mid-career, and well-established – will be presented through programs such as: Art on the Marquee (AoM), LIVE Experimentation Labs, ARTchitecture, Night Visions Projected Pop-Up Gallery (NVP), Themescape Activated, Garden of Sculpted deLights, Projection inspired performance, and educational opportunities for artists interested in learning how to work in digital processes. In partnership with Cornell Cooperative and the Pat-Med Library, there will also be contemporary art & local history walking tours as well as onsite family friendly educational programs that coincide with a number of the projection projects.
Art on the Marquee® | Fall 2022 In collaboration with the historic Patchogue Theatre of Performing Arts,  PAC will utilize the marquee, which is typically used for information and marketing, to exhibit a curated selection of site-specific artist-created videos, gifs, animation, and digitally created still works. Pieces for this program are curated from an international open call. Currently, it is also L.I.'s only digital marquee exhibition.
ARTchitecture | October 13 – 16, 2022 Site-specific projections will illuminate the facades of contemporary and historic architecture, including some of Patchogue's most beloved buildings located throughout the Downtown. Past ARTchitecture locations have included the Patchogue-Medford Carnegie Library and Main Street Library facade, Industrial Coverage Building (former Union Savings Bank), Bank of America, United Methodist Church, and of course the home of PAC • MoCA L. I. – Artspace. 
Night Visions Gallery | October 13 – 16, 2022 An open air pop-up projected gallery will be placed in various locations throughout the Village of Patchogue, creating a unique art viewing experience for the community.  Works included in this program will be curated from an international open call to artists working in all media, traditional and digital. 
*Garden of Sculpted deLights | | October 13 – 16, 2022  PAC's annual sculpture garden will be illuminated with projected color light, making for an entirely new viewing experience for visitors.
Themescape Animated | October 13 – 16, 2022 Every year, Patchogue Arts Council and the Patchogue-Medford Library collaborate to present a new mural on the Southside of the main library building. This year, Michael Krasowitz will create a mural that comes to life with experimental animation and projection during the MoCA L.I.ghts festival season. 
Map With Us | October 12, 2022 New this year, PAC will be adding additional live, onsite opportunities for artists to learn the magic behind projection mapping. 
*Performance | October 13 – 16, 2022
PAC will be curating new experiences with artists working in other disciplines such as music, dance, movement, and performance. For the first time, artists in this media will present works in tandem with projection installations.
Virtual Labs • Event Educational Opportunities • Historical & Contemporary Art Tours  July through October 2022 Through a special collaboration with the Patchogue-Medford Library and Cornell Cooperative Extension of Suffolk, PAC will be offering unique educational opportunities and historical / contemporary art tours of locations used for MoCA L.I.ghts. Additionally, Virtual Labs will be offered for any community member artists & non-artists alike interested in experimenting with projection & animation as a medium in a series of workshops inspired by MoCA L.I.ghts installations and led by past artists. Virtual Labs are archived and re-released alongside each year's new offerings.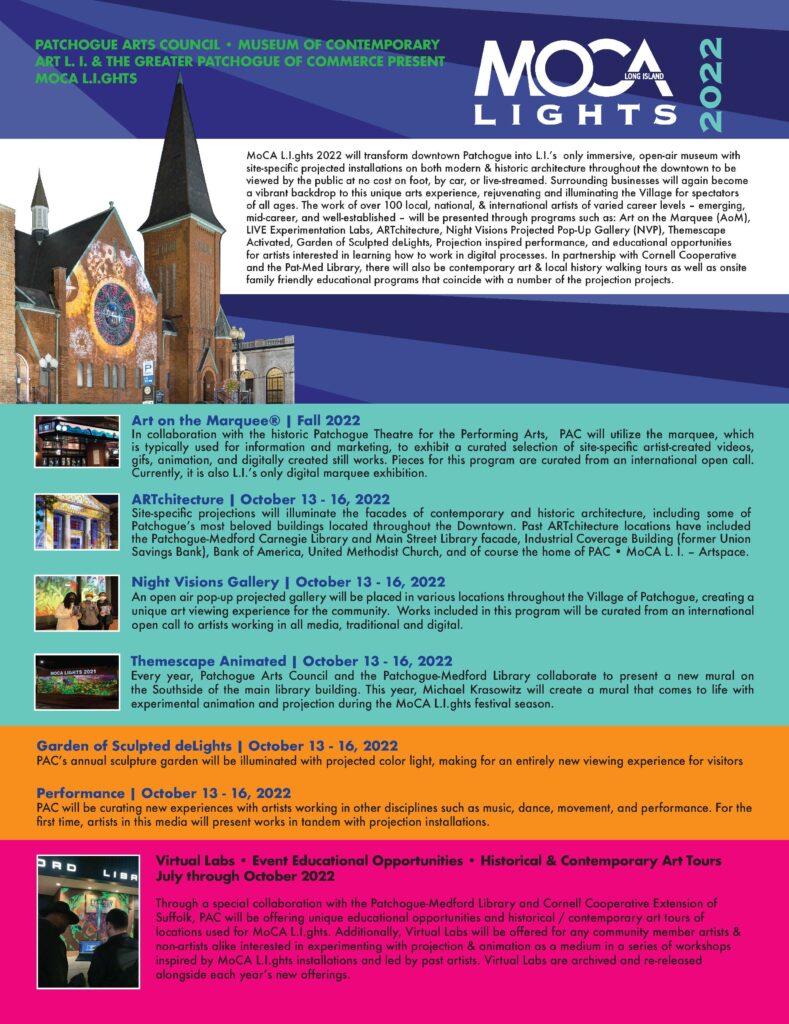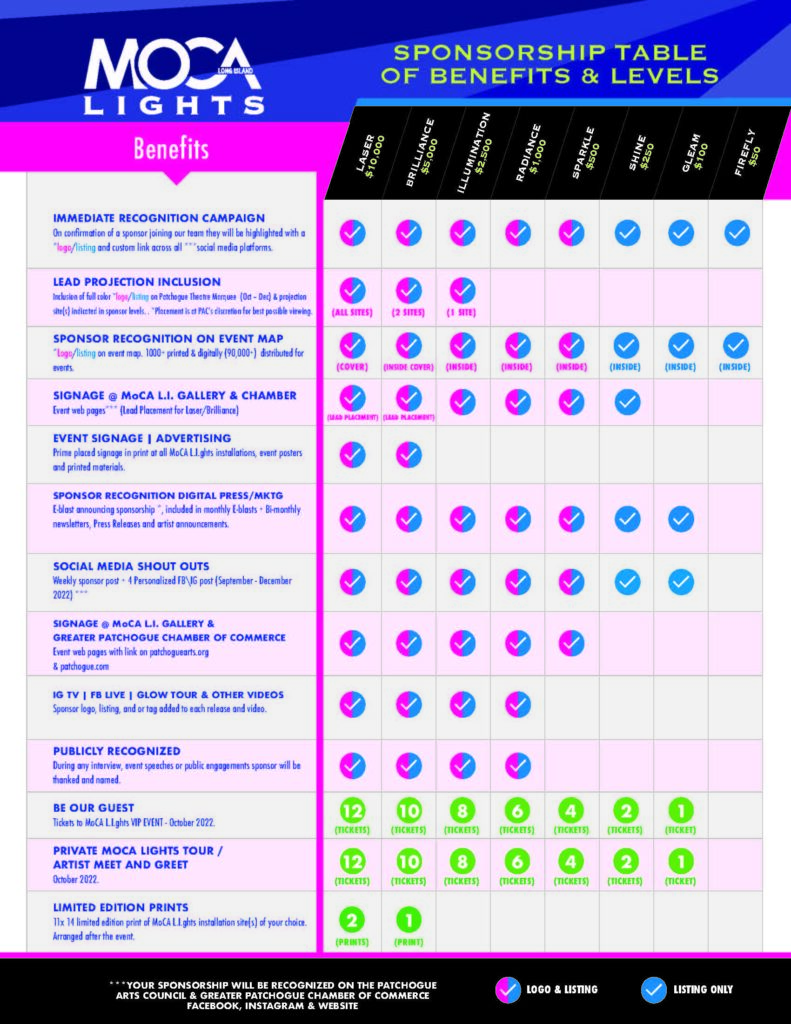 Did you see MoCA L.Ights 2021? Check out the GLOW GUIDE below.