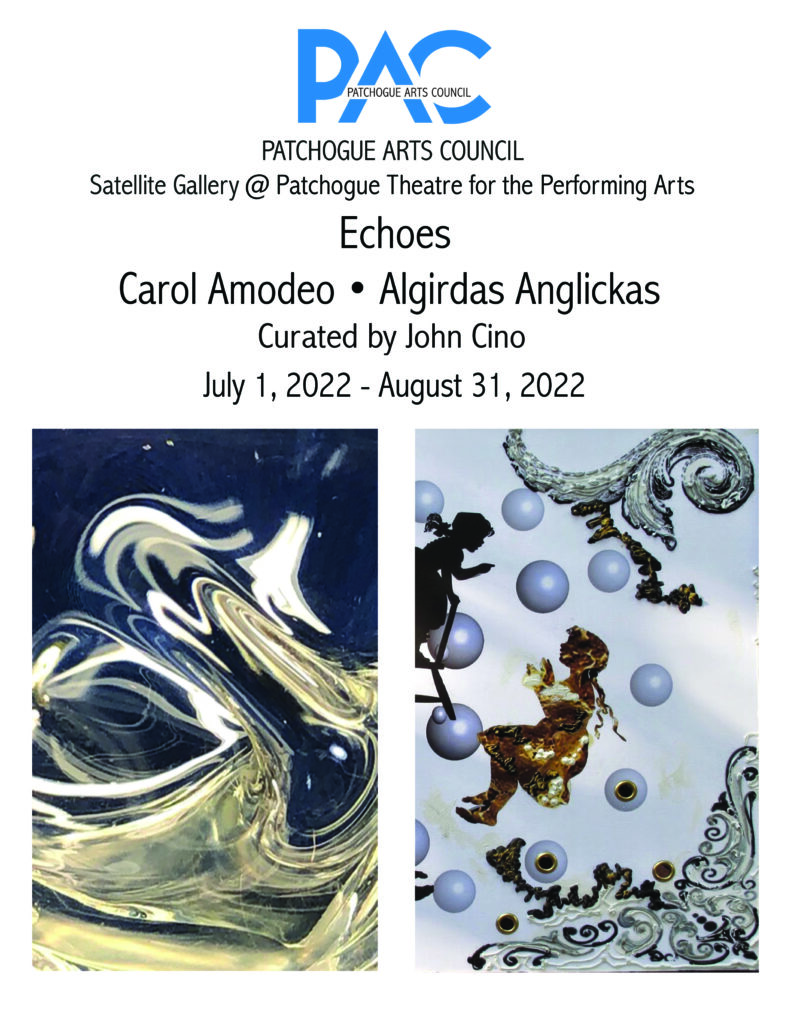 PATCHOGUE ARTS COUNCIL • MOCA L.I. & Patchogue Theatre for the Performing Arts
Echoes Carole J. Amodeo and Algirdas Anglickas Curated by John Cino July 1 – August 31, 2022
Reception:  August 2, 2022, 7:00PM
The Patchogue Arts Council and the Museum of Contemporary Art, Long Island with their partners at the Patchogue Theatre for the Performing Arts present Echoes, a joint exhibition of the works of Carole J. Amodeo and Algirdas Anglickas.   
Both Carole and Algirdas are members of the Patchogue Arts Council. In their present work in Echoes curator John Cino saw similar playful interests in color and form through different media and subjects.
The photographs presented by Carole J. Amodeo continue her ongoing "Reflections" series. In a body of work stretching 14 years, Carole has photographed various downtown storefronts creating interesting juxtapositions between the objects with the windows and the street scenes reflected on the windows. During a recent exhibit at the Riverhead Historical Society, she observed a collection of mirrored glass. The curvature of the glass offered a different, more abstract reflection which she explores in these works.
Algirdas Anglickas is a painter whose works combine paint with an assortment of collaged materials. His works are tactile and energetic. The works in Echoes use figurative imagery of musicians, children playing, or animals that frolic amidst textural swirls.
While the methods and materials may vary, the works in Echoes are united by their use of a limited palette of blacks, whites, grays, and ambers and swirling curvilinear forms.
There will be an artist's reception followed by a live discussion between the artists and curator on Tuesday, August 2 at 7:00pm
Lobby Art Galley has a rolling submission process, all members of PAC are welcome to submit work for consideration.
ABOUT THE PATCHOGUE ARTS COUNCIL – The Patchogue Arts Council, Inc., was formed to encourage, support, and promote the arts.
The Patchogue Arts Council is located at 20 Terry St., Suite 116, Patchogue NY.
ABOUT MOCA L.I.
Museum of Contemporary Arts Long Island (MoCA L.I.) is the exhibition space of the Patchogue Arts Council (PAC). By redefining PAC's exhibition space from Gallery to Museum, opportunities for the community and the artists we serve grows exponentially. PAC has always been unconventional in comparison to other arts councils. Our primary focuses are to make current and contemporary art accessible to everyone and to serve artists across Long Island. We work to create inclusiveness in all our opportunities for Long Island's artistic communities. Through our programming, we support, promote, and encourage early, mid-career, and established artists working in all media and all walks of life.
Patchogue Arts Council • Museum of Contemporary Art L.I. exhibitions are made possible with direct funding from Suffolk County & the grant program of the New York State Council on the Arts with the support of the Office of the Governor and the New York State Legislature.