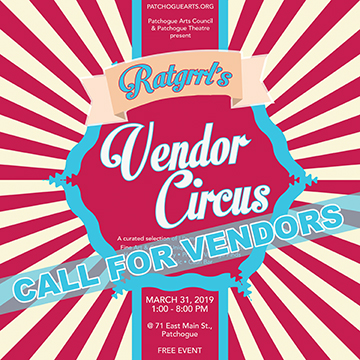 Sunday, March 31 from 1:00 PM – 8:00PM
Held at the Patchogue Theatre for the Performing Arts
@71 East Main Street, Patchogue


Patchogue Arts Council and Patchogue Theatre for the Performing Arts come together to present Ratgrrl's Vendor Circus – a curated arts vendor event like no other taking over the entire Patchogue Theatre!
Long Island's most curious vendors will set up for this unique event throughout the entire theatre from the lobby to backstage! With room for 40+ vendors, guests will find illustrators, printmakers, painters, handmade jewelry, artisan foods, artist merch, pottery, sculpture, vintage wares, wearables, curiosities, and more. The event will include live music, live painting, and a cash bar, all under the roof of the beautiful historic Patchogue Theatre in downtown Patchogue Village!
Shop for one-of a kind gifts and get an early start on all your yearly gift giving needs while finding some treats for yourself too!
Do you want to be a part of Ratgrrl's Vendor Circus?
VENDOR APPLICATION
We are interested in vendors who will also help promote the event on their various social media outlets. We will be highlighting each vendor with a solo post, and you will be included in all press once your vendor space is confirmed.
Patchogue Arts Council & Patchogue Theatre presents Ratgrrl's Vendor Circus
Sunday, March 31 from 1:00 PM – 8:00PM
Held at the Patchogue Theatre for the Performing Arts

Interested vendors please follow the guidelines below. The Patchogue Arts Council will curate 40+ vendors from submitted applications. The space per vendor is a standard 6' (table and ALL materials needed provided by vendor). 
If selected, a vendor fee of $100 will be due by February 15, 2019. Send your submissions to info@patchoguearts.org 
Please include the following:
Individual Name
Vendor/ Company Name
Vendor Booth Description: Fine Art / Craft / Wearable / Jewelry or other
(please describe)
Artist bio and or statement about your works. This will be used for publicity.
Address
Phone
Website
Facebook / Twitter / Instagram
3-5 jpegs featuring your wares.- read guidelines below for details
Submission Details & Guidelines
February 10, 2019: Submission Deadline
Email submissions to info@patchoguearts.org
Subject line should include: RatgrrlVendorCircus_VendorNameSubmissions must include 3 – 5 jpg images of products to be sold at the event. Please use images that clearly exhibit your products. If selected we will use these images for promotion of the event.
Submissions must include a bio and or artist statement to be used for promotional materials. 
All files should be labeled with the artist's name and number of image.Ex: Yourname_1.jpg
On or before February 10, 2019: Notifications of Selection
All vendors will be notified of selection by email only. (please do not call the offices of any organizations included on the above materials; submissions are handled via email only)
February 15, 2019: All vendor fees are due by February 15, 2019. Selected vendors will pay a fee of $100 per 6' space. Cash or checks must be payable to The Patchogue Arts Council, Inc. 
If a selected vendor fee is not received by February 15, 2019, the space may be released to a new vendor at the discretion of PAC.
Other Notes: Please note selected vendors will need to supply all necessary materials and supplies for their spaces. This includes a table, tablecloth, lighting and all display related materials. Please note there is no wall space available. Parts of the venue are darker than others and we cannot guarantee placement so please come prepared with some lighting and an extension cord for your booth. Vendors are welcome to bring an easel to set up behind their allotted spaces. No easels or displays can exceed the table width. 
Selected vendors must be available to set up their spaces between 10:00 -12:00 NOON on March 31, 2019.
Please email info@patchoguearts.org for any other questions.