Virtual Classes
Patchogue Arts Council is excited to partner with SEA of Visibility to offer Virtual Classes this Spring and Summer!

ABOUT SEA of Visibility
SEA of Visibility is an organization based in Long Island, NY that embraces our multicultural, queer, and disabled artists and our allies, focusing on neurodiversity and mental health. It "Supports Expression through the Arts" (SEA) and promotes destigmatization and integration through multidisciplinary art exhibitions, performances, and art-making programs—broadening the public's vision on what mental illness is.

Registrations for virtual programming begin on Saturday, 4/24/2021!
Check back here for registration links.
Contact us for more information at [email protected]
Learn more about us at https://www.seaofvisibility.com/

Follow them on Facebook for FREE creative activities, classes, and exhibition updates! www.Facebook.com/SEAofVisibility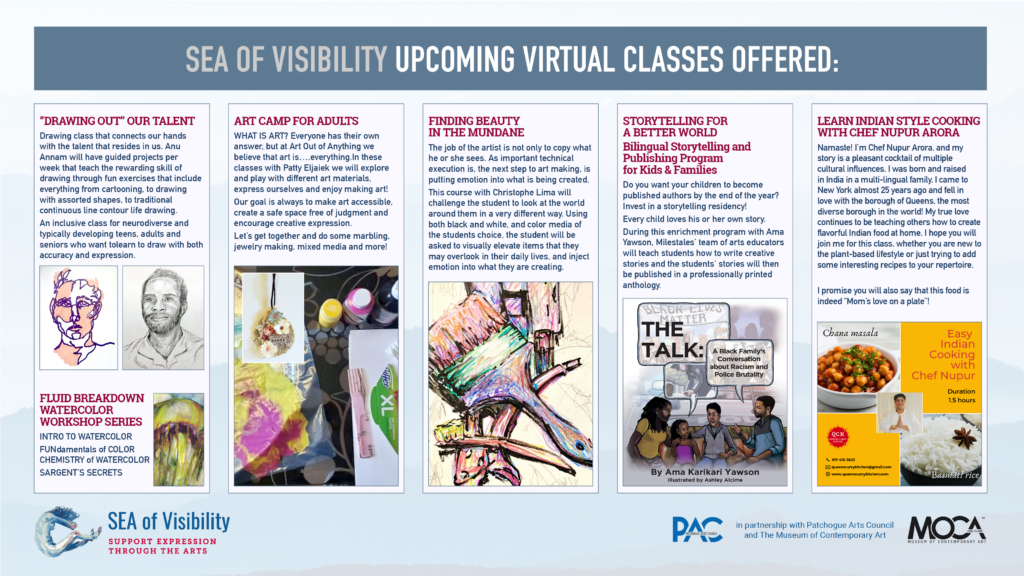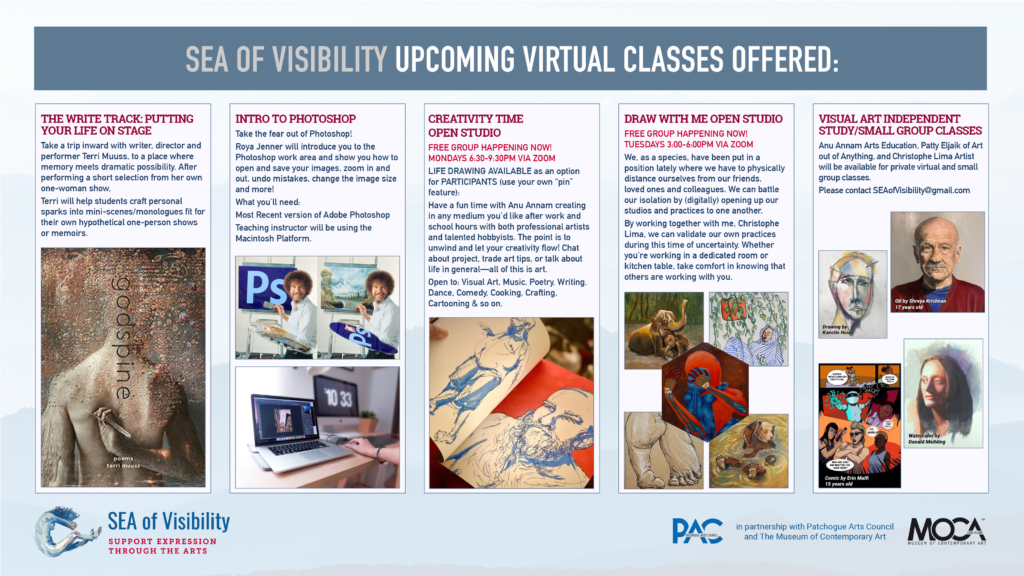 Contact us for more information at [email protected]
Learn more about us at https://www.seaofvisibility.com/
---
INTRO TO PHOTOSHOP
$90/ 6 class sessions, 2 hours each day
Roya Jenner will introduce you to Adobe Photoshop CC (short for Creative Cloud) – one of the most popular high-end image editor programs for photography and graphics today.
Adobe software is virtually the same on the Mac and PC platforms. When taking this class, it will be taught using MAC hardware with Adobe Creative Cloud software. Minor Mac keyboard and interface differences will be highlighted by the instructor. When taking this course from home or office, students can use either PC or Mac hardware to attach to the hosted Windows-based Adobe software.
Student/Requirements
This course is appropriate for beginners and for anyone who is self-taught on the basics of Photoshop, and has Photoshop installed on their Mac or PC.
Classes will meet on the following dates from 3:00 PM – 5:00 PM
5/5, 5/12, 5/19, 5/26, 6/9 and 6/16
---
Finding Beauty in the Mundane
$30/ 1 Day, 2-hour Workshop
Artist Christophe Lima will challenge participants to look at their surroundings in a new way. You will be encouraged to express your emotions and personal voice/style when creating your work.
Workshop is offered on May 26th, 6:00 PM – 8:00 PM and again on June 30, 6:00 PM – 8:00 PM

---
ART CAMP FOR ADULTS
$45/ 3 class sessions, 90 minutes each class.
Art Out of Anything with Patty Eljaiek
Why should the kiddos have all the fun? A 3 session virtual camp where we will make at least one project in each class together and the teaching artist will provide resources for additional activities and materials. We will make monoprints, be introduced to embroidery and make some fancy paper jewelry.
Let's explore and enjoy our creativity. No prior art making experience needed.
Art Camp will be offered in May and again in June on the following dates from 7:00 PM – 8:30 PM:        
Tuesdays May: 5/11, 5/18 and 5/25                                                                                                                         
Tuesdays June: 6/1, 6/8, 6/15

---
Drawing Out Our Talent
$60/4 class sessions, 2 hours each class
Anu Annam
Drawing class that connects your hands with the talent that resides in every person. We'll have guided projects per week that teaches the necessary and rewarding skill of drawing, through fun projects and exercises such as cartooning and life drawing.
Classes offered on the following dates in May from 6:00 PM – 8:00 PM:                                                        
Wednesdays 5/5, 5/12, 5/19 and 5/26

---
Intro to Watercolor
$30/ 2 class sessions, 2 hours each class
Anu Annam
Get a flying start to your watercolor practice with these simple rules of thumb and easy exercises in this 2 class session.
Classes offered on the following dates in May from 6:00 PM – 8:00 PM:                                                                 
Sunday 5/16 and Sunday 5/23

---
Chemistry of Watercolor
$30/2 class sessions, 2 hours each class
Understand the composition of paints, paper and brushes to maximize the effects of the magical wet-into-wet technique in watercolor using simple science.
Classes offered on the following dates in June from 6:00 PM – 8:00 PM:                                          
Sunday 6/6 and Sunday 6/12

---
Fundamentals of Color
$30/ 1 day, 2 hour Workshop
In this color theory intensive, learn how to match any color you require (in any medium) and understand how these       colors affect depth perception.
Sunday 5/2  6:00 PM – 8:00 PM               

---
Sargent's Secrets
$60/ 4 class sessions, 2 hours each class
Study John Singer Sargent artworks from his Brooklyn Museum retrospective and use Anu Annam's Fluid Breakdown lessons to "hack" these paintings. Paint a Sargent reproduction using his techniques or for your own original creation.
Classes offered on the following dates in June from 6:00 PM – 8:00 PM:                                                        
Wednesdays 6/2, 6/9, 6/16 and 6/23

---
STORYTELLING FOR A BETTER WORLD
$150 /10 class session, 1 hour each class
Bilingual Storytelling and Publishing Program for Kids
Ama Yawson and 1 Visual Arts Teaching artist
During the sessions, students will learn the fundamental elements of storytelling and publishing. They will learn key story elements such as protagonist, antagonist, rising action, climax, and falling action. They will determine the social justice-related problem that their characters face and the creative solutions that their characters will employ to solve the social justice challenges and create a better world.
The teaching artists will then coach students through the process of writing and revising their own stories before the stories are translated into Spanish and then printed. Master drummers and vocalists will also teach students how to play the djembe drums and sing as an accompaniment to stories. Additionally, students will be coached in Spanish and English elocution in preparation for their storytelling performance. Finally, the entire program will culminate in a performance and a book launch event.
Classes offered on the following dates from 3:30 PM – 4:30 PM:                                                                       
Tuesdays 5/4, 5/11, 5/18, 5/25, 6/1, 6/8, 6/15, 6/22, 6/29 and 7/6

---
ABOUT THE PATCHOGUE ARTS COUNCIL
The mission of Patchogue Arts Council, Inc. is to ambitiously educate, support, and elevate the arts- community. This includes artists at all stages of their careers as well as supporting the development of new works and public projects through exhibitions and innovative programming that emphasize community engagement while aiding in the revitalization and sustainability of the community. The Patchogue Arts Council, Inc. is a 501(c)(3) non-profit corporation whose programming supports arts across all of Long Island.
ABOUT MOCA L.I.
Museum of Contemporary Arts Long Island (MoCA L.I.) is the exhibition space of the Patchogue Arts Council (PAC).
By redefining PAC's exhibition space from Gallery to Museum, opportunities for the community and the artists we serve grows exponentially. PAC has always been unconventional in comparison to other arts councils. Our primary focuses are to make current and contemporary art accessible to everyone and to serve artists across Long Island. We work to create inclusiveness in all of our opportunities for Long Island's Spanish-speaking communities as well. Through our programming, we support, promote, and encourage early, mid-career, and established artists working in all media and all walks of life.
The Patchogue Arts Council is located at 20 Terry St., Suite 116, Patchogue NY.                                                                                                                                     
For more information visit www.patchoguearts.org. Email [email protected].
---
Please help us continue to provide free programming and artist resources like the above!