PATCHOGUE ARTS COUNCIL • MOCA L.I.
I L L U M I N A T E D: A Lens on Gender
• Lex Barberio •
Guest Curator Anu Annam
May 8 – June 27, 2021
Reception May 8 from 5:00 PM – 7:00 PM
Coffee with a Curator June 12 @11:00 AM (Zoom & FB Live) Panel Discussion with artist, curator & models from I L L U M I N A T E D: A Lens on Gender June 17 @ 7:00 PM (Zoom & FB Live)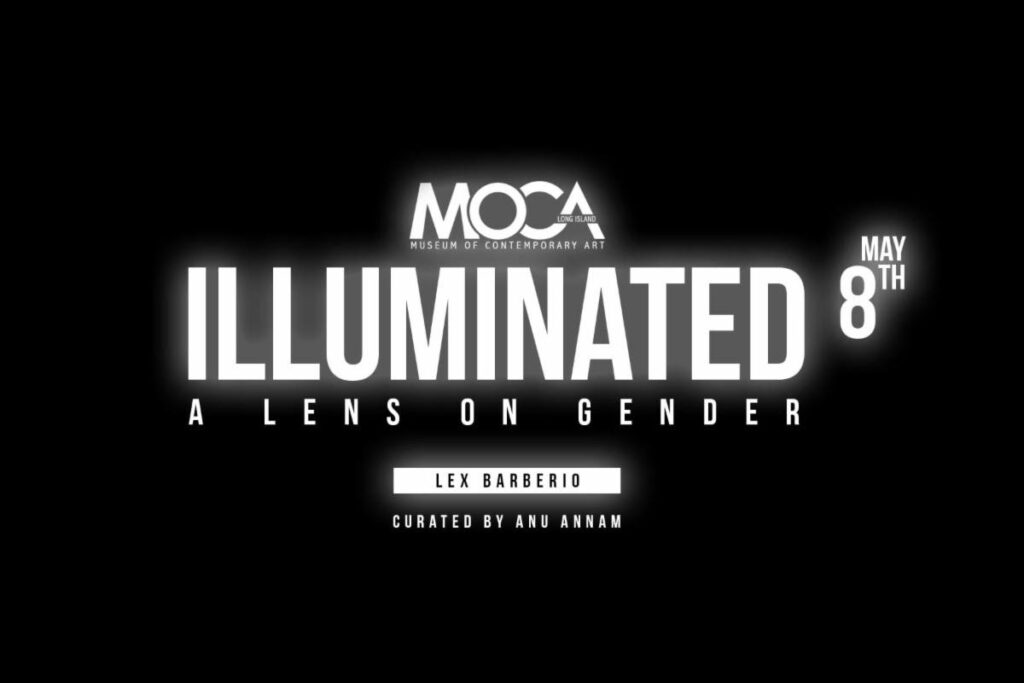 The Patchogue Arts Council • MOCA, LI presents our newest exhibition I L L U M I N A T E D: A Lens on Gender running from May 8 – June 27, 2021. The Patchogue Arts Council is pleased to announce an exhibition entitled I L L U M I N A T E D: A Lens on Gender. Lex Barberio's fluid, interactive, illuminated photography defines gender by breaking the binary and leaving it bare for the voices and images of their models to shed light on their spectrum of experiences. Lex's artwork reflects the queer, non-binary, and trans experiences, through two photographic series, "The Ambisextrous" and "Understanding Me" on exhibition in I L L U M I N A T E D: A Lens on Gender. They embrace radical self-love, individualism, and the power of interpersonal and societal affirmation of identity.
In today's society, a person's identity is automatically wrapped into gender, so therefore understanding one's own, or someone else's, gender is central to understanding them. "Understanding Me" was created in order to bridge the knowledge gap between the LGBTQIA+ community and the people outside of it. The exhibition will feature a short film where we see clips of each of the models at the shoot as they voice over their journey with gender. The photos will be printed in black and white on PVC and then combined with neon lights that will light up and say either "he," "she," or "they" depending on the person's pronouns. The neon will be embedded in the PVC, literally moving through the images to signify how inseparable a person is from their true pronouns or gender identity.
The Ambisextrous is a manifestation of what can happen when we let go of limitations and expand our definition of self. Too often we live within our own constraints and are afraid to venture beyond them, even when we want to. I took three photos of the same person– one masculine, one androgynous, and one feminine and then blended them to create a seamless transition. This project is about having the courage to explore yourself willingly, recklessly, and shamelessly.

Viewers are invited to experience I L L U M I N A T E D: A Lens on Gender at the Patchogue Arts Council Museum of Contemporary Art Long Island from May 8 – June 27, 2021. PAC•MoCA L.I is located at 20 Terry St., Patchogue, New York. Planned events include Artist Reception May 8 from 5:00 PM – 7:00 PM The artist of I L L U M I N A T E D: A Lens on Gender will engage in conversation during Coffee with a Curator on June 12 at 11:00 a.m. All are invited to join us on ZOOM or watch along on Facebook Live. For more information please visit PatchogueArts.org
This exhibit and all coordinating events are free and open to the public.
Please note receptions are held outdoors weather permitting. Masks are required upon entry into the gallery and guests are expected to practice established social distancing protocols. Hand sanitizer is available throughout the space. Currently, we permit only 4 guests in the gallery at one time.
ABOUT THE ARTIST
Lex Barberio is a queer, New York based, Miami-raised artist who grew up seeking and believing in magic. Today, that magic serves as the foundation for her originality in conceptual photography. Lex uses her art to uplift the LGBTQIA+ community by bringing awareness and understanding to people outside of it.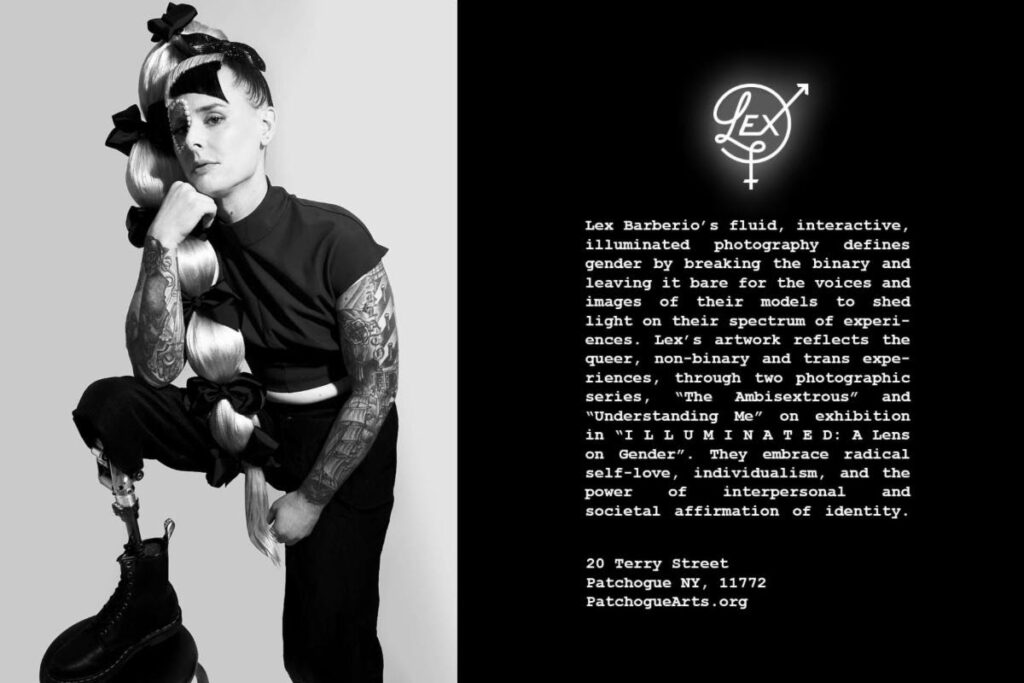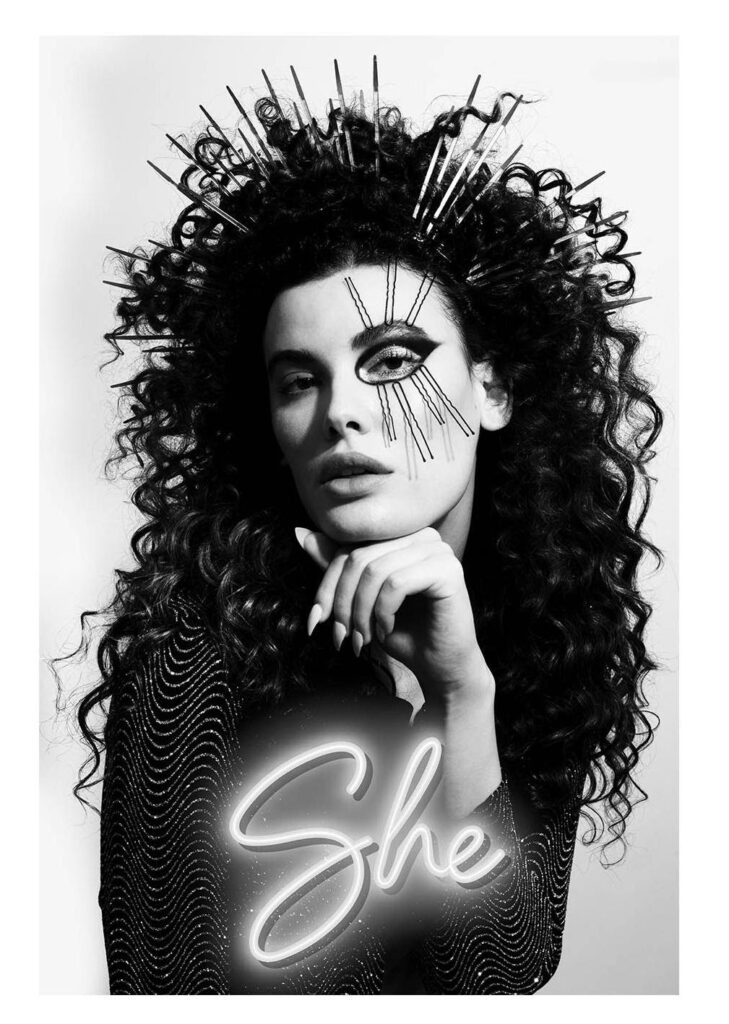 For more information or an exhibition preview please contact Beth Giacummo Email: BethGiacummo@patchoguearts.org Cell: (621) 806-4722
---
Please help us continue to provide free programming and artist resources like the above!