PATCHWORKS 2021
July 17 to August 22, 2021
Guest curator Deborah Katz|
RECEPTION: July 17 from 5:00 -7:00 PM
Coffee with a curator July 12 @ 11:00 AM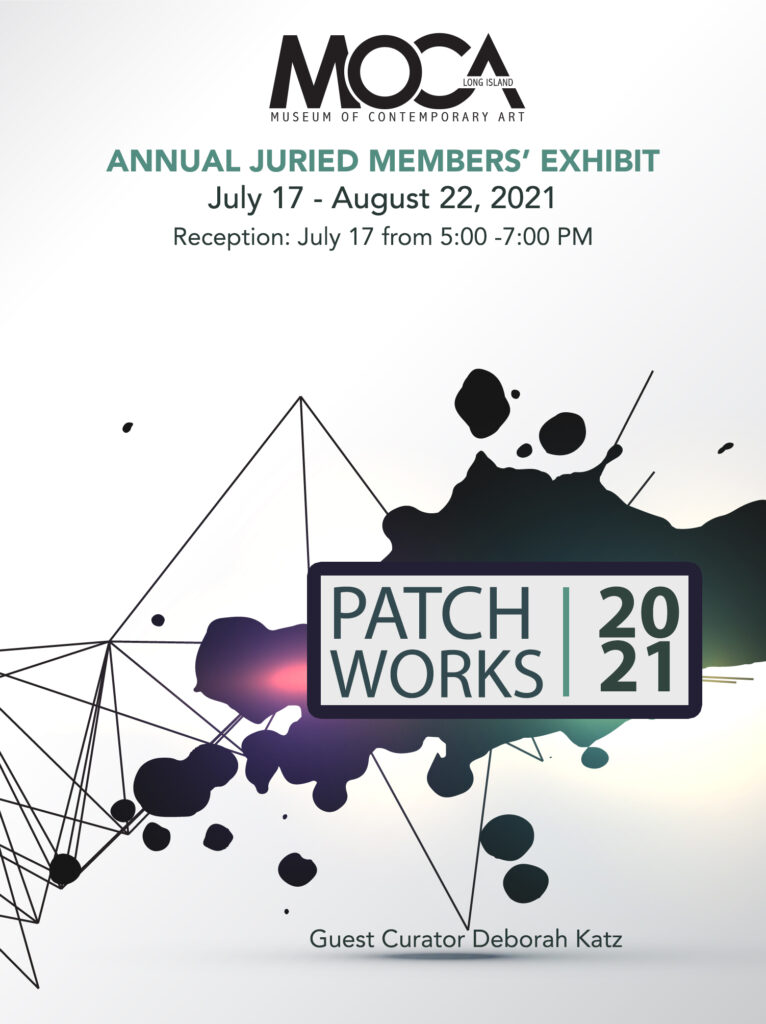 Annual call for PAC members only
CALL FOR SUBMISSIONS
The Patchogue Arts Council is pleased to announce it is accepting submissions from current Patchogue Arts Council members for inclusion in its Annual Juried Members Exhibition entitled Patchworks 2021. The exhibition will run from July 17 to August 22, 2021, with an opening reception on July 17 from 5:00 -7:00 PM. We are pleased to announce Deborah Katz, Curator of the Alfred Van Loen Gallery SHPL, Huntington Station, New York, will guest curate this annual exhibition.
The Annual Juried Members Exhibition gives all current members of the Patchogue Arts Council the opportunity to exhibit their artwork at MoCA L.I., located at 20 Terry St. Suite 116, in Patchogue, NY. There is no submission fee, and artists are invited to submit up to two works of art in any medium. The exhibition highlights the many talents of the Patchogue Arts Council members, exhibiting a mixture of painting, sculpture, photography, and more. 2021 marks the tenth year PAC has held an exhibition exclusively for its members.

Not a member? You can become a member at the time of submission.You don't have to live in Patchogue to be a member either! Our membership includes artists near and far.

Important Information
Submission Details & Guidelines
• Email submissions to: info@patchoguearts.org
• Subject line should include: Patchworks2021_Artist Name
• Submissions must include 2 jpg images. (Sculptors may submit a max of 4 images, 2 per piece)
•Submissions must include an artist bio & artist statement
•All files should be labeled with the artist's name and title of work. Ex:Yourname_titleofwork.jpg•Please submit only completed work, no works-in-progress, and indicate size of work
•All work must be ready to hang
•You MUST be a member of the Patchogue Arts Council
•Submission Deadline: June 25, 2021
•June 28: Artist Notifications – A Patchogue Arts Council representative will notify all artists via email and/or phone once artwork is selected. Please do not call for notifications.
•July 14 Drop off work by socially distanced appointments only. A PAC representative will reach out to each artist to arrange individual appointments with selected artists. Please do not call for appointments as we are still working remotely.

Exhibition Dates: July 17 – August 22 
•August 22: Removal of Artwork – All artists selected for the exhibition must make arrangements for their artwork to be picked up at MoCA L.I.. A PAC representative will reach out to each artist to arrange individual appointments for pick up. Please email all questions to info@patchoguearts.org

Requirements & Restrictions
•All work that is to be hung on walls must be wired/ready to hang
•Only current members of the Patchogue Arts Council will be exhibited – now is the time to renew your membership or join!•There is no fee to submit work
•Two and three-dimensional work will be accepted
•Artists may submit two (2) works of art for consideration
•Size is limited to 48 inches in width. There is no height limit
•All artists must submit a release formWe ask for your patience as we navigate these new processes and do our best to ensure everyone's health and safety.

ABOUT OUR GUEST CURATOR
Deborah Katz | Curator Alfred Van Loen Gallery SHPL Huntington Station, New York
I am a native Long Islander and have been painting over the past 35 years.. After completing my studies at SUNY at Stony Brook, I worked in the New York City Theater during the late 70's and early 80's. Later I studied painting with Eleanor Dragonette, Carl Molno, Betty Holliday, and Stan Brodsky. I also completed workshops with Craig Taylor, Honor Mack, Deborah Zlotsky, and Alfredo Gisholt at MassArt. 
As a curator, I have the pleasure of exploring a treasure trove from Long Islandartists and its vicinities to find the very best. Then organizing and arranging the work so that it invites the viewer to be conscious of the arrangement of art and aware of the perceptual connections they provoke.
I am committed to provide and promote higher professional standards of art on Long Island,while informing, inspiring and entertaining the public.
As an intuitive painter I use recall, feelings and music as stimulation. My paintings are part observation and part imagination. I work mostly in oils, however I do use multiple mediums, including watercolor, gouache, oil pastels, ink on paper or canvas. My styles and subjects vary from loosely painted florals and landscapes to biomorphic abstractions.
I am driven by my love of nature. During my early childhood years my family lived on the grounds of the Bayard Cutting Arboretum. There I believe my love of nature was rooted in my soul along with my passion for music, color, mark making, shapes and light. My goal is to keep an ambiguity in my work while allowing the viewer his own interpretation, a kind of "visual music". I also look to keep it a bit lyrical and poetic. My process becomes more of a state of mind.
---
Please help us continue to provide free programming and artist resources like the above!