PATCHOGUE ARTS COUNCIL
presents
Paint the Great South Bay 2021
Plein Air Event, Exhibit, and Wet Paint Sale
Artists painting| August 20 – August 28, 2021
Exhibition and Wet Paint Sale on view August 29 – September 5, 2021
PGSB Closing reception September 5 from 2:00 – 5:00 PM
Guest Juror Courtney Young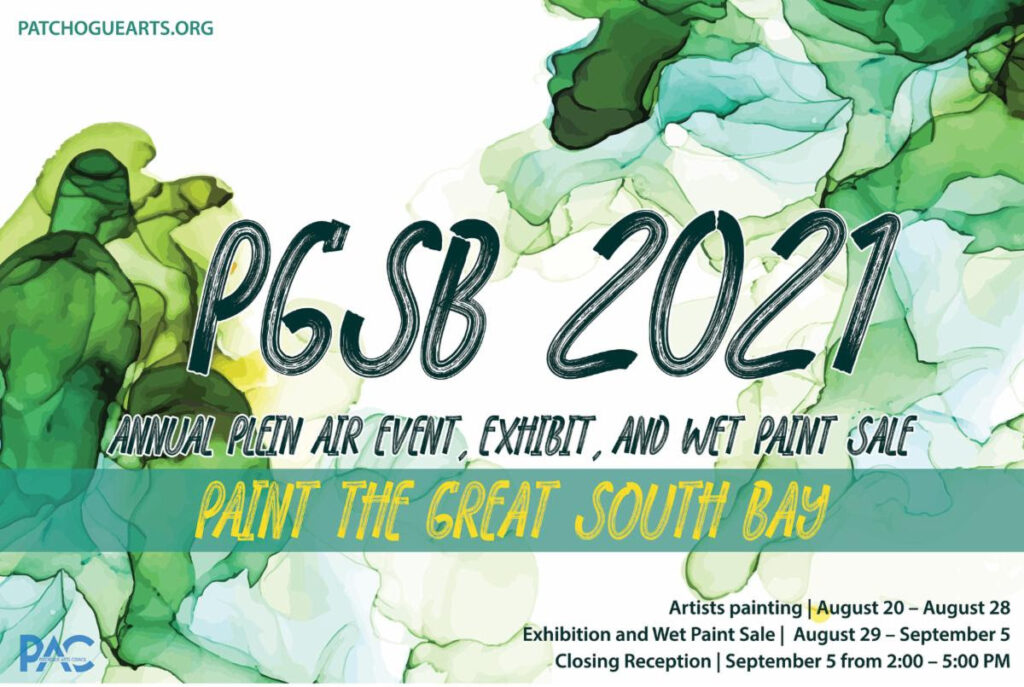 The Patchogue Arts Council (PAC) is pleased to announce Paint the Great South Bay 2021
Plein Air Event, Exhibit, and Wet Paint Sale. The Patchogue Arts Council invites artists to paint en plein air along the Great South Bay, ranging from Smith Point Beach to The Fire Island lighthouse. Proceeds from this event help the Patchogue Arts Council continue to create events and programming that encourage, promote, and support the arts on Long Island.
After payment you must complete the registration forms and email them to info@patchoguearts.org or snail mail them to 20 Terry Street, Patchogue NY 11772.
---

NEW PROCEDURE: During the PGSB Painting timeframe (August 20 – August 28) artists must:
Email two photographs of themselves in front of the work at the painting location at the start of the piece and one image with the finished piece.
Each photograph should also include the official PGSB 2021 date card filled out with the day's date. (These cards will be included with registration packets)
Email these images before drop off to info@patchoguearts.org. **Submissions will not be accepted without them.*
---
Important Event Dates:
Friday, August 20 through Saturday, August 28, 2021 – Artists at work and painting the GSB – RAIN OR SHINE
August 2021 – Packet pick up by appointment. A PAC staff member will reach out via email after you register to provide more info.
August 28 TBA Registered artists are invited to bring their framed and ready to hang work to the Patchogue Arts Gallery located at 20 Terry Street, Suite 116. We will host drop off by appointment and will reach out to artists to arrange a drop off time. You may drop off each others works too!
August 29 – September 5: Exhibition, reception and wet paint sale to celebrate the end of the PGSB plein air event.
September 5 from 2:00 – 5:00 PM: Reception procedure and details to be announced.
September 5 from 5:00 – 7:00 PM: Paintings picked up from Patchogue Arts Gallery. PAC will not be responsible for work not picked up by Sunday, September 5, 5 PM – 7 PM
Special drawing events/ meet ups organized for REGISTERED PGSB artists will be announced in July!
---
Locations The Great South Bay on the South Shore of Long Island, which includes the towns/villages/areas of Bellport, East Patchogue, Patchogue, Blue Point and Bayport, Sayville and West Sayville, NY, essentially the areas south of Sunrise Highway.
Registration Details: Patchogue Arts Council Current Paid Members: $15.00 Non-members: $30.00* *Artist may become a member or renew at time of registration.
August 10, 2021 Register by this date to be included in promotional materials.
All applications must be accompanied by the non-refundable registration fee and PAC member form. Please make checks out to The Patchogue Arts Council and write PGSB in the memo section.
Registration will remain open until all 40 spots are filled.
Participating artists must agree to the terms and conditions of the Paint the Great South Bay Plein Air Event, Exhibit, and Wet Paint Sale.
Once 40 artists have registered, a waiting list of artists will be created. Fees will not be held for those on the waiting list, and CASH payment will be due on Saturday, August 21, 2021 for those on the waiting list.
Please contact info@PatchogueArts.org for any questions or concerns.
---
Please help us continue to provide free programming and artist resources like the above!
---