PATCHOGUE ARTS GALLERY PRESENTS
Patchworks 2018: The Annual Juried Members Exhibition
Juror: Lynn Rozzi
July 1 – August 12, 2018 –> Extended to August 18!
Reception: Sunday, July 1, from 5:00 to 7:00 PM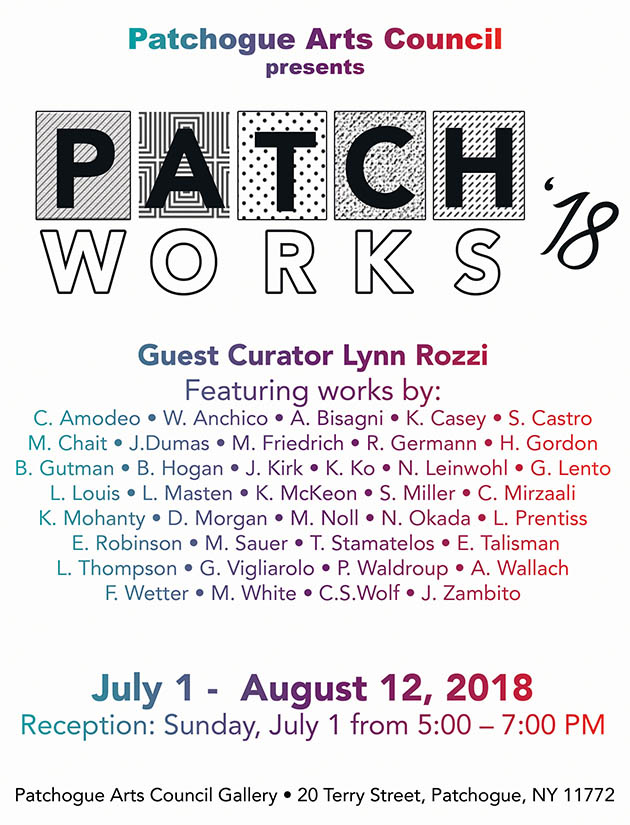 The Patchogue Arts Council is pleased to announce its Annual Juried Members Exhibition entitled Patchworks 2018,  with Lynn Rozzi, Director of Firehouse Plaza Art Gallery, as Juror. The exhibition will run from July 1 to August 18, 2018, with an opening reception on Sunday, July 1, from 5:00 – 7:00 PM.
About the Exhibition
The Annual Juried Members Exhibition gives all current members of the Patchogue Arts Council the opportunity to exhibit their artwork at the Patchogue Arts Gallery, located at 20 Terry St. Suite 116, in Patchogue, NY. There is no submission fee, and artists are invited to submit up to two works of art in any medium. The exhibition highlights the many talents of the Patchogue Arts community, exhibiting a mixture of painting, sculpture, photography, and more. 2018 marks the seventh year PAC has held an exhibition exclusively for its members at the Patchogue Arts Gallery.