1967's hippies, Summer of Love celebrated with free events in Patchogue
By Steve Parks
(original article)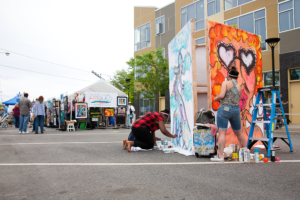 The Summer of Love — the hippie phenomenon centered in San Francisco's Haight-Ashbury neighborhood — began 50 years ago.
The golden anniversary of this countercultural turning point in 1967, which in some ways defined about half the Baby Boomer generation, is being observed coast to coast, including in Patchogue with a summer-long arts festival running through September.
Other observances are scattered around the globe but also, of course, in San Francisco, where it all began.
"We're hoping our observance won't be generated just by us," says John Cino, curator of the Summer of Love Festival sponsored by the Patchogue Arts Council. "We want other people to join in spontaneously like it happened 50 years ago."
FLOWER POWER
While most of the hippies who experienced the original Summer of Love — some of them preferred to be known as "flower children" — are now in their late 60s or early 70s, Cino remembers it from afar. "I was very moved by it though I was only 10 at the time. I had a big sister who was into all that, so it rubbed off on me."
"All that" was peace and love — the hippie mantra — but also sex, drugs and rock and roll. Communal living contributed to the first of these as 100,000 students and dropouts descended on what became the most famous intersection in the world for a few months. People slept in parks, on the streets and a dozen or more per one-bedroom flat. The drugs — especially LSD and marijuana — were celebrated by such influential figures of the time as Timothy Leary ("Turn on, tune in, drop out."). That summer and its prelude, the Human Be-in at Golden Gate Park, directly inspired the 1968 Broadway musical "Hair," according to creators James Rado and Gerome Ragni. "We thought, 'This is happening in the streets. We want to bring it to the stage,' " Rado recalled.
Among the anthems of that summer was Scott McKenzie's "San Francisco (Be Sure to Wear Flowers in Your Hair)" written by John Phillips of the The Mamas & the Papas, and the Grateful Dead became troubadours of the movement spurred in part by opposition to the Vietnam War and what many regarded as rampant consumerism.
That culturally historic summer is recalled in Patchogue through art exhibits in venues all over the village, not just in galleries, as well as in a "flower power" garden and a community mural and one-night music festival.
In keeping with another popular phrase of the time, "free love," Patchogue's "Summer of Love" happenings are free. Far out and right on.