The Patchogue Arts Council
presents
"1967: Summer of Love"
This week's Spotlight Artist:
Lisa Petker-Mintz
"My paintings are autobiographical and focus on different places, people, and experiences in my life. The themes are personal but universal, death, love, divorce, marriage, and children dominant emotionally in the work.  Every series begins with a spark and a desire to paint; I need to express the thoughts in my head…." [From Lisa's' artist statement]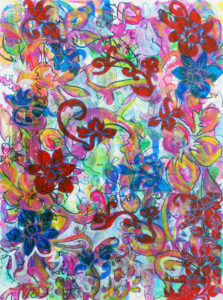 Pictured above is Lisa's piece that is currently on display at the Patchogue Arts Gallery's "1967: Summer of Love" exhibit.  Her piece really fits the theme of the 60's and the 'Summer of Love' movement, with it's array of bright colors, free-flowing shapes.
The Summer of Love, in most people's minds, is the 'hippy' movement. Full of peace and love… and flowers… lots and lots of flowers. Which this piece has…
Those flower shapes in her piece, what looks to be light gels, brings up images in my head of music festivals full of "peace lovers" with flowers in their hair, dancing around and enjoying life in the moment. 
That is part of what the 'Summer of Love' movement was about: freedom, creativity and, expression.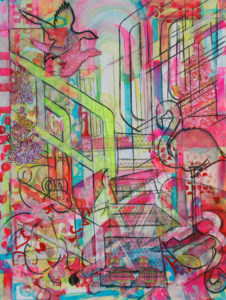 "The act of picture making is a critical part of the journey. I need to make beautiful, cohesive, and entertaining paintings.  I am always challenging myself with the work,seeking new ways to express my ideas.  I love the challenge of articulating my thought processes in paint.  My art practice is open-ended with a willingness to push the work to failure so I can open myself to a new way of creating." [From Lisa's' artist statement]
---
I asked Lisa if she had any interesting tid-bit from what she remembers of the 60's.
Lisa: "The Summer of 69, has stayed with me throughout my life,  Bryan Adam's song reminds me of those times every time I hear his song.  1969 was a good year, I remember my neighbor had the Love Bug and it was covered in a decal from Herbal Essence Shampoo.  My neighborhood was hoping with late nights and everyone gathered in the streets to play.  Most of all my sister was alive and my family complete.  My mother was joyful raising her family and I try to channel that energy today with my own family.  'Rites of Spring' is about when flowers bloom and the world is bursting with color and sunshine.  John Cino named my solo show at the Patchogue theater and I loved the title so much I named this piece after it….
Summer brings us out of the darkness, the sun is shining and when I feel the sun's rays on my face the world just feels like a better place."
---
Artist Bio:
"It has been more than 30 years since I graduated from Parsons School of Design with an education that has lasted a lifetime.  Since then I have exhibited extensively in the Metropolitan Long Island area while raising a family and leading a traditional Suburban life.  The culmination of a life long dream was my show last June at the Islip Arts Museum; I was hanging alongside many of my lifelong idols, such as Elizabeth Murray, Helen Frankenthaler, Cecily Brown, Swoon and various local talented artists. This past summer I was in a Summer Invitational Show at the Huntington Arts Council. My work was also included in Denise Bibro Fine Arts in Chelsea,Art from the Boros."
More at:
www.lisapetkermintz.com
@LPetkerMintz
---
Be sure to stop by our gallery to see Lisa's and other amazingly talented artists' work on display.
The "1967: Summer of Love" exhibit is up until June 25th.

See you next time when we feature another artist at the PAC.
Kevin Wieser
Social Media/Community Coordinator
for the Patchogue Arts Council
www.PatchogueArts.org
Facebook and Instagram
@PatchogueArts