PAConnected: Laboratorios virtuales de MoCA L.I.ghts | Agosto – Octubre 2020
A través de una colaboración especial con la Biblioteca Patchogue-Medford y Cornell Cooperative Extension de Suffolk, PAC ofrecerá oportunidades educativas únicas para cualquier artista miembro de la comunidad y cualquier persona interesada en experimentar con la proyección y la animación como medio en una serie de laboratorios virtuales inspirado en las instalaciones de MoCA LIghts.
Los laboratorios virtuales incluirán: animación en stop motion con la artista Jennie Thwing, creación de GIF con el artista Ryan Seslow y una demostración del proceso de mapeo de proyección con la artista Kelley Bell.
Se planea programación adicional con Cornell Cooperative Extension de Suffolk para coordinar con una instalación especial titulada GSB Projected Aquaculutre por Kelley Bell y Corrie Park. Estos programas se llevarán a cabo durante MAPPED, en sitio en Patchogue Village.
Toda la programación está planificada para ser socialmente responsable y segura para que todos la disfruten, para que cada individuo se sienta cómodo. Todas las presentaciones se podrán ver a pie, en automóvil y en vivo.
Gratis y accesible para todos.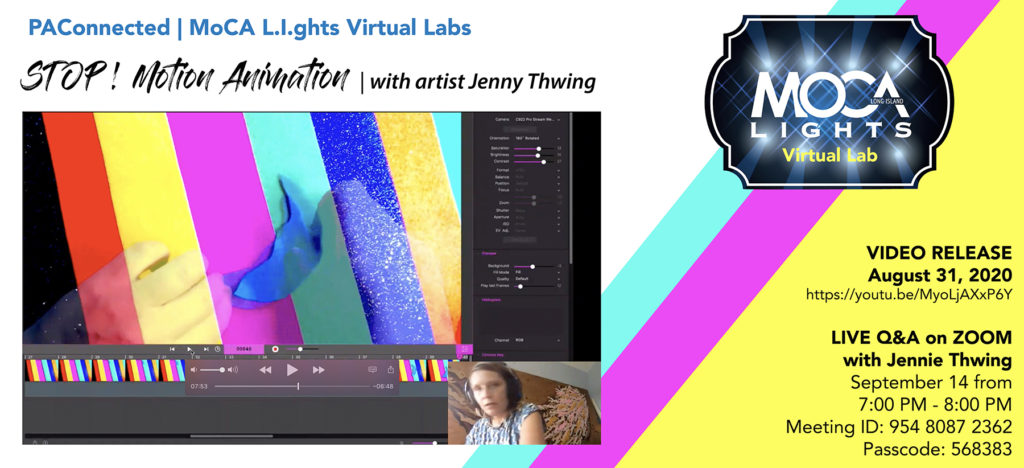 ¡DETENER EN MOCIÓN! con la artista y profesora Jennie Thwing Este video tutorial especial dirigido por la artista y profesora Jennie Thwing utilizará una aplicación de fácil acceso llamada Stop Motion. Jennie recorre los sencillos pasos para crear una animación en cuadro de diálogo utilizando materiales básicos. Mire el video, pruébelo y únase a nosotros para una sesión de preguntas y respuestas en vivo para responder cualquiera de sus preguntas sobre el proceso.
LANZAMIENTO DE VIDEO 31 de agosto de 2020
SESIÓN DE PREGUNTAS Y RESPUESTAS EN VIVO con Jennie Thwing Confirme su asistencia y envíe sus preguntas antes del evento a info@patchoguearts.org 14 de septiembre a las 7 p.m. en ZOOM
Únase a la reunión de Zoom en el enlace siguiente https://zoom.us/j/95480872362?pwd=RzMrNHcvQ1o3amhvc1BBS2IvUkJEUT09 ID de la reunión: 954 8087 2362
Código de acceso: 568383
ACERCA DE JENNIE THWING
Jennie Thwing es una artista, animadora y educadora que vive en Queens. Recibió su BFA de Tyler School of Art y su MFA de la Universidad de Maryland en el condado de Baltimore. Enseña medios basados en el tiempo en SUNY Farmingdale State College. Ha tenido exposiciones individuales en el Arlington Arts Center, el Center for Emerging Visual Artists, el Pittsburgh Center for the Arts, The Mainline Art Center, Soho 20 Gallery, School 33, Fleisher Art Memorial Dene M. Locheim Gallery, Nexus Foundation for Today's Art and Studio 34 y tiene una próxima exposición en 20.20 Gallery en Lansdowne, PA. Ha comisariado numerosas exposiciones multidisciplinarias y ha asistido a residencias en Estados Unidos, Noruega, Nueva Zelanda y Canadá. Y ha recibido numerosos premios, entre ellos: el Premio Familia Meyer 2014 de Arte Contemporáneo; una Beca de Proyecto de Arte Ambiental en el Centro Schuylkill; una beca del Centro para Artistas Emergentes 2013-2015; una beca SPARC Artist in Residence 2014; y una subvención del Queens Arts Fund de 2014 y 2019. IG @jenniethwing | www.jenniethwing.com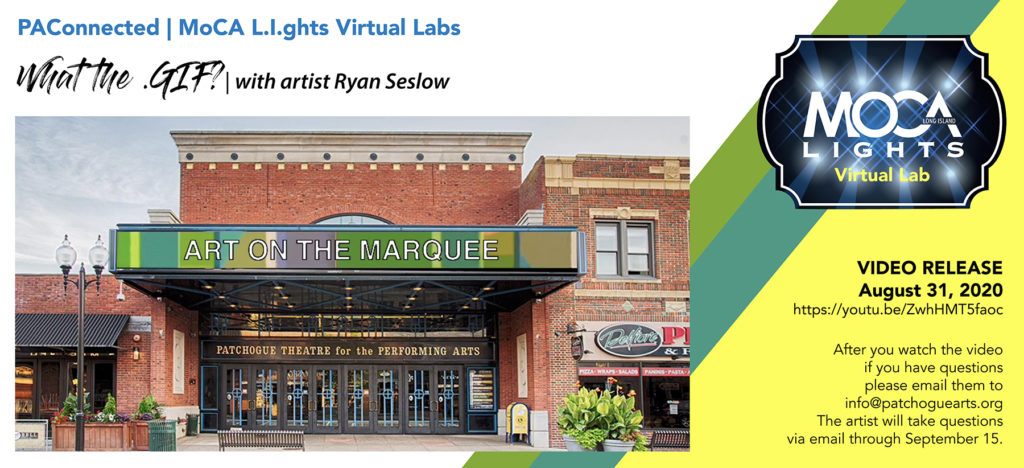 ¿QUE ES EL GIF? con el artista y profesor Ryan Seslow Aprenda qué es un GIF y cómo hacer uno con el artista y profesor Ryan Seslow. Con su propia obra de arte o fotografías, cree una breve animación en circuito. Este video le mostrará cómo crear un GIF que luego puede enviar para su posible inclusión en la oportunidad de artista de Patchogue Arts Council MoCA L.I.ghts Art on the Marquee. Para leer más sobre cómo enviar su GIF, visite este enlace.
https://patchoguearts.org/artist-call-art-on-the-marquee/
PUBLICACIÓN DE VIDEO 31 de agosto
https://youtu.be/ZwhHMT5faoc

Envíe cualquier pregunta a info@patchoguearts.org con el tema GIF.
Ryan responderá preguntas por correo electrónico hasta el 15 de septiembre.
ACERCA DE RYAN SESLOW
Soy artista, diseñador gráfico, diseñador web y profesor de arte y diseño digital que vive y trabaja en la ciudad de Nueva York. Soy sordo y tengo problemas de audición. Como artista visual, a menudo trabajo con una síntesis de artes aplicadas, nuevos medios, arte digital e Internet. Me gusta mostrar mi trabajo tanto dentro como fuera de la web. Comparto muchos de mis proyectos actuales, exposiciones y colaboraciones aquí en la sección de blogs de este sitio web.
Como profesor de Arte y Diseño Digital, enseño varios cursos de arte híbrido de estudio, arte digital, diseño gráfico, nuevos medios, narración digital, tecnología de la comunicación y diseño web para programas de posgrado y pregrado simultáneamente en Nueva York entre CUNY York College y el distrito de Manhattan Community College, NYIT, The Graduate School of Technology en Touro College e Iona College. Completé mi decimoquinto año de enseñanza el semestre de primavera pasado.
Como diseñador gráfico, diseñador web e ilustrador, ofrezco varios servicios de diseño para ayudarle a usted y a su negocio. Me especializo en trabajar con empresas nuevas, pequeñas y medianas, así como con particulares. Me apasiona ayudarle a crear presencia e identidad aquí en la web.
www.ryanseslow.com | IG @ RyanSeslow
ACERCA DE MOCA LIGHTS
MoCA L.I.ghts transformará el Patchogue Village en un museo al aire libre inmersivo y un destino artístico. La programación de MoCA L.I.ghts incluirá una serie de experiencias de arte al aire libre que incluyen Art on the Marquee, Mapped y la galería emergente Night Vision. Las obras de arte proyectadas innovadoras que utilizan técnicas especializadas de mapeo de proyección, animación y obras de medios específicos del sitio creadas por artistas locales, nacionales e internacionales se exhibirán de forma gratuita al público a pie, en automóvil y en línea de octubre a diciembre de 2020.
Los vibrantes negocios de nuestro centro se convertirán en un telón de fondo para la primera experiencia artística inmersiva de este tipo que tendrá lugar en Long Island. Arte en la marquesina Del 3 de octubre al 31 de diciembre de 2020 En colaboración con el Patchogue Theatre for the Performing Arts, se creará una serie rotativa de videos creados por artistas, gifs, animación y trabajos fijos creados digitalmente específicamente para ver en la marquesina de la edificio del teatro. La presentación comenzará a las 8:20 PM (20:20) y permanecerá abierta hasta la medianoche todos los días desde el 3 de octubre hasta el 31 de diciembre de 2020. Los trabajos para este programa se seleccionan a partir de una convocatoria abierta internacional.  

---
Please help us continue to provide free programming and artist resources like the above!