A SPECIAL SATELLITE EXHIBITION ORGANIZED BY THE PATCHOGUE ARTS COUNCIL • MOCA L.I.
Flower of Honor
• Harper Bella •
Curated by John Cino
May 3 – June 30, 2021
On view at the Claire Davidson Siegel Gallery located at the Patchogue
Coffee with a Curator June 3 @7:00 PM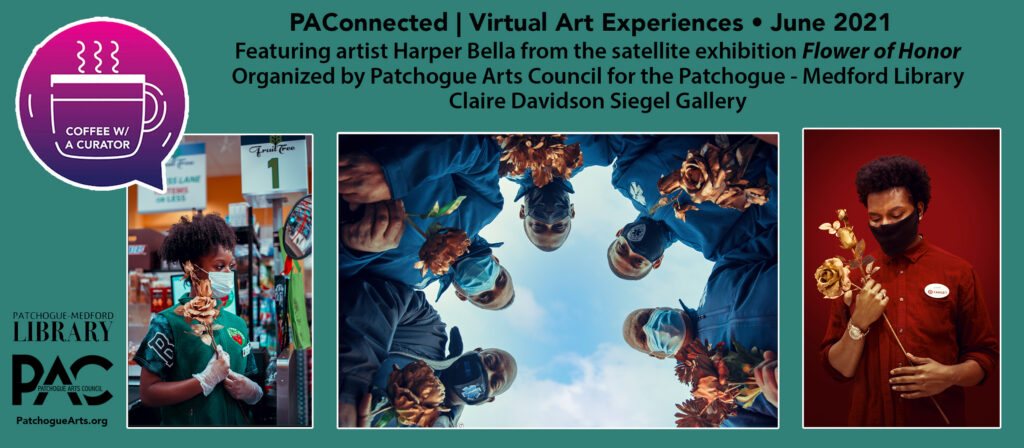 WHAT: MoCA L.I Exhibition Flower of Honor
WHEN: May 3 – June 30, 2021
WHERE: Claire Davidson Siegel Gallery located at the Patchogue – Medford Library 54-60 E Main St, Patchogue, NY 11772
PATCHOGUE, NY, April 30 The Patchogue Arts Council • MOCA, LI presents our newest satellite exhibition Flower of Honor running from May 3 – June 30, 2021. The Patchogue Arts Council is pleased to announce a special satellite exhibition entitled Flower of Honor. Flower of Honor commemorates essential workers who have kept their communities thriving amid the COVID-19 crisis. Borrowing its name from the United States government's highest and most prestigious military award, Medal of Honor. This photographic series consists of 29 images taken during impromptu ceremonies involving gifting golden artificial foliage, a symbol of hopefulness and acknowledgment to honor all individuals while they are living.
Throughout the pandemic, one in six frontline workers is Black, resulting in a higher death rate among African American and Latino individuals, many of whom are employed as essential workers. In the face of danger, these individuals persist. They are the grocery clerks, sanitation persons, neighborhood bodega workers, mail couriers, auto mechanics, electrical lineman, bus drivers, and other workers whose livelihoods and families depend on the paychecks they receive, and whose services are the lifeblood of our society.
Captured by Harper Bella, with the aim to shed light on the impact of inequity, and examine the experiences of each individual, such as volunteer emergency medical technician first lieutenant Browne, "I have seen too many deaths. I lost my sister and uncle due to COVID. We had calls with patients who were in cardiac arrest and they did not make it. This pandemic has taken a toll on my life. As a healthcare provider, it's tough to see people losing their loved ones, but we have to remain strong."
Their courage provides some sense of normalcy for our lives throughout these trying times.
Viewers are invited to experience Flower of Honor at the Claire Davidson Siegel Gallery located at the Patchogue – Medford Library 54-60 E Main St, Patchogue, NY 11772 from May 3 – June 30, 2021. 
The artist of Flower of Honorwill engage in conversation during Coffee with a Curator on June 3 at 7:00 p.m. All are invited to join us on ZOOM or watch along on Facebook Live. For more information please visit PatchogueArts.org  
This exhibit and all coordinating events are free and open to the public.
Masks are required upon entry and guests are expected to practice established social distancing protocols. Hand sanitizer is available throughout the space. 
ABOUT THE ARTIST                                                                                                                                                    
Harper Bella is an award-winning photographer and recipient of the 2020 Decentralization grant. Based in New York, her work has shown internationally in Italy, Spain, and nationally in Miami, Brooklyn, and Long Island. Harper pursued her first degree in Advertising and Marketing Communications at the Fashion Institute of Technology. It was during a black and white film photography course that she knew she found her calling. From her Caribbean background to travels to over 25 countries, including Vietnam, Germany, and Morocco, a global perspective is at the heart of Harper's work and life purpose. Harper aims to initiate conversation and spark growth through powerful visuals. She also values community building through the curation of exhibitions and fashion wear with her company Harpers Galleria, which amplifies less prominent voices in the arts. To collaborate with Harper Bella, please reach out to her at contact@harperbella.com​.
---
Please help us continue to provide free programming and artist resources like the above!