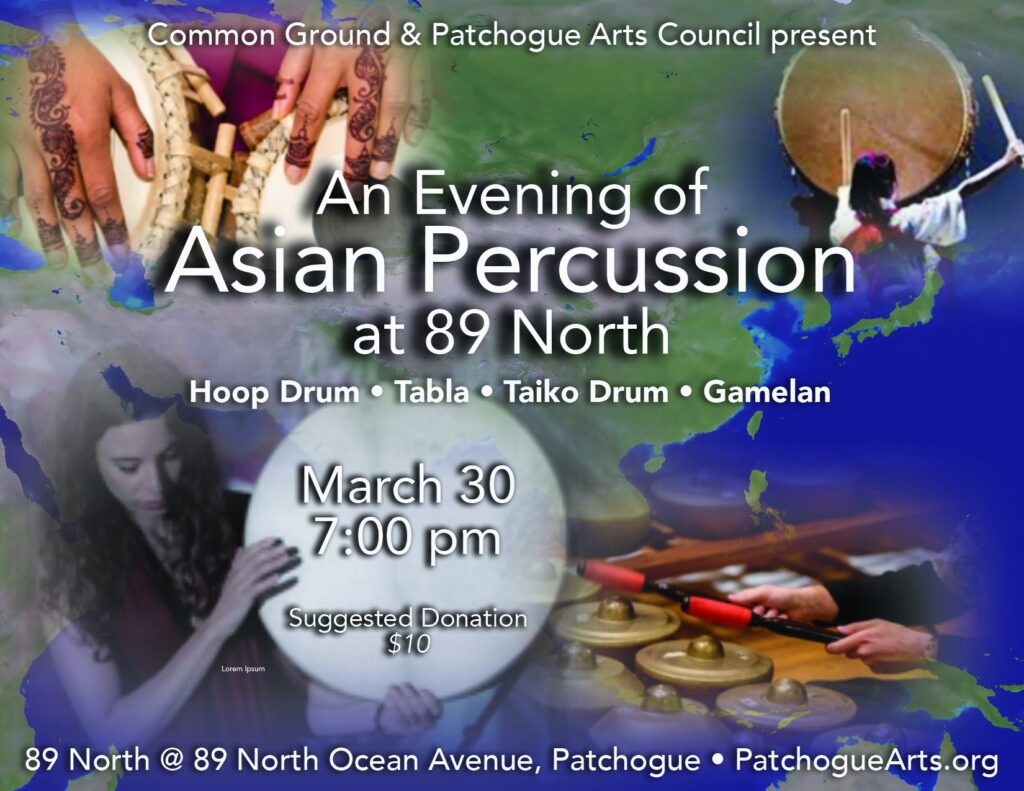 WHO: John Cino's Common Ground & Patchogue Arts Council
WHAT:An Evening of Asian Percussion
WHERE: 89 North, 89 North Ocean Avenue, Patchogue
WHEN: March 30 at 7:00 pm
COST: FREE ( $10 suggested donation at the door)

John Cino's Common Ground & Patchogue Arts Council presents
An Evening of Asian Percussion at 89 North,
89 North Ocean Avenue, Patchogue on March 30 at 7:00 pm.  
Featured artists are April Centrone (middle Eastern hoop drum, Roshni Samlal (Indian Tabla), Fumi Tanakadate (Japanese Taiko Drum), and Gamelan Yowana Sari (Indonesian Gamelan ensemble).  There is a ten-dollar suggested donation for the performance.   

This performance is in association with the art exhibition Asia America at MoCA L.I. from March 12 – April 24, 2022.

Asia contains well over half the global population and its eleven times zone stretch halfway around. The continent has nurtured a vast array of cultures from the Pacific Ocean to the shores of the Mediterranean. The exhibition Asia America samples the variety of works created by artists of Asian heritage living in the US.

As vast and varied as is the art born on the Asian continent, so too is its' music. An Evening of Asian Percussion presents a cross-section of the Asian musical tradition through the lens of its most primal form. The rhythms of percussion are universal and experienced all through ears and skin since our time in the womb. All humanity is linked through the pulses and rhythms of percussion.

Common Ground in collaboration with Patchogue Arts Council will present percussion from across the expanse of Asia: the Near Eastern hoop drum, Central and South Asian tabla, and from Japan the taiko drum will be presented individually and in communion along with the gamelan of Indonesia.

Common Ground is an ongoing project of artist and curator John Cino which explores the common sounds, spaces, and experiences of the shared habitation of our planet.  
This event is made possible with generous funding received from the Restart NY Regrant program, made possible with funds from the Statewide Community Regrants Program, a regrant program of the New York State Council on the Arts with the support of the Office of the Governor and the New York State Legislature and administered by Huntington Arts Council.