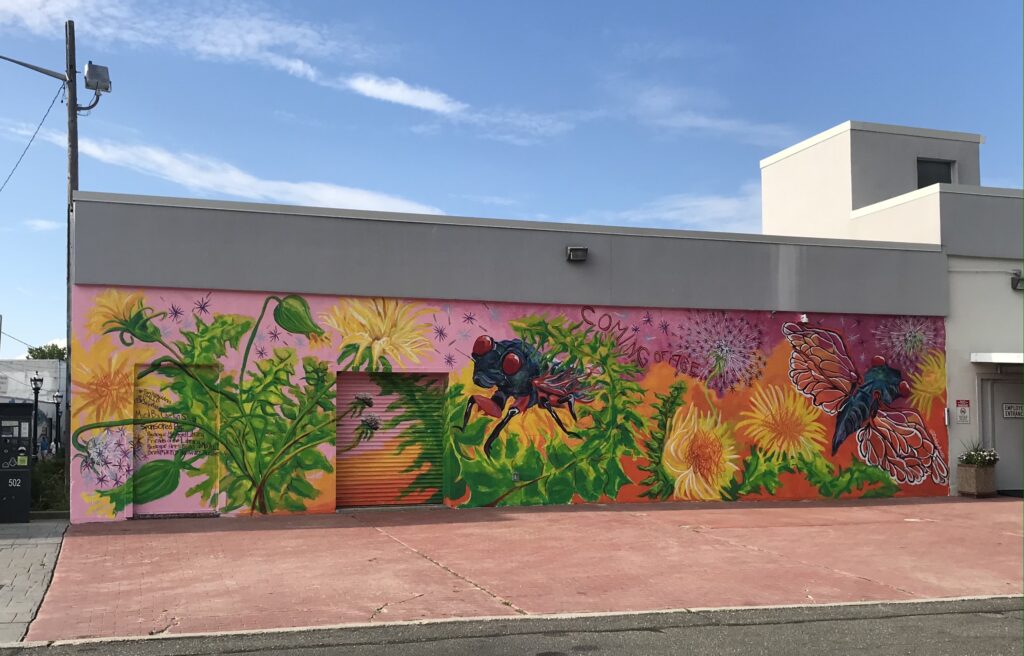 Caitlyn Shea's Brood X has emerged in Patchogue!

The 2021 edition of the Patchogue-Medford Library Mural was created by artist Caitlyn Shea whose previous murals can be seen in Riverhead and Huntington. This season's Coming of Age mural Cicadian Rhythm is a colorful look at one of the year's lesser calamities, the emergence of Cicada Brood 17 (aka Brood X). The mural depicts the life cycle of dandelion flowers and cicadas, which emerge from the ground every 17 years. The mural is meant to bring bright colors and joy to the community while highlighting the beauty of Brood X cicadas – which are now believed to be extinct on Long Island. Ms. Shea sees the beauty of these creatures and recognizes their importance to the health of our natural ecosystems.

I am tremendously passionate about transforming public spaces into colorful,bold, & fascinating "selfie spots" by painting larger-than-life creatures to celebratecommunities and give viewers a unique sense of wonder in unexpected places.Painting allows me to investigate my curiosities about the anatomy and structureof creatures and plants. Being mindful of the small life forms around us gives methe great sense of being part of an interconnected universe and I hope to sharethat with people as they pass by my murals. It has always been my goal to bring a senseof discovery and fun to viewers.-Caitlyn Shea
videos by Brian Vann

Join us on September 18 at 11:00 AM for a special ribbon-cutting ceremony, the official unveiling of the Coming of Age 2021 themescape mural project.

Shea will also speak about her work at a special Meet the Muralist event and workshop planned in partnership with Patchogue-Medford Library. The artist talk and workshop will take place after the ribbon cutting on September 18 from 1:00 – 2:30 PM. These events are free and open to the public. Please register for the artist talk and workshop by visiting pmlib.libnet.info/event5427270 or calling (631) 654-4700.

A special thank you to Brinkmann's of Blue Point for their generous donation of paint and Long Island Community Foundation for their support of the Patchogue Arts Council Coming of Age 2021 Festival Season.
A special thank you to our partner, Patchogue-Medford Library, for helping us make this opportunity supportive to the artist chosen to paint each year. Every artist that is chosen to create a themescape mural is provided with an artist stipend and opportunities to present their work to the community through events like artist talks and/or a workshop.

September 18, 2021New mural celebration • Meet the Muralist Artist Talk & Workshop• Ribbon cutting from 11:00 – 11:45 AM• Meet the Muralist Artist Talk & Workshop from 1:00 PM – 2:30 PMThese events will all take place at Patchogue-Medford Library and are FREE to the public.Call to register (631) 654-4700

Join Patchogue Art Council's "Coming of Age" mural artist Caitlyn Shea for an artist talk and workshop unearthing the unusual beauty found in cicadas and dandelions. Learn more about the roles of these important members of our ecosystem while enjoying a guided artistic exploration. Each participant will create their own glass mug with colorful insects, flowers, and other elements found in the mural. Instructions will be taken home for baking the mug and sealing the paint permanently. All are welcome – children must be accompanied by an adult. Adults of all levels of artistic skill are encouraged to join. Celebrate the Patchogue community, nature, and 2021!

ABOUT CAITLYN SHEACaitlyn Shea studied painting at Pratt Institute and Skidmore College before graduating in 2011 from Adelphi University with a Bachelor's in Fine Arts. Upon graduating, she received a Senior Thesis Merit Award and an A. Conger Goodyear Award for Outstanding Achievement. Shea has been creating public artworks in order to revitalize and celebrate communities through creative placemaking. In 2014 she organized, fundraised for, and created a 1,300 square foot mural depicting hummingbirds in downtown Riverhead, NY.

In 2020, she participated in a Huntington Business Recovery Task Force, Huntington Business Improvement District, and Spirit of Huntington event raising awareness about wearing masks during the pandemic. She created a window mural on Spotlight at The Paramount. The mural titled Masked Medusa highlighted the worldwide feelings of stress, confusion, and disbelief during the pandemic while highlighting the absolute necessity to continue wearing masks during the most universally devastating pandemic in recent history.