Written by Summer of Love Special Features Writer Tara Smith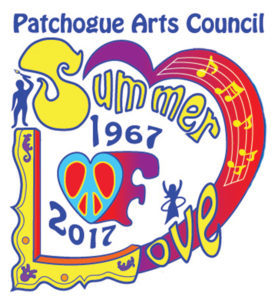 In 1967, school let out for the summer and a cultural revolution brewed as thousands of young people descended upon San Francisco. Civil rights, peace signs and experimentation with drugs became symbols that defined a decade marked by an ever-growing chasm between America's youth and their parents.
That summer would go on to be remembered as the Summer of Love—if you close your eyes you can probably picture a girl "with flowers in her hair."
This summer, the City of San Francisco will remember that summer 50 years later. But you don't have to book a six-hour flight to take part in the festivities. The Patchogue Arts Council will be remembering the Summer of Love with festivals; events and exhibitions all summer long, starting with the
Arts on Terry
festival planned for this
Sunday, June 4
.
Set against the backdrop of a psychedelic mural created by Artspace resident Jonny Mike, hundreds of artists will be set up in tents along Terry Street, the heart of Patchogue's arts district. Walk down Terry Street and the Roe Walkway for live art demonstrations, tye-dye, chalk, ceramics and glass as well as body painting and poetry readings.
You can also head to the PAC Gallery to check out a Summer of Love themed exhibition and stroll down to the community garden to view impressive outdoor sculptures.
Renowned photographer Rowland Scherman will also be featured in satellite galleries at the Patchogue-Medford Library and the lobby of the Patchogue Theater. Scherman's work puts a lens on the sixties, capturing iconic musical, cultural and political events including the March on Washington, Beatles' first U.S. concert and Woodstock. He also traveled with Bobby Kennedy on his presidential campaign and in 1968 won a Grammy Award for the cover photo of Bob Dylan's Greatest Hits album.
PAC President Lori Devlin said the idea of honoring 1967 came up in conversations with John Cino over the winter. "I was maybe 10 or 12 years old, so I didn't fully understand what was happening. But I remember the hippies and I remember the music."
Thinking about an era that embraced counterculture and themes of peace and love during a time of war shifted the conversation politically as well. Cino explained that like today, politics were tense, but the spirit of coming together and creating prevailed. "In the 1960s, there was such an explosion of creativity in different ways, both music and art," he said.
Fifty years later, as we seem more divided and distant than ever, it's worth remembering ideals of love, peace, understanding and a can't-we-all-get-along mentality. And it also begs the question: How will 2017 be remembered fifty years from now?